Holistic and Proactive Advising for Student Success Conference
A page within Academic Advising Center & Career Services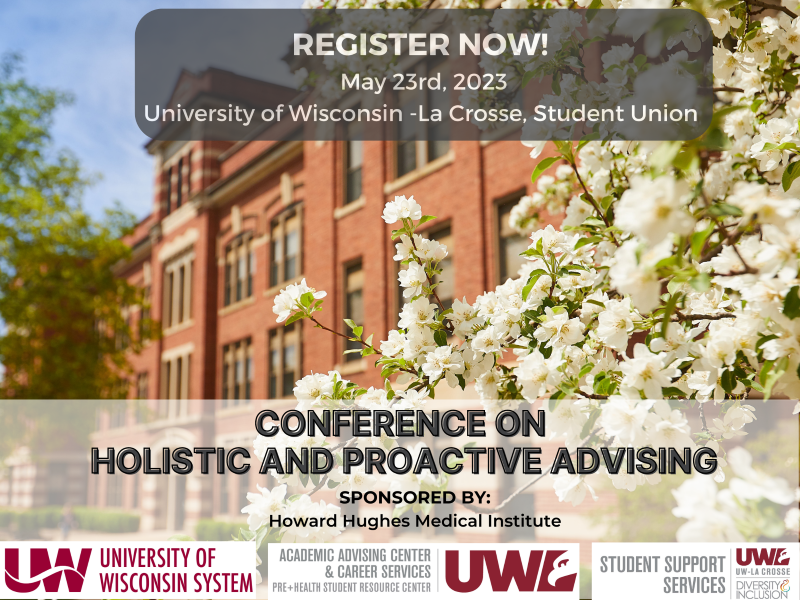 Who should attend this conference?
Any UWL or Western faculty or staff member who teaches, advises, or interacts with students and is interested in Student Success. There will be a combination of sessions focusing on both academic advising specifically and about advising students holistically beyond academic advising. See the conference overview for more information on session topics.
Dr. Kevin Thomas
Dr. Kevin Thomas is the Associate Vice President for Enrollment Management at the University of Central Arkansas (UCA). At UCA, Kevin establishes the collective vision and direction of the offices within enrollment management, which includes Academic Advising, Admissions & Enrollment Services, Financial Aid, the Registrar's Office, Online, Transfer, and Returning Student Services, Student Athlete Advising, the Office of Student Success, and the Veterans Resource Center. Within academic advising, he is currently overseeing a transition to primary role advisors serving the campus after many years of a mixed methods approach to advising.
Kevin previously served as the Director of Retention and Student Success at Southern Illinois University Edwardsville (SIUE) from 2012 through 2019 where he led efforts that resulted in an increased retention rate over that time of 10%. From 2017 – 2023, Kevin has taught an Academic Advising and Student Success course as part of the College Student Personnel Programs at SIUE and UCA.
Within NACADA, Kevin has served as chair of the Advising Administration Community, the chair of the 2017 Annual Conference in St. Louis, twice a mentor within the Emerging Leaders Program, and served on the Board of Directors from 2019 - 2020. In 2018, Kevin was selected as an Outstanding Advising Administrator within NACADA. In addition, he has presented at numerous campus, state, regional, and annual conferences on topics surrounding retention and student success, advising administration, and the culture of care in your leadership and campus approach. For the last three years, Kevin has served as a faculty member for the Administrator's Institute.
Dr. Thomas earned his doctorate in Educational Leadership from WKU and his master's and bachelor's degree from Murray State University.
About the Keynote
As colleges and universities have placed a greater emphasis on student success, academic advising, and more specifically, the work of academic advisors has earned a much-deserved spotlight on their work and impact on the students on our campuses. The proactive and holistic approach and support provided by academic advisors positively impact the student experience on our campuses. And in these approaches, the relationships and culture of care being shown by academic advisors are changing the lives of the students in front of us. Dr. Thomas provides a glance into the important work of academic advisors and how the profession is driving student success to even greater heights.