Getting Started:
Schedule Planner tips: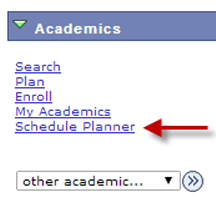 If you prefer the paper/pencil method, download a printable class schedule worksheet to insert the classes in which you plan to enroll and ensure they will not overlap. Students should then have alternate courses and times selected in case their first choices are not available or cancelled.
Schedule Planner is a useful registration tool available to our current students via the WINGS Student Center and helps organize the next term's schedule based on selected courses. It generates multiple schedules in a flash for easy review (all possible schedule combinations are shown).
Customize your schedule by adding "breaks" to narrow in on your preferred schedule.

The

Compare

feature allows students to compare up to 4 schedules at one time.

Hover over the magnifying glass next to each schedule to see a time block at a glance.
The Planner refreshes every 5 minutes during registration
so students know quickly which classes are no longer available (closed). Your final preferred schedule can then be imported to your Shopping Cart for easy registration.
Class search tips:

(Click to search for classes)
Finding writing emphasis courses:

To view all Writing Emphasis courses

, click the Searchable Timetable. Select the appropriate term and go to the bottom of the search page for 'Additional Search Criteria'. For 'Requirement Designation' select 'Writing Emphasis' and click Search. You may receive a message stating 'Your search will return over 50 classes, would you like to continue?'. Click OK to review your results.



Finding general education courses:

To view all General Education courses

, click the Searchable Timetable. Select the appropriate term and go to the bottom of the search page for 'Additional Search Criteria'. For 'Requirement Designation' select the General Education (GE) area you are looking for and click Search. You may receive a message stating 'Your search will return over 50 classes, would you like to continue?'. Click OK to review your results.

Finding online courses:

How to search for online courses

.

You can search for online courses using the 'Additional

Search Criteria' feature (use the drop down menu next to 'Mode of Instruction').



Finding second-half semester courses:

You can search for second-half semester courses using the 'Additional Search Criteria' section. Find the 'Session' drop-down menu and choose 'Second Session - Seven Weeks'.

Tips on using the search for classes tool to register:

You can make the registration process quicker and easier by adding your desired classes to your Shopping Cart prior to your registration appointment. Although the shopping cart does not reserve a seat for you, it will definitely expedite the process on registration day!

Searching for classes using WINGS