Archaeology & Anthropology
Events and News Items
Recent grad gives talk on drones
Jamin Wolfe, a 2023 UWL graduate was hired by FLYABILITY (flyability.com) a swiss company developing drones for indoor and inaccessible places. Jamin is the company's representative and technical expert representing North America. In this talk Jamin shares his perspective and experience on the future of drone technology's potential applications and interacts with UWL's GIS students.
Lecture - Scanning the Pharaohs: Using Digital Technologies to Document Ancient Egypt
Tuesday, October 17; 7:30 pm; UWL, Centennial Hall, Room 1400
UWL Associate Professor of Archaeology, Dr. David A. Anderson will discuss the ways in which he and others are using technologies to document the tombs, temples, and artifacts of Egyptian Civilization.
See this news story for more info and photos
For more information about this & other MVAC activities visit: https://www.uwlax.edu/mvac/ or https://www.facebook.com/UWLMVAC
Community-Engaged Learning in Red Cliff, Wisconsin
Four archaeology students from UW-La Crosse joined the fifth season of Geté Anishinaabe Izhichigéwin Community Archaeology Project (GAICAP) this summer in Red Cliff, Wisconsin. They learned to conduct collaborative cultural heritage management in a Native American community, while developing skills in archaeological field methods. The project is part of a long-standing partnership between the Red Cliff Tribal Historic Preservation Officer (Marvin DeFoe) and academic archaeologists from UW-La Crosse (Heather Walder) and North Dakota State University (John Creese). Together are investigating both ancient and recent historic archaeological sites on the Red Cliff reservation to better understand and protect these significant and sacred places.
Two UWL student participants, Sabrina Neurock and Madeline Meltesen, were supported through Undergraduate Research and Creativity grand funding. As a returning student from the 2022 season, Neurock also served as the undergraduate archaeology lab manager in the 2023 season. Alums of the project also came to visit and volunteer in 2023, including recent graduate Faith Kalvig ('23), who presented her honors senior thesis research. Service-learning is integral to GAICAP, which organizes archaeology outreach programming for K-12 youth and Native American college students and assists with Red Cliff community cultural events such as the annual pow-wow and Ojibwemowin Gabeshiwin (language camp).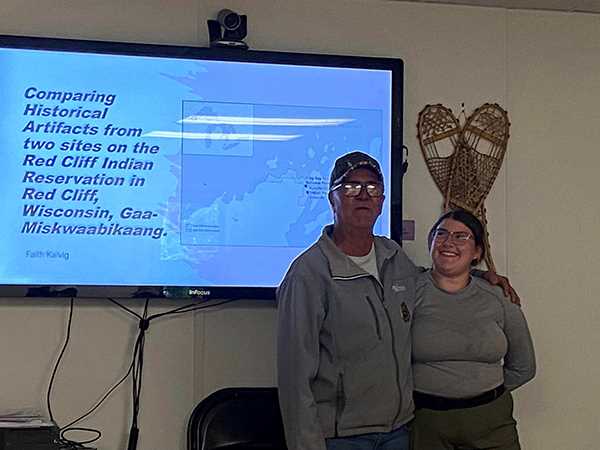 THPO Marvin DeFoe and alum Faith Kalvig





UWL student at Research in the Rotunda
Archaeology major and senior honors student Faith Kalvig was selected as one of six UW-La Crosse undergraduate researchers invited to participate in Research in the Rotunda. This annual event at the Wisconsin state capitol brings together students, faculty mentors, and administrators from across the UW-System. Legislators, alumni, and others in attendance learn about innovative research happening around our state. Kalvig's poster shares results of her contribution to a collaborative, community-based archaeology project involving the Red Cliff Band of Lake Superior Chippewa in Red Cliff, WI.
You can also read about the story and an interview with Faith here.
Faith Kalvig at Research in the Rotunda
Serbia 2022 Field School
Dr Amy Nicodemus took several students to Serbia for the 2022 International Field School. One of them, Jamin Wolfe, prepared this video for you to see the site. And see this news article with more photos from the field school. (Google Translate will work well here.) The article describes the project:
"In the border of Rábé, which belongs to the Törökkanizsa village, the excavation works are in full swing, according to the plans, the archaeologists and their assistants will have plenty to do for the next four or five years. This is one of the largest Bronze Age sites in the area. The Maros culture can be found in the southern part of Tiszántúl, in the territory of today's Hungary, Romania and Serbia.... The archaeologists are looking for the answer to whether the area of ​​the Rábé site was the center of the social elite, or whether it could have been a commercial center, and what role it played, explained Dr. Amy Nicodemus , assistant professor at the University of Wisconsin in the US, is the head of the research group."
Hispanic Heritage Month events, Oct 3 through 19.
There's a great lineup of events for Hispanic Heritage Month at UWL, starting with a nice news story about Ilariah McAnally in the Campus Connection. See all the events in this flier. All events free and open to the public.
Dr. Anderson and students help "resurrect" an historic cemetery
Read about how Dr. Anderson and the college field school students used remote sensing to help identify potential graves at an historic German cemetery in Houston County, Minnesota. Great experience for the students, and important information for the community. https://www.uwlax.edu/news/posts/old-cemetery-gets-new-life/
Archaeology and Anthropology Students present their research at the Undergraduate Research and Creativity Symposium
The Archaeology and Anthropology Seniors discussed their research in posters and an oral talk on May 6. See them in action in this pdf.
Congratulations to CASSH Excellence Awards Winners
Several Archaeology and Anthropology Seniors were honored at the 2022 Evening of Excellence on April 26. Congratulations all!
JOHN E. MAGERUS AWARD FOR OUTSTANDING GRADUATING SENIOR
Signe Aspengren received the award; Evelyn Gaunt was also nominated
ARCHAEOLOGY & ANTHROPOLOGY
Carley Arrowood
Anna Buchberger
GLOBAL CULTURES & LANGUAGES
Lauren Stanley (Archaeology double-major)
Graduate School online fair
The AAA is holding a fabulous Virtual Graduate School Fair on Thursday afternoon, April 14, and student registration is only $10, if they're not members of the AAA.
Concordia Language Villages: Hiring for summer camps
There are teaching and counseling positions for Teachers, Creatives, Nature Lovers, Tech lovers. See their flier for more information. Join them for an information session about summer employment on Tuesday, March 22 from 7-7:30 p.m. Central. Registration required.
City Year is accepting applications for AmeriCorps positions for summer 2022 to June 2023
AmeriCorps people work full-time in schools to support teachers and gain valuable experience. Learn more here. April 1, 2022 application deadline
Listen to Financial Times journalist and author Gillian Tett discusses her new book, Anthro-Vision: How Anthropology Can Explain Business and Life.
She argues that using concepts from anthropology, alongside other sciences, can help to address the biggest problems facing the world today.
Our efforts to tackle climate change, pandemics and use artificial intelligence in an ethical way could all benefit from being seen through the lens of anthropology.
NSF-REU: Bioarchaeology of Bronze Age Social Systems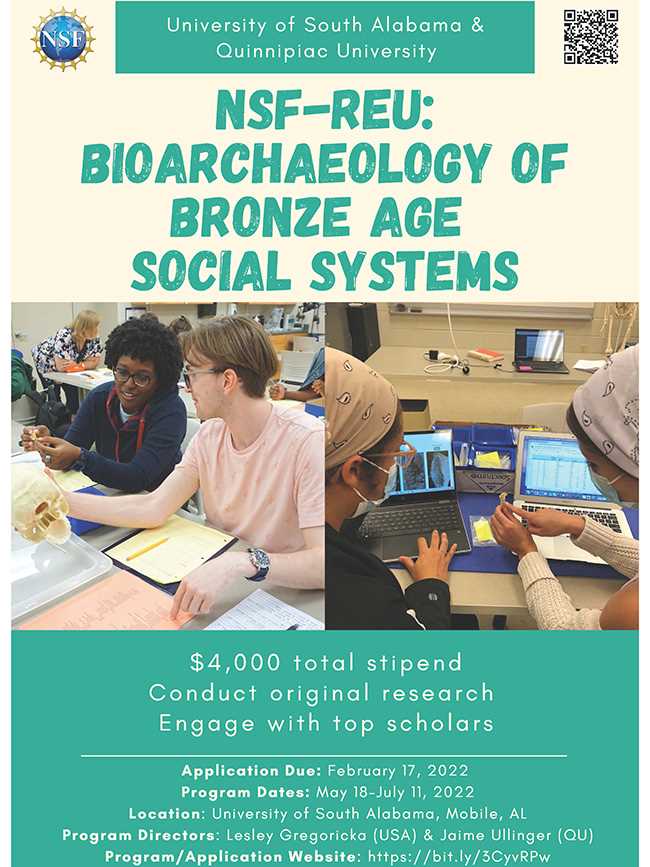 Bioarchaeology recruitment poster
Students accepted into the 8-week program will learn to conduct hands-on research with archaeological human skeletal remains from Bronze Age Arabia, receive mentorship from guest scientists, and engage in public outreach. Student travel (up to $450), housing, and field trip fees will be covered by the NSF, in addition to a $500/week stipend. Eight Fellows will be selected from the pool of applicants. According to NSF eligibility requirements, students must be a US citizen or permanent resident, and currently enrolled in an undergraduate program (students graduating in May 2022 are not eligible to apply).
The Bioarchaeology of Bronze Age Social Systems project will focus on two large Bronze Age skeletal collections from the Umm an-Nar period (2700-2000 BCE) of the United Arab Emirates. An analysis of these skeletons presents an opportunity to examine the socioeconomic, political, and environmental circumstances in which populations in southeastern Arabia resisted stratification, adapted to environmental change, and negotiated their own identities. For more information about the project and field school check out our website, as well as our student-generated blog, or our social media sites, which include Facebook, Twitter, and Instagram. The students from our 2019 and 2021 programs also created digital stories, which are 5-minute videos highlighting who they are and what they researched.
City Year AmeriCorps applications being accepted now for next year
City Year, a national educational non-profit in 29 cities, hires over 3,300 City Year AmeriCorps members (ages 18-25) to work full-time in schools to give students and teachers the extra support they need to succeed. City Year alumni go on to lead successful careers in business, education, medicine, nonprofit, and law. They are accepting applications for the Dec 17 deadline.
For more information, see: www.cityyear.org or contact Julie Schneider: Jschneider3@cityyear.org or at 414-306-4443.
2021 Field School with Red Cliff Band
In July and August, 2021, UWL Lecturer Heather Walder and six UWL students participated in Gete Anishinaabeg Izhichigewin Community Archaeology Project (GAICAP) in Red Cliff, Wisconsin. This is a collaborative effort to bring the past to life in the Red Cliff Band of Lake Superior Chippewa community. The project is overseen by the Red Cliff Tribal Historic Preservation Office (THPO), led by Marvin DeFoe and Edwina Buffalo Reyes, and Walder co-directs the project with John L. Creese, an associate professor at North Dakota State University. During the 2021 field season, students excavated a multi-component ancient site within Frog Bay Tribal National Park, and surveyed a parcel of land recently repurchased into tribal ownership, on the north shore of Red Cliff Bay. There they identified historic artifacts such as nails, ceramics, and flat glass associated with the 1924 and 1925 "Apostle Islands Indian Pageant," which was an early tourism endeavor in northern Wisconsin.
This summer, the project located several new sites and helped the THPO identify areas where erosion along the Lake Superior shoreline is affecting these cultural resources. Excavations at Frog Bay have generated data to be included in a nomination of the site to the National Register of Historic Places. Most importantly, GAICAP connects students with tribal members in a service-learning environment. Students assisted with the annual Red Cliff pow-wow, Ojibwe language camp, and a tribal monitor training program that credentials community members to work alongside cultural resource management archaeologists. As a result, field school students learned the basic practical skills of archaeological survey and excavation, while simultaneously gaining experience in collaborative, community-based archaeology with one of Wisconsin's Native Nations. Learn more about the project in a recent podcast produced by the Wisconsin Humanities Council, titled "The Power of Indigenous Knowledge."
UWL field school students included Signe Aspengren, Carley Arrowood, Faith Kalvig, and Miles Martinez, with Lauren Brewer and Kirsten Amann volunteering. Thanks to photographer Tyrel Iron Eye, NDSU graduate student and project photographer, we can share some scenes: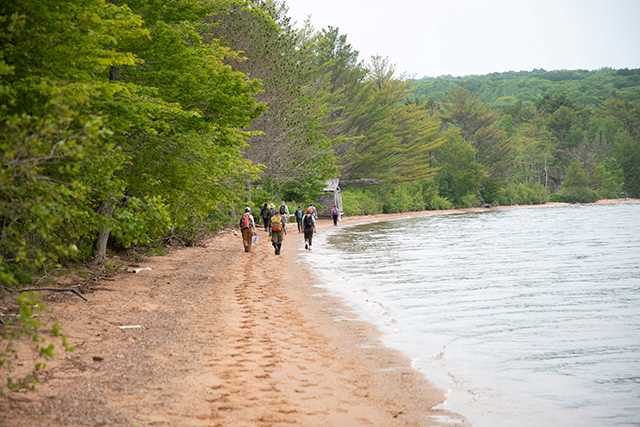 Walking along the beach at Red Cliff



Indigenous Knowledge: Podcast with Dr. Heather Walder and Red Cliff Band Ojibwe
Dr. Heather Walder and 6 UWL students are collaborating this summer with Marvin Defoe, other members of the Red Cliff Band Ojibwe, and archaeologists from North Dakota on a field school within the Red Cliff Reservation. Learn how archaeology and Indigenous knowledge are being integrated in a podcast and extra videos, including one on the "Anishinaabe Microwave," presented by Wisconsin Humanities
Dr. Nicodemus tells her favorite part of teaching (and why she was awarded this honor): "I am fortunate to teach many laboratory classes and internships. I love being able to work directly with students through hands-on lab activities and research projects. These help to get students excited about, and more engaged with, the material and to learn practical skills along the way. It is especially rewarding when students transform these foundational experiences into theses their senior year."
Congratulations, and well deserved!
Congratulations to Carley Arrowood, first recipient of a grant from the Wisconsin Archeological Society to participate in a Wisconsin field school
Carley Arrowood, Archaeology major, will be using the grant to attend the Gete Anishinaabe Izhichigewin field school on the Red Cliff Ojibwe Reservation this summer. The Richard P. and Carol L. Mason Memorial Grant helps supports one student each year to attend an archaeological field school. As the grant letter indicates "Many people who work in archaeology credit their experiences as a part of a field school for inspiring them in their work throughout their careers." Congratulations, Carley, and we hope you find the summer experience rewarding!
Jade Wahlgren, Archaeological Studies major, with a minor in cultural anthropology and environmental studies, has won the Prairie Springs Environmental Leadership award for students, combining her passion for anthropology and environmental leadership in the creation of a walking tour of La Crosse featuring historic locations with important environmental preservation contexts. Read more about Jade and the project in the Campus Connection.
WisCorps is a conservation organization that "engages youth and young adults in two areas: conservation projects and nature education." This season, they have positions for crew members, nature teachers, garden assistants, and many more. These include full and part-time summer and year-round positions.
Writing Center seeks tutors for next year (and you get paid!)
The UWL Writing Center is currently recruiting tutors for the 2021-22 school year. Students are wanted with a variety of majors and minors who are interested in working with writers on a wide range of papers, essays, applications, etc. This is a paid position and includes training. Learn more about the Writing Center and find the application on the website at: www.uwlax.edu/writingcenter. Contact the Writing Center Director, Virginia Crank at vcrank@uwlax.edu for more information or questions.
Interested in sharing your language skills? Concordia Language Villages is hiring
Check out the opportunities for teaching and counseling positions, including paid summer positions, in campus such as Teachers, Creatives, Nature Lovers, and Tech Lovers. It's a great opportunity to use language skills. They have amps in 19 different languages, including Russian, Arabic, and Spanish.
Archaeology and Anthropology staff and students researching Northern Wisconsin Red Cliff Band of Lake Superior Chippewa history
A story in the March 8 Campus Connection talks about the ongoing collaborative project spearheaded by Dr. Heather Walder to investigate and document materials related to the 1920s Apostle Islands Indian Pageant. Read how they are working with the tribal members to analyze and preserve the information.
Dr. Hippert's book is published: Not Even a Grain of Rice: Buying Food on Credit in the Dominican Republic
In Not Even a Grain of Rice, Dr. Christine Hippert examines the intercultural networks of buying food with in-store credit at corner stores in the Dominican Republic. Copies of the book are available from the publisher, and if you order before 12/31/2021, there's a 30% off discount code: LEX30AUTH21.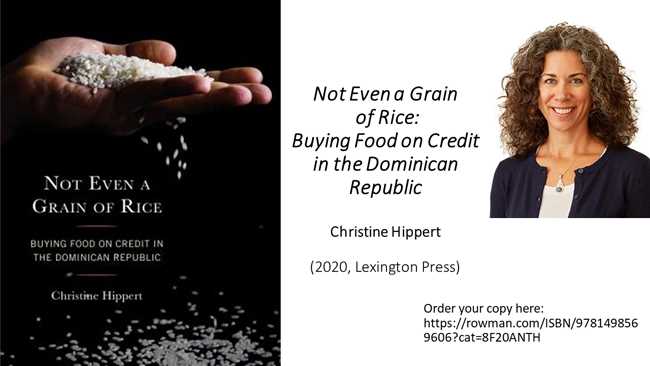 Hippert Book: Not even a grain of rice: Buying food on credit in the Dominican Republic
Arc alumni check in from a dig site
Four UWL graduates report that they were "gathered for a CRM phase 3 project in southern WI these past two months. We thought it would be fun to send you all a photo of our social distancing-mask wearing-alum pride." See Olivia Schauls, Laura Paisley, Alyssa Spiering and Nathan Mathews in the field: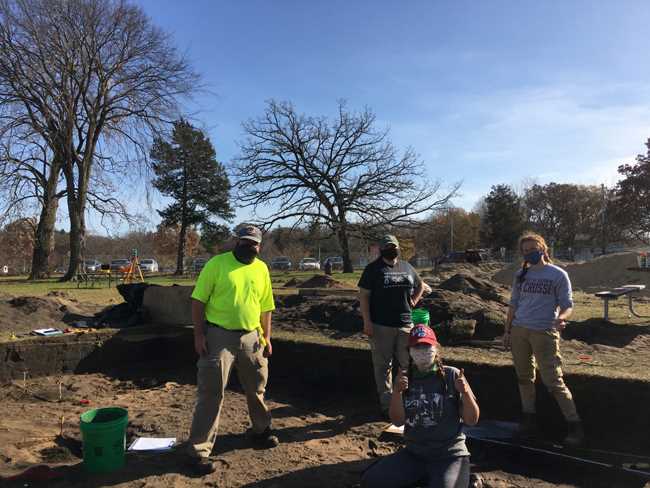 four alums at dig site in southern Wisconsin
David Anderson Creates Virtual Ancient Egypt Exhibit
Dr. David Anderson has created virtual 3D scans of more than 250 ancient Egyptian tombs and artifacts, as seen in this story from News8000. and from UWL's news Anderson says that whenever he would visit a museum or historical site he would take as many pictures or an object or location, to get all the different angles. Then, he would create virtual to-scale models. Some can even be downloaded and run through a 3D printer. The images are now available for you to explore on the sketchfab website: www.sketchfab.com/danderson4. These include both artifacts, as well as whole rooms in temples. Here, you can look around and zoom in on the images, such as in the Shrine of Osiris, Temple of Seti I, Abydos.
Connie Arzigian at the Historic Indian Agency House
Exploring Prehistoric Archaeology
Video of Connie Arzigian's July 21, 2020 presentation at the Historic Indian Agency House.
https://www.youtube.com/watch?v=lm_adLj4UrU
From nails, shards of glass and bone, a picture of the past emerges in Portage. Wisconsin State Journal piece about Connie Arzigian's excavations at the Historic Indian Agency House.
Link to Wisconsin State Journal piece
https://madison.com/wsj/news/local/from-nails-shards-of-glass-and-bone-a-picture-of-the-past-emerges-in-portage/article_bf68fa3d-b869-515b-bf41-5fa6bbddec8b.html
Virtual Internships are available
As we get information about virtual internship possibilities, we'll be posting them on the Internships page. Here's the latest:
The Latin American News Digest is seeking qualified students for a limited number of internships for Fall 2020. Because the goal of the Digest is essentially a didactic one, to spread the word about news from Latin America, we feel strongly about providing the opportunity for students to participate in this process. Student writers and researchers contribute to our weekly issues by aggregating and writing summaries of news articles found in Latin American sources. Ideally, internships happen in tandem with an independent study led by a faculty member of the appropriate department, but this is not a requirement. The result is an enriching experience for students who discover a variety of perspectives within the Latin American media. Students are able to identify trends and anomalies in the region, giving them a much greater breadth of knowledge and understanding of the hemisphere in which they live. Further info is available here.
Anthropology student publishes letter in the Racquet about recent voting-day snafu, and your 5 cent refund
WGSS major/Anthropology minor Kendra Whelan just published a letter to the editor in The Racquet about a voting snafu on campus on Feb. 18th. Students who voted and had to print out their voter verification on campus are eligible for a 5 cent refund at the Union. Learn more here, including how to get your refund: https://theracquet.org/8118/letter-to-the-editor/letter-to-the-editor-how-much-is-democracy-worth-to-you/
Four Student Interns presented their research at Career Services Internship Showcase Feb. 25, 4:30-6 pm
Cultural Anthropology student Malcom Nelson and Archaeology students Mikayla Hed, Casey McKeough, and Hui Xin Wong presented posters discussing their internships at the Internship Showcase Tuesday February 25. Below are some pictures from the Showcase.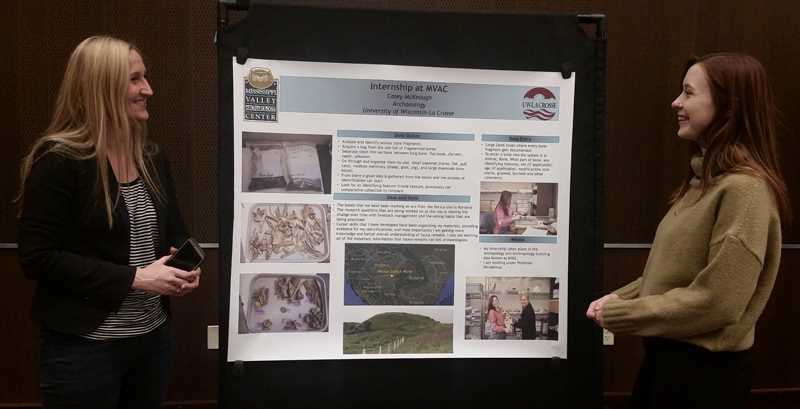 Casey McKough and Amy Nicodemus at the 2020 Internship Showcase



Archaeologist Connie Arzigian profiled in the campus Racquet
Dr. Connie Arzigian was profiled in the campus newspaper the Racquet, discussing how she became involved in archaeology, and what Anthropology can contribute to our understanding of the world.
Archaeology professor David Anderson collaborates on study assessing archaeologists' psychological health
Dr. David Anderson collaborated with Gary Gilmore, health education and health promotion professor, and Ryan McKelley, psychology professor, to conduct an assessment of the psychosocial occupational health status of archaeologists. Read the article in Capstone, UWL College of Arts, Social Sciences and Humanities Newsletter, Fall 2019.
Anthropology student Olivia Schauls presented as part of her SEEDS position in Campus Climate
Olivia Schauls, Cultural Anthropology and Archaeology major, gave a presentation last night as part of her SEEDs (Students Enhancing and Embracing Diversity) position in Campus Climate. The presentation was entitled, "Fresh Fruit, Broken Bodies: Migrant Labor, Structural Violence, and Industrial Agriculture in the US." Assisting Olivia in her presentation were Alexis Anderson and Camoya Evans.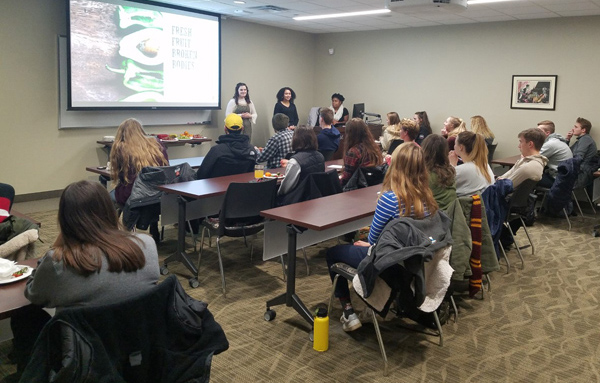 Olivia Schauls SEEDS for web.jpg
Archaeology Alumni present at Midwest Archaeological Conference
Two recent Archaeology and Anthropology Department grads presented their 2019 Senior Thesis research at the Midwest Archaeological Conference in Mankato Minnesota on October 10-12, 2019. Marina Tingblad presented "Understating the Construction of Oneota Vessels with Experimental Archaeology," for which she won the Undergraduate Prize in the Student Paper Competition. NIcolette Pegarsch presented "Investigating the Accuracy of 3D-Photogrammetry in Relation to Artifacts." Nikki received a travel grant from the Wisconsin Archaeological Survey to attend the conference and present.
In addition, Constance Arzigian and Jim Theler (emeritus professor of Archaeology) presented Ritual Contexts from Oneota Sites in La Crosse, Wisconsin, as part of a symposium on Ritual as Function and Process in Midcontinental Pit Features.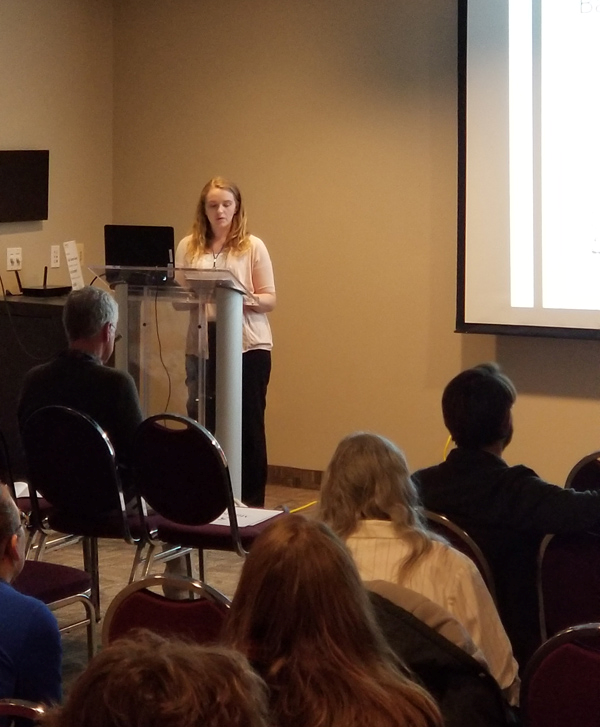 Marina Tingblad presenting at MAC 2019

Archaeology and Anthropology ranked among 10 top jobs for low stress and higher pay
"U.S. News & World Report identified archaeologists, anthropologists and cartographers as some of the best occupations for low stress and pay above the national median income of around $50,000." Read the full article for more details
A UWL alumnus, Gregg Jamison (2002), is featured in a story on UW-Madison's MIA Project with the Department of Defense to return the remains of a World War II pilot who has been missing for 75 years. See how archaeological and physical anthropological methods are being used to find and return home those missing in action. Jamison served as the "scientific-recovery expert on site."
Dr. Amy Nicodemus awarded major NSF grant on the Bronze Age in Europe
Amy Nicodemus, Assistant Professor in the Department of Archaeology and Anthropology, was recently awarded $237,052 from the National Science Foundation for her grant: "Anka Siget: Investigating the Role of Secondary Centers in Complex Non-State Social Systems." These funds will support a multi-year excavation project at the major Bronze Age settlement Rabe-Anka Siget, Serbia. Her research will explore factors leading to the emergence of complex societies in the European Bronze Age. This project will also provide field and laboratory training to undergraduate students in an international setting
Archaeology and Anthropology students honored at CLS Evening of Excellence
Glory Melotte, Archaeology, and Ciara Herman, Cultural Anthropology, were recognized by the Department and the University as outstanding students. (Students and their mentors seen in the photo below, from the left: Tim McAndrews, Christine Hippert, Ciara Herman, Glory Melotte, Amy Nicodemus)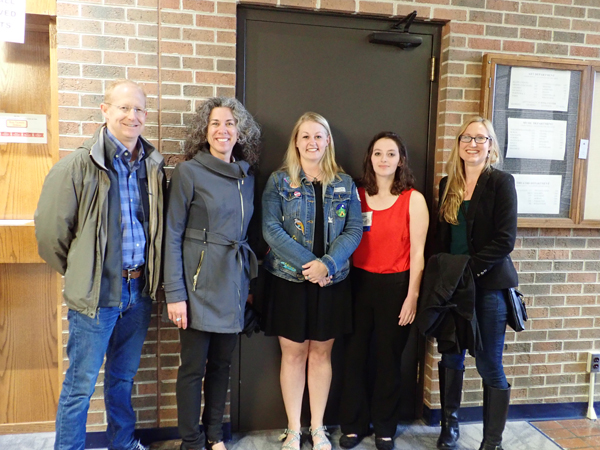 Ciara Herman, Glory Melotte, and faculty2.jpg
Archaeology and Anthropology Students and Staff present at 2019 Celebration of Research and Creativity
Twenty Archaeology and Anthropology students and staff presented their research posters. See them below (alphabetical by first name), and download the program with abstracts. Congratulations to all for pursuing great research!
Ashley Nowak, "Environmental Change along the Upper Mississippi River as seen through the Perspective of the Mussel: A Comparative Study over 1,000 Years Emphasizing the Pools at La Crosse, Wisconsin"

Ciara Herman, "The Social Impact of a Community Garden on Bay Shore County Park Campground"

Cindy Kocik and Christina Yuen, "Ridged Field Agricultural Systems in Onalaska, Wisconsin: Putting It All Together 37 Years Later"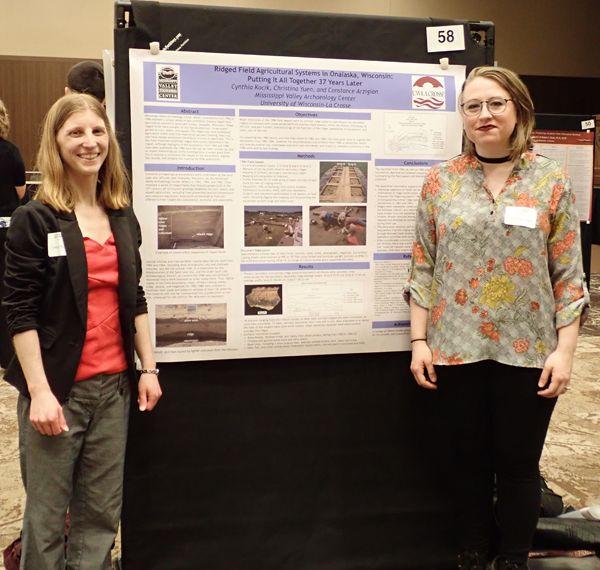 Cindy Kocik and Christina Yuen, MVAC staff and UWL alumni
Elizabeth Rosio, "Differences between Ratios of Male and Female Migrants: A Comparative Study between the Inca Sties Chokepukio and Machu Picchu"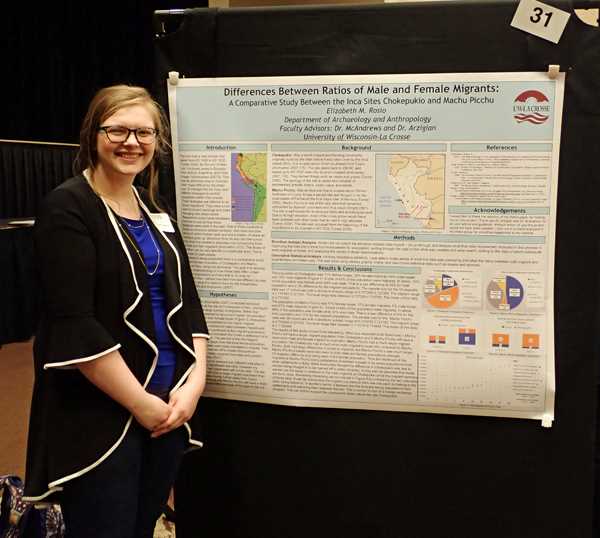 Liz Rosio.JPG
Glory Melotte, "Livestock Management during the Early Bronze Age at Pecica Santul Mare: An Isotopic Analysis of Sheep Third Molars"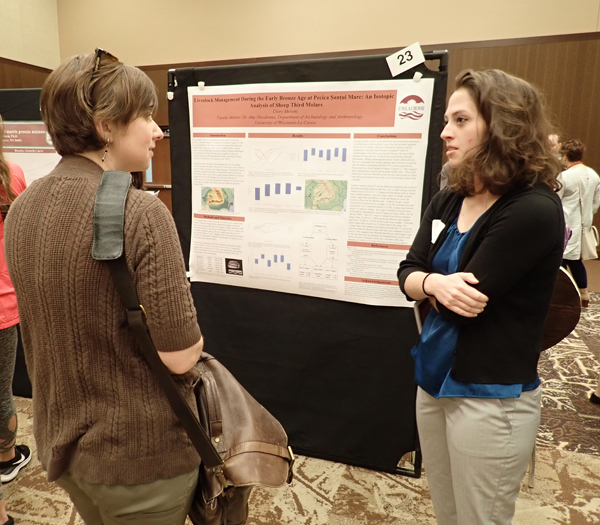 Glory Melotte and Heather Walder.JPG
Hannah Van Genderen, "Trepanation with Obsidian Tools: Comparing Cross-Hatch and Scraping Methods using Experimental Archaeology"

Hayley Nelson, "Fortifying the Sense of Community: How Wausau Events Inc. is Impacting the Community"

Kaitlin Meye, "Examining Racial Rhetoric, Self Identity, and Belonging in Post-Apartheid South Africa"

Katy Berglund, "Comparing Migration Rates Inside and Outside the Tohono O'Ooham Reservation"

Kyle Lopata, "Testing Assumptions with Experimentation: A Comparative Analysis of Lithic Debitage from the Pammel Creek Site"

Leah Griesbach, "The Japanese Perception of Foreignness"

Marina Tingblad, "Understanding the Constructive of Oneota Vessels through Experimental Archaeology"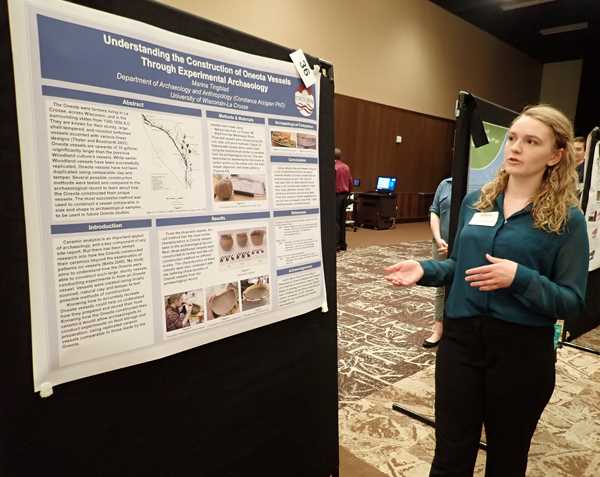 Marina Tingblad-3.JPG
Montana Fender, "Student Progression within a College Access Program"

Nicolette Pegarsch, "Investigating the Accuracy of 3D-Photogrammetry in Relation to Artifacts"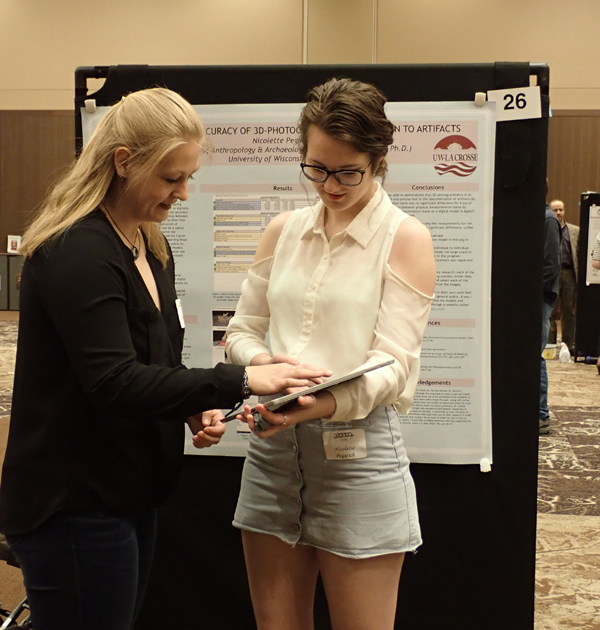 Nikki Pegarsch showing Ciara Herman.JPG
Olivia Schauls, "Examining the Community Supported Agriculture Program of the Old Oak Family Farm"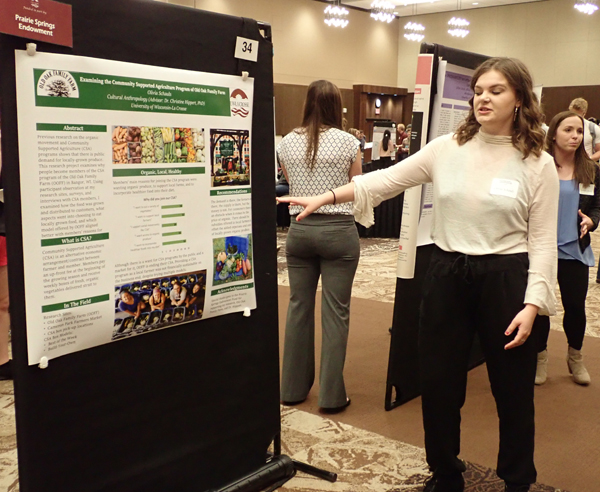 Olivia Schauls2.JPG
Samuel Peterson, "The Building and Testing of a Replica Viking Shield: An Experimental Approach to an Archaeological Thesis"

Samantha Leicht-Ruskey, "Cross-Cultural Comparative Study of Three Museums: The British Museum, Museum of London, and Field Museum"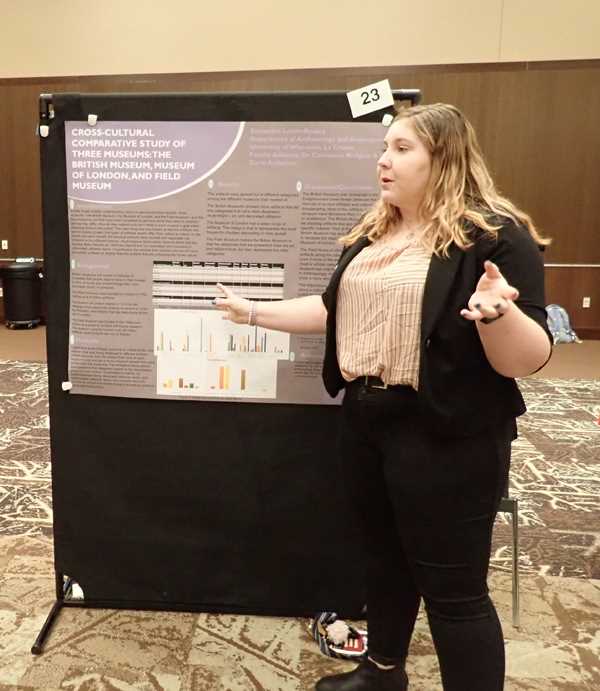 Samantha Leicht-Ruskey.JPG
Sandra Weiss, "Metal, from Prestige to Utilitarian: An Analysis of Butchery Marks during the Bronze Age Occupation of Pecica Santul Mare, Romania"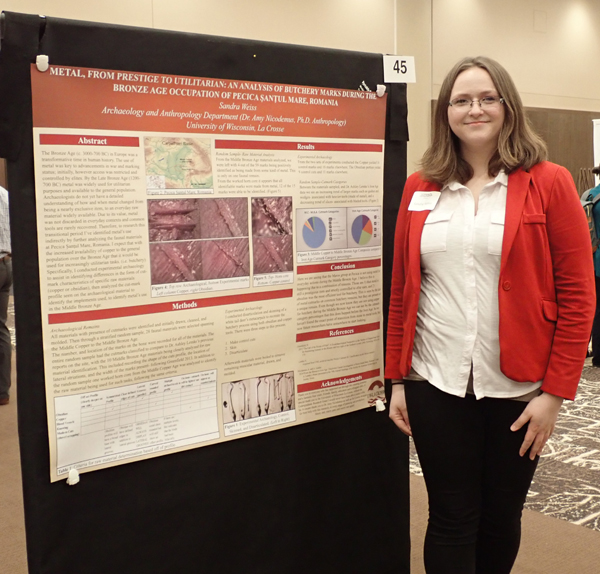 Sandra Weiss2.JPG
Toua Yang, "The Reproduction of Egyptian Faience"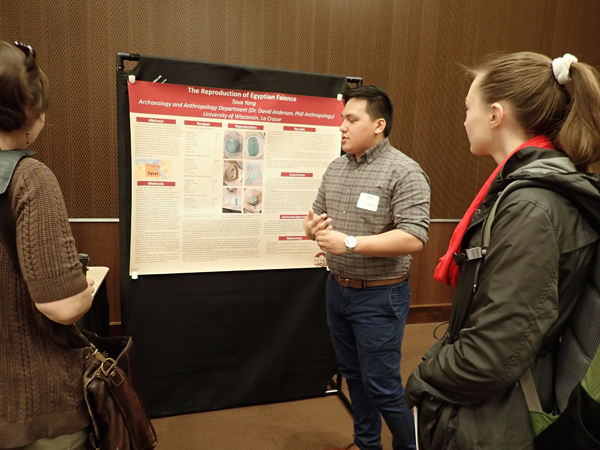 Toua Yang.JPG
MVAC exhibits in the news
A story in the Campus Connection highlights some of MVAC's exhibits and collections that the public can visit, including display cases in the Archaeology Center Building. Artifacts abound - Campus Connection | UW-La Crosse (uwlax.edu) All are welcome.
Presentation at the Capitol Rotunda
Olivia Schauls presented her poster to Wisconsin legislators on April 17 at the Research in the Rotunda event in Madison. Her research was titled "Examining the Community Supported Agricultural Program of Old Oak Family Farm".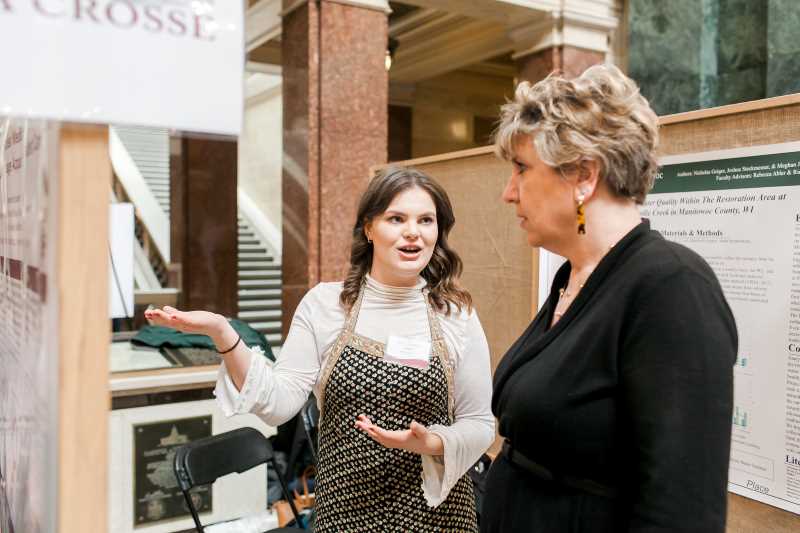 Liv at Rotunda
Olivia Schauls, double major in CA and ARC, secured a SEED position in the Campus Climate Office
Olivia Schauls, double major in Cultural Anthropology and Archaeology, secured a highly competitive SEED position in UWL's Campus Climate Office. SEED stands for "Students Educating and Enhancing Diversity." Olivia's looking forward to working with prospective and current students about diversity issues, especially those related to food, the role of migrant labor in industrial agriculture, and human rights.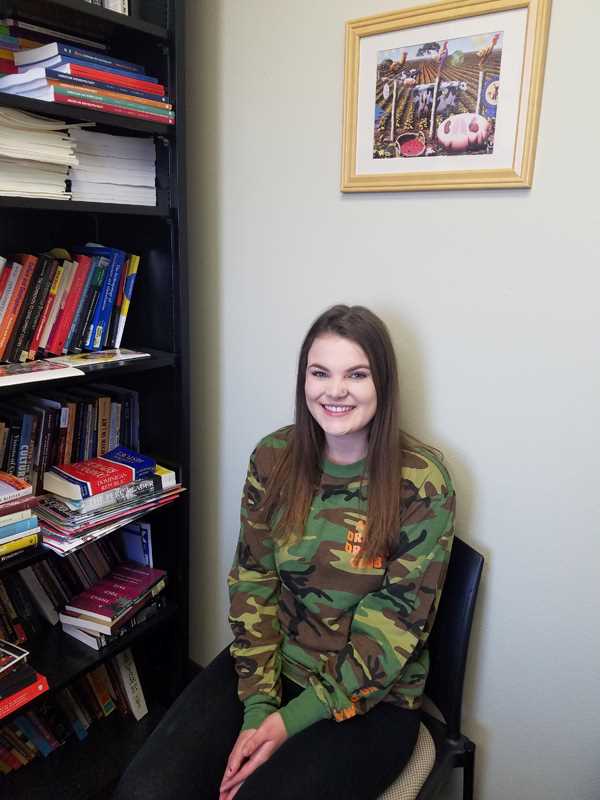 Two Arc & Ant students are interns at La Crosse County Historical Society
The La Crosse County Historical Society newsletter for spring 2019 featured stories about 2 Arc and Ant students (thanks to Peggy Derrick and Amy Vach for permission to reprint here):
"Two new interns, Kyle Willoughby and Ma Lee Thao, began work in La Crosse County Historical Society under Collections Manager Amy Vach this January. Both discovered the LCHS internship program through recommendations by their UW-La Crosse professors, and have been able to use their interests and expertise to advantage on the job.
"Kyle Willoughby lived in south-central Iowa and the St. Cloud, Minnesota area before beginning his studies at UW-La Crosse. He recently graduated from there with a degree in Archaeology and Anthropology, and plans to eventually pursue a career in those fields. He's pleased with the job experience he's gaining at La Crosse County Historical Society, and has developed a strong interest in La Crosse history. Kyle's specialties include 3D modeling, computers, and working with stone and pottery. LCHS Collections should give him opportunities to use many of his skills. Currently he has been cataloging musical instruments, and learning the artifact cataloging program Past Perfect, how to handle delicate items such as textiles, and artifact photography.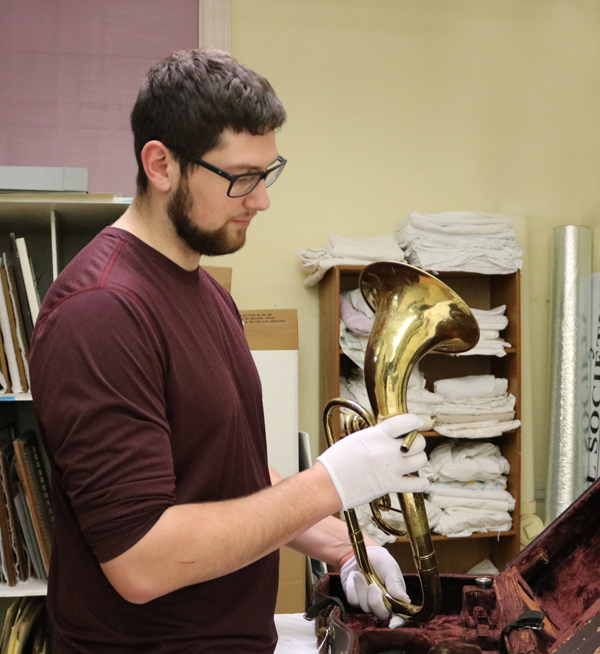 "Ma Lee Thao is a La Crosse native and a junior at UW-La Crosse. She is majoring in Cultural Anthropology and Communications Studies, and pursuing the Hmong Certification Program as well. Malee recently returned from a semester of study in South Korea, where she enjoyed being immersed in the Korean language and culture. On her return, her professors at UW-La Crosse told her about the LCHS internship opportunity. Currently Malee is cataloging sashes, bonnets, and Oktoberfest buttons. Like Kyle, she is learning Past Perfect, artifact handling, and artifact photography. Soon she will begin work with the upcoming "Living Hmong Life in La Crosse" website, interviewing Hmong elders in conjunction with the project and identifying people in photographs from La Crosse's Friendship Program of the 1980s and 1990s.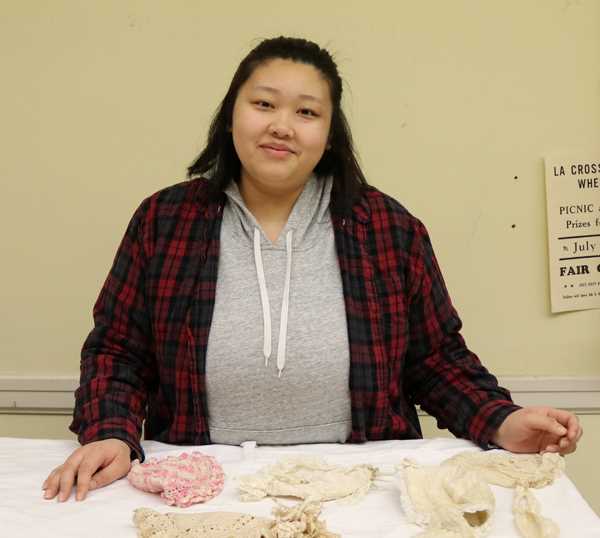 "La Crosse County Historical Society is indeed fortunate to have two such talented and capable people on the job. Welcome, Kyle and Malee!"
Cultural Anthropology Emphasis Graduate and Professor publish on after-school program in Bolivia.
Ashley Schwartz, Cultural Anthropology 2018 graduate, and Christine Hippert, Professor in Archaeology and Anthropology, co-authored the article "Examining Gap-Filling in the Curriculum of the Pirwa After-School Program for Children in Huancarani, Bolivia" in Practicing Anthropology published on Mar. 1 by the Society for Applied Anthropology.
Honoring our December Grads
Five Archaeology and Anthropology students graduated in December, 2018. They are shown below, along with Anthropology professor Dr. Christine Hippert. From left to right: Kyle Willoughby, Keagan Rabe, Ashley Schwartz, and Danielle DuFoe. One graduate not pictured: Desiree Nelson. Congratulations to all, and good luck in all your future endeavors.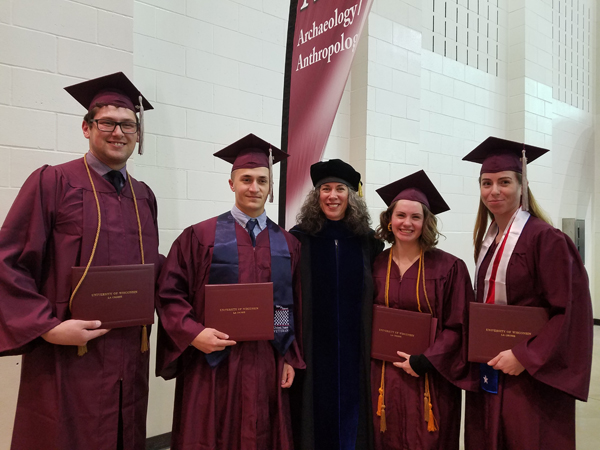 December 2018 grads: From left to right: Kyle Willoughby, Keagan Rabe, Ashley Schwartz, and Danielle DuFoe. One graduate not pictured: Desiree Nelson.
Ashley Schwartz wins Undergraduate Student Paper Prize
At the October, 2018, annual conference of the North Central Council of Latin Americanists at UW-Eau Claire, Ashley Schwartz, C.A. Emphasis Major, won the Undergraduate Student Paper Prize for her paper entitled, "Examining 'Gap-Filling' and Forms of Knowledge in the Curriculum of the Pirwa After-School Program for Children in Huancarani, Bolivia." Her paper was based on research that she conducted for her honors thesis.
Student internship combines Anthropology and Farming
Read how Olivia Schauls' summer internship is helping understand sustainable agricultural practices
Dr. Christine Hippert presents at Summer Teachers Institute on Race and Ethnicity in Latin America
UW-Milwaukee invited Dr Christine Hippert to present at the 2018 summer Teachers Institute sponsored by the Center for Latin American and Caribbean Studies. They had 20 K-12 teachers from all over the US and Britain + 4 undergrad professors from around the state in attendance. Her class was called, "The Social Constructions of Race and Racism in Hispaniola: The Influence of the Past on the Present," and it kicked off the 3-day workshop. She reports that she was really well received and looks forward to going back another year!
MVAC Public Field Experience brought students to Goose Island this summer
Read about the Mississippi Valley Archaeology Center's High School, Middle School, and Public field experience this summer down at the Goose Island Campground. We were excavating within a newly discovered Early Woodland campsite along the banks of the Mississippi River.
Students Awarded at the 2018 CLS Evening of Excellence
Every year, the department selects one Archaeology student and one Anthropology student to receive a Departmental Student Excellence Award at the annual CLS Evening of Excellence. This year the Archaeology award went to Jaelyn Roland, with Ashley Schwartz earning the Anthropology award.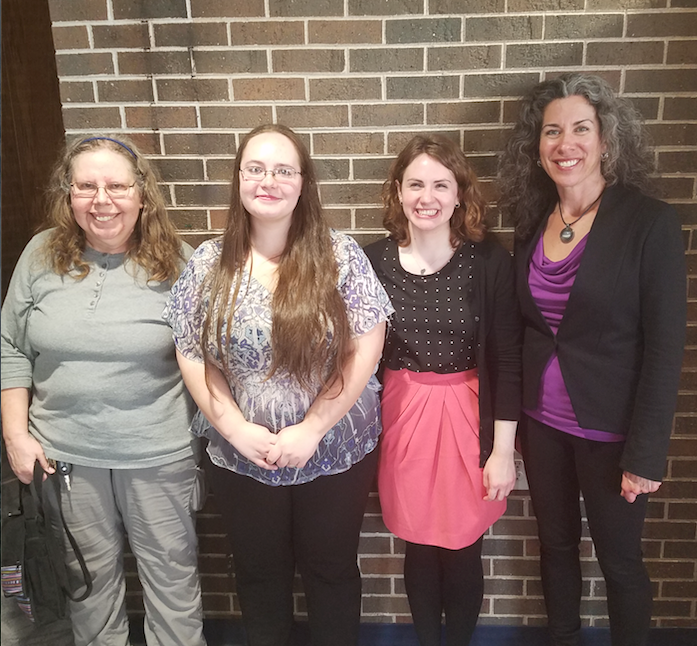 (L-R: Dr. Constance Arzigian, Jaelyn Roland, Ashley Schwartz, Dr. Christine Hippert)
Archaeology and Anthropology Students present at the 2018 Celebration of Research and Creativity
Twelve students presented their research projects on April 10, representing results of Senior Theses and grants. See some of them below:
Andrew Anklam: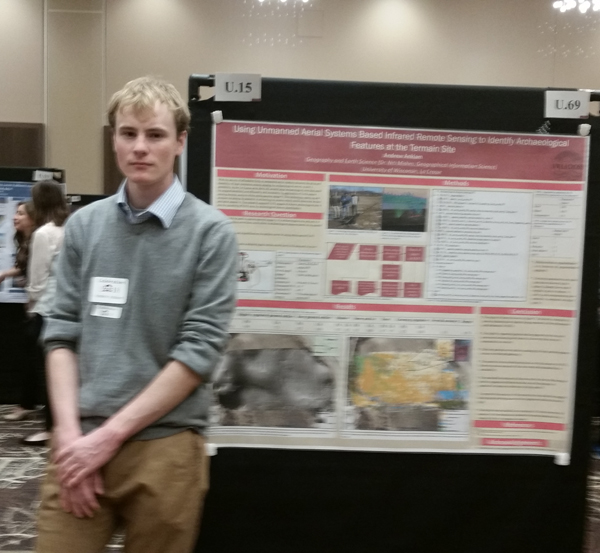 Brandon Emerson: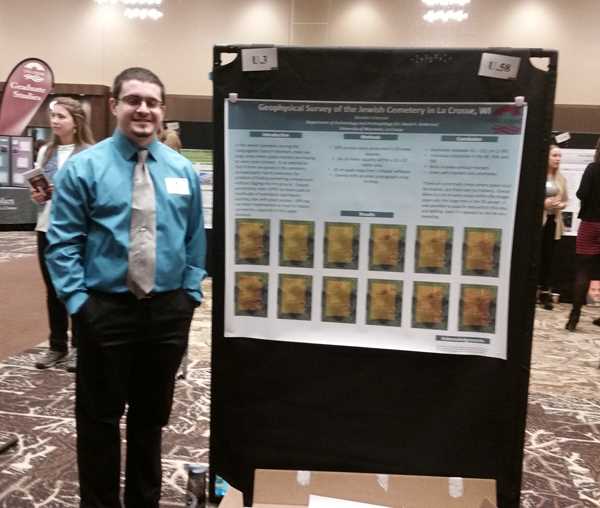 Ashley Schwartz: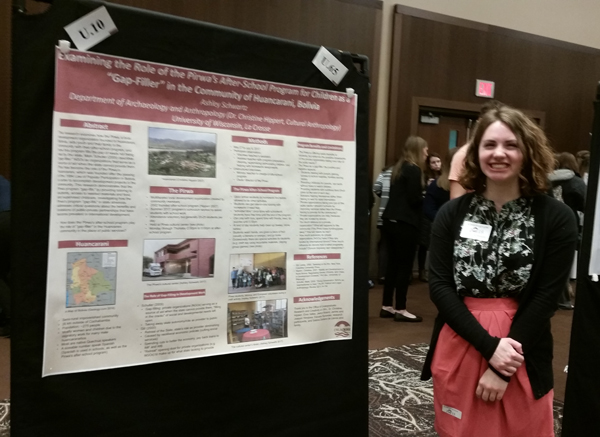 Jaelyn Roland:

Madeline Younce:

Nicole Reske: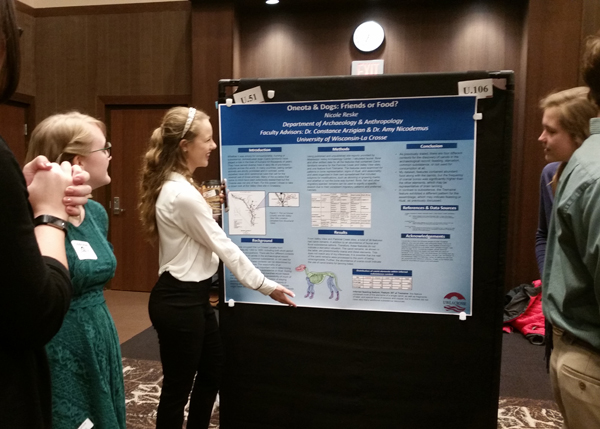 Tessa Snell: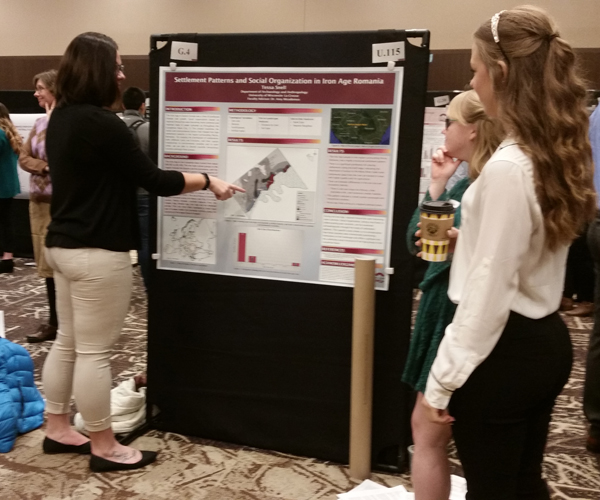 Valerie Watson: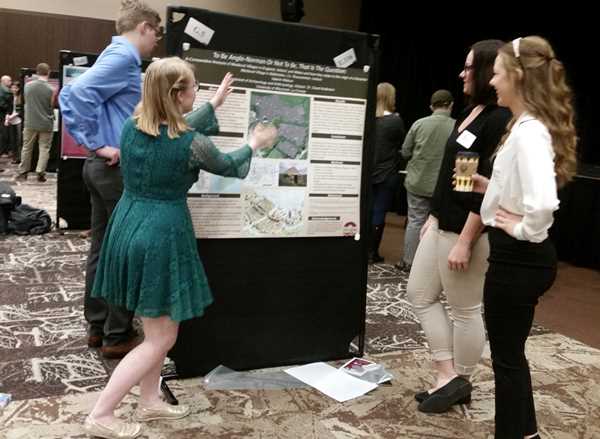 Zachary Allain:

Not pictured: Abe Packard, Mekaela Opsahl, Kyle Willoughby
Congratulations to Archaeology Student for IFR-SAA travel grant
UWL Archaeology major, Jaelyn Roland, was awarded an Institute for Field Research-Society for American Archaeology (SAA) travel grant to cover her travel costs to the SAA Annual Meeting in DC on April 11-15, 2018.
Jaelyn reflects on her experiences at UWL and her plans for the future:
I started the Archaeology program at the University of Wisconsin-La Crosse in the Fall of 2013 knowing that I wanted to be an archaeologist, but I had no idea where I wanted to work, I loved it all. After taking courses that discussed the archaeology of the Midwest and working with artifacts from the La Crosse area, I realized the archaeology of the Midwest had stolen my heart. In the fall semester of my third year I began a research project inspired by the research of Colin Betts (2006) examining epidemics during the Protohistoric period, in Iowa and Wisconsin and George Milner's (2015) research on population decline and culture change in the midcontinent. I began researching this topic because of my interest in cultural change and cultures in contact. I conducted an analysis of ceramics, comparing those from the late prehistoric La Crosse locality in western Wisconsin and the protohistoric Riceford Creek locality in southeastern Minnesota. I will be presenting the final results of this research at the SAA's annual meeting in April. I will be graduating this spring from the University of Wisconsin-La Crosse and I hope to attend graduate school after working for a year or two in Cultural Resource Management. In graduate school I would love to continue doing research in the Midwest and all it has to offer. I have been a teaching assistant for four different courses in my time here at UWL and my hope is to become a professor someday after receiving my Ph.D.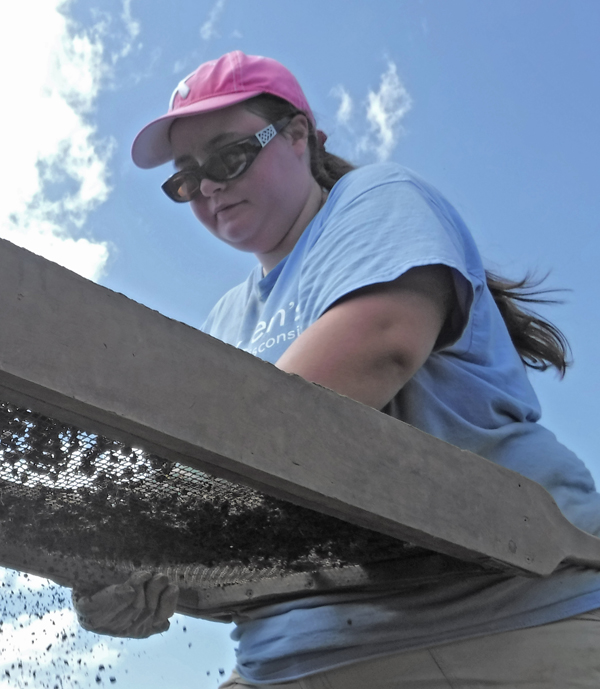 Our Students and Faculty Highlighted in Campus News
Our department was featured twice in the College of Liberal Studies' Fall 2017 Capstone newsletter. "New Major" celebrates our new Cultural Anthropology emphasis in the Archaeology major, and includes an interviews with Dr. Christine Hippert and Elvia Valles, senior and double-major in the Cultural Anthropology emphasis and Sociology.
The second piece, "3D Archaeology: Professor, senior bring ancient culture to today", discusses the 3D modeling utilized by Dr. David Anderson, and how William Feltz ('17) used the technology in his senior thesis project on prehistoric pottery.
Archaeology Students and Faculty Present at MAC Conference
Two archaeology students, Jaelyn Roland and Andrew Anklam presented their current research at the 2017 Midwest Archaeological Conference in Indianapolis, Indiana. Jaelyn presented her Senior Thesis research on "Cultural Changes during the Protohistoric Period: An Oneota Case Study." Andrew discussed research he completed this summer on "Modeling Proglacial Shorelines of Glacial Lake Agassiz around Prehistoric Quarries in Northern Minnesota," co-authored with Dan Wendt. Constance Arzigian, Lecturer and Senior Research Associate with the Mississippi Valley Archaeology Center (MVAC), along with Jean Dowiasch (MVAC) presented "Avocational Archaeology:Expanding the Archaeological Record beyond CRM", in the MAC sponsored symposium "Collaborative Engagement: Working with Responsible Private Collectors and Collections."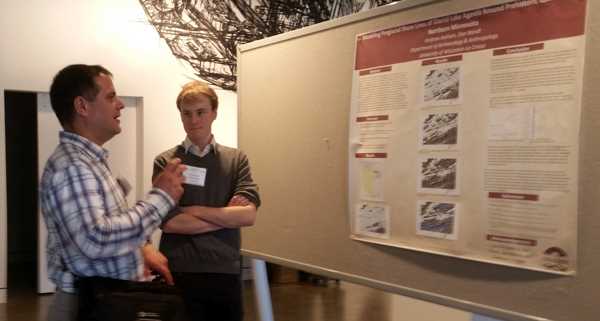 Andrew Anklam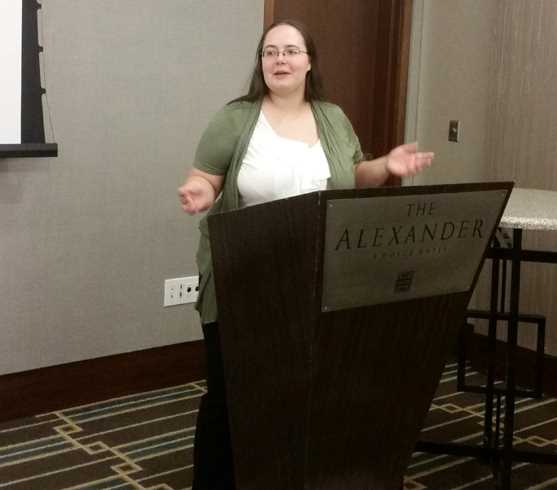 Jaelyn Roland
Cultural Anthropology Student Presents at NCCLA Conference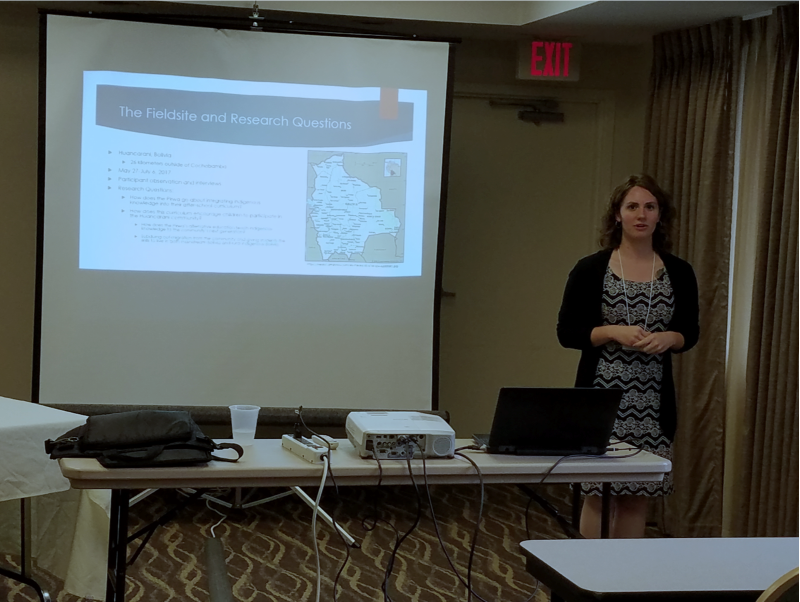 Ashley Schwartz NCCLA
Ashley Schwartz (Cultural Anthropology) presented at the annual conference of the North Central Council of Latin Americanists (NCCLA) in Madison, WI from October 5-7. Her presentation, entitled, "Examining Indigenous Knowledge and Community Inclusiveness in the Curriculum of the Pirwa After-school Program for Children in Huancarani, Bolivia," included some of the results of her thesis research conducted in summer 2017. Her project was funded by an Undergraduate Research Grant. Ashley was also awarded an NCCLA Student Travel Award to attend the conference.
New Cultural Anthropology Program
UWL has added a Cultural Anthropology Emphasis major.
Dr. Christine Hippert, UW-L Anthropology Program Coordinator, described Cultural Anthropology as, "…the study of contemporary peoples and cultures." "The major is specifically designed to give students a cross-cultural and international perspective on human diversity so that they account for cultural context when solving social problems." It is a great program for those interested in a wide range of careers, especially international work.
Read more about the program in the UWL Racquet
Archaeology Field School in Holmen makes the news
Dr. David Anderson's Archaeology Field School (ARC 402) has been working on exploring the past and getting some real experience in field archaeology. Their story is told in an article in the La Crosse Tribune and with a story, videos. Digging up ancient garbage may not sound like fun, but it holds the answers to how people lived, and is "super cool," according to one participant.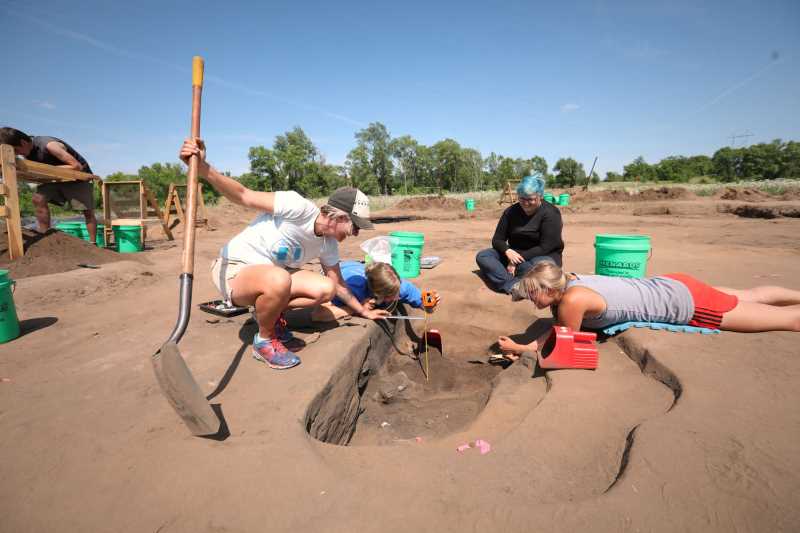 Archaeology field school excavation
Science Camp features Archaeologist: Making Bones Speak
Dr. Amy Nicodemus, and Archaeology students Jenny Lemminger and Valerie Watson presented science to middle school students at the 2017 Girls in Science and Boys Science Exploration camps. In the "Making Bones Speak" activity, students put on their detective hats and became forensic anthropologists for the afternoon. They learned how to use the human skeleton to identify who a person was, determining traits such as age, sex, and stature, and how they might have died. In the photo below, after successfully identifying their victim, the students are relaxing by tackling the task of reassembling a human hand, with it's 27 bones.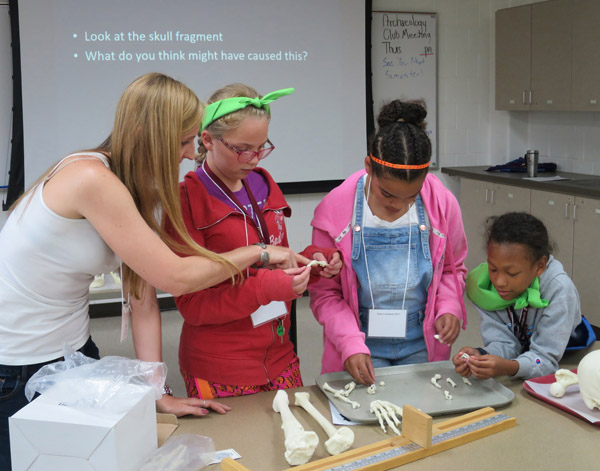 Dr. Christine Hippert's new course: "Search for Economic Justice"
Dr. Christine Hippert is one of the first two instructors to have taught this multi-disciplinary general education course that examines economic justice worldwide through multiple disciplines. In the course, she shares many stories drawn from her international research to some of the poorest communities in Latin America, saying "I'm putting faces and names to the people who make your clothes, your food...". See page 23 of the Spring 2017 CLS Capstone newsletter for more information.
The course, ANT 212, is taught each spring, and will satisfy the General Education requirement G4: International and Multicultural Studies. In the meantime, check out some of the photos from Dr. Hippert's research in the hallways outside the Department office (435 Wimberly) and outside classroom 312.
Archaeology student and 3D visualizations
Dr. David Anderson and archaeology student William Feltz were featured in the UWL's campus news, discussing both the research and teaching value of creating 3D images. Read more about this new application of digital technology.

Two archaeology and anthropology students honored at 2017 CLS Evening of Excellence
Archaeology and Anthropology students Eleanor Waters and Gemma Zahradka were recognized for their accomplishments at UWL at the 2017 CLS Evening of Excellence.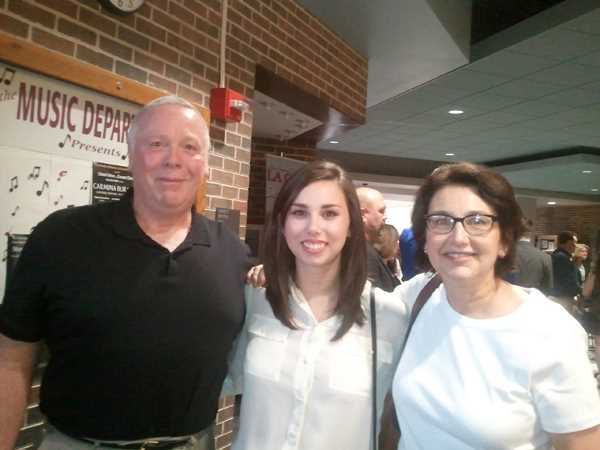 Eleanor Waters and her parents celebrate her recognition as an archaeology and anthropology student at the CLS Evening of Excellence.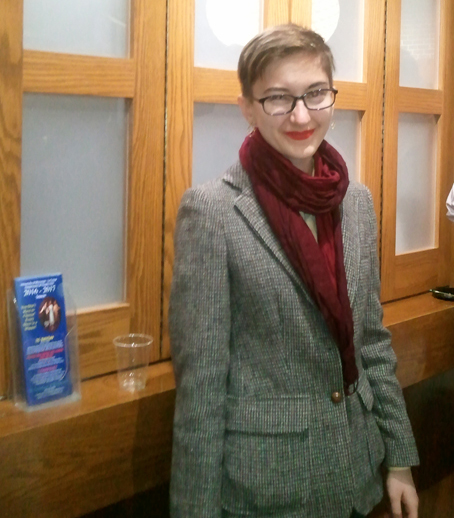 Gemma Zahradka
Gemma Zahradka was recognized for her work as an archaeology student at the CLS Evening of Excellence.
Spring 2017 Student Presentations
Archaeology students were active participants in research during the spring 2017 semester, and presented their work at the 2017 Celebration of Research and Creativity, at the Posters at the Rotunda. Two students also presented at Infused Languages and Cultures across the Majors: Student Perspectives. One student was invited to present his research at the Wisconsin System Board of Trustees meeting at UWL. Congratulations to all. Views of the students in action are archived here.
Archaeology student invited to present at WiSys Board of Trustees Meeting May 3, 2017
Archaeology student William Feltz has been invited to present his research poster at the upcoming meeting of the Wisconsin System Board of Trustees, here at UWL on May 3. His work discusses rendering 3D images of Wisconsin ceramics. This is a nice acknowledgment of the important research that our archaeology students conduct.
Exhibition Photographs on display in Wimberly Hall: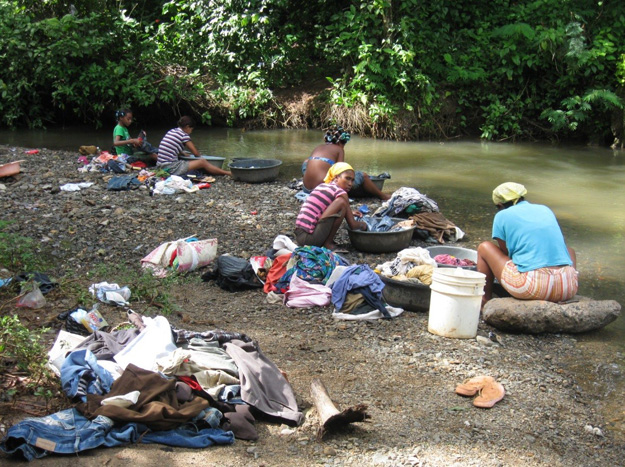 Some of the photographs from this exhibition are now on display in the hallway outside 312 Wimberly Hall, or on the 4th floor of Wimberly outside the Archaeology and Anthropology Department office at 435 Wimberly. Please take a look.
The photos depict lots of the themes and topics -- such as immigration and migration, the origins of political revolutions, the complexities involved with understanding cultural differences and the need for universal human rights -- that are discussed in the new General Education class ANT 212 Search for Economic Justice. ANT 212 fulfills the GE04 category in General Education, and shows students the direct impacts of our own actions on people around the world who make our clothes, our food, our electronics, etc.
Through the lens of photography, viewers will encounter depictions of various aspects of economic justice in photos, while simultaneously posed different questions pertaining to these depictions, prompting reflection and dialogue about economics and the human side of economic inequality.
This exhibition was made possible by the UWL Foundation Small Grants program and organized by Christine Hippert, Archaeology/Anthropology, Nabamita Dutta, Economics; and Marc Manke, Murphy Library.

World Anthropology Day 2017
In 2017, the UWL Archaeology Club celebrated World Anthropology Day by setting up a Anthropology information booth for February 16th and by hosting their second annual Settlers of Catan tournament February 17th, at the new Student Union. At the tournament, students of various academic backgrounds were able to experience Anthropology though expanding settlements, resource management, and trade relationships. World Anthropology Day is a yearly event organized by the American Anthropological Association to celebrate our discipline.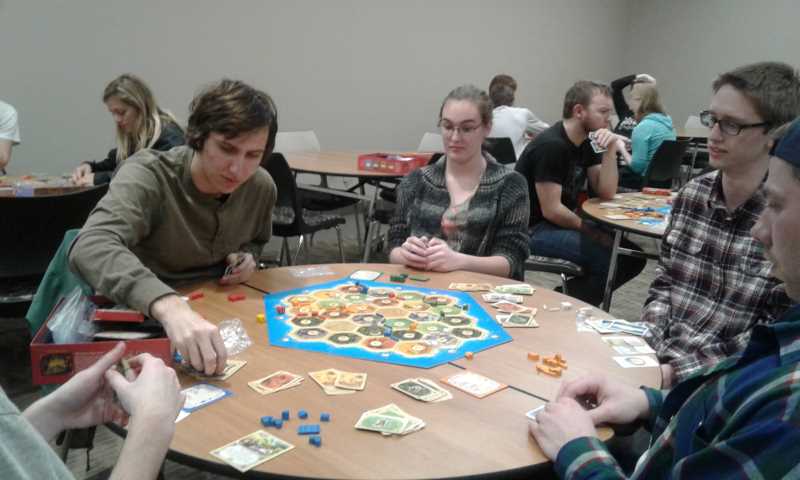 Students playing Settlers of Catan for World Anthropology Day
News Stories
World Anthropology Day with the Archaeology Club
As part of the American Anthropological Association's World Anthropology Day, the UWL Archaeology Club, headed by Archaeology Majors Jenny Keute and Jacob Poppe, had a campus-wide event on Thurs., Feb. 18th from 6-11 pm where students played the board game, "Settlers of Catan." Read more about World Anthropology Day here
Then, on Friday, Feb. 19, they set up a table during UWL's campus-wide recruitment event to explain to prospective students what Archaeology and Anthropology can do for students' future careers.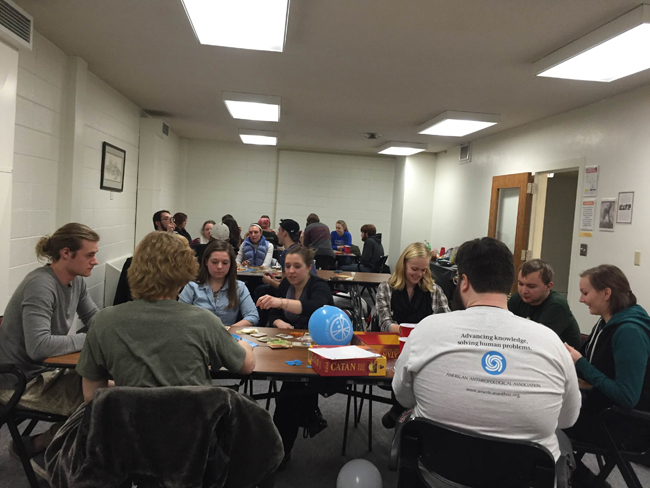 World Anthropology Day- UWL Archaeology CLub playing Settlers of Catan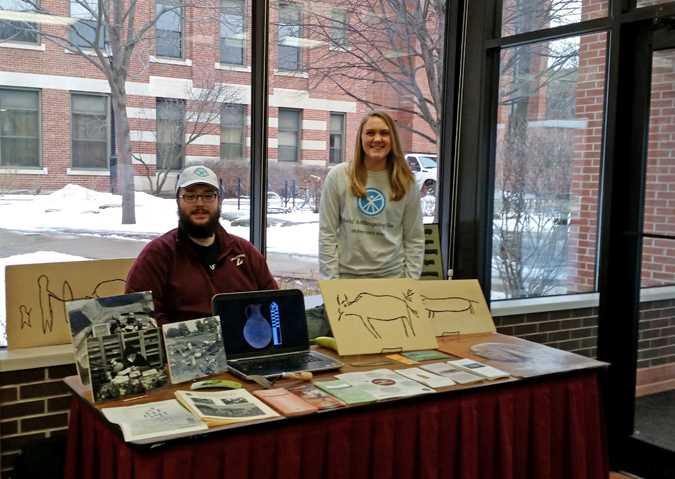 Archaeology club sharing information at Campus Close-up
The job market for archaeologists is better than average!
Learn more about the job outlook and what you can expect. Read the full story
UWL Racquet features an article on the new Archaeology & Anthropology Department
You can read the whole issue here or download a pdf of the article
Some highlights from the article: The Archaeology major program has been offered at UW-La Crosse since 1992. Since then, the archaeology and anthropology departments at UW-L have been housed in the joint Department of Sociology and Archaeology. However, due to substantial differences in the two fields, there had always been talk of moving archaeology and anthropology into its own department separate from sociology.
"With the Growth, Quality, and Access Initiative, new faculty members were added in both the sociology and archaeology programs, and we determined collectively, at the beginning of the 2014-15 academic year, that we could advance our programmatic goals more efficiently as separate academic departments," said department chair and archaeology professor, Timothy McAndrews.
McAndrews also stated that he is most excited for the types of students that this new department will draw to UW-L. "Our program is already recognized as one of, if not the best, programs of its kind in the country. Now, as the only Department of Archaeology and Anthropology in the world, we believe our academic programs will be a draw for even more students," he said.
Many of the students...are excited for what the new department will bring to UW-L. "Although we are now a separate department, we continue to partner with other departments to enrich our learning, and possibility exists of hiring more professors with different areas of expertise or viewpoints. The combination of archaeology and anthropology really creates a well-rounded learning experience," said sophomore archaeology major Maddy Younce.
Dr. Christine Hippert - Sabbatical Field Notes from the Dominican Republic
View the field notes and more photos
UWL Professor David Anderson appointed to ARCE
David Anderson has spent the last 30 years digging into the dirt on early Egyptian culture. That work has earned him a spot on the Board of Governors of the American Research Center in Egypt, or ARCE. ARCE is a non-profit foundation that promotes the research and understanding of all aspects of Egyptian culture.