Professional & Technical Writing
program
Undergrad minor
Learn to write professionally.
In the modern world, communication is constant in the workplace. Texts, internal documents, blogs, emails and press releases are just a few of the places where organizations share information. Professionals who can write clearly and concisely across diverse platforms are valued members of the team.
UWL's Professional & Technical Writing minor prepares students to write in an understandable, accessible, and ethical way for a wide range of audiences. Students learn to write both internal and external communications such as a memo between divisions of an organization or a press release to be shared more widely.
I use what I learned from my English classes in the work I do every day! I am able to communicate my organization's mission clearly and creatively, whether that's through writing social media posts, blog posts, or articles for our newsletters.
Cat Daly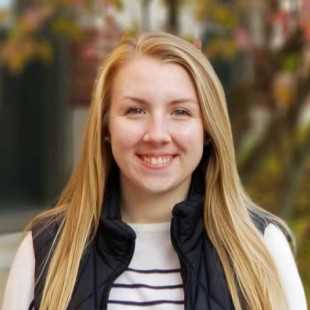 Professional writing careers
This minor complements a wide variety of majors. Typically, students will follow their major program of study to guide their career path and use professional and technical writing minor to broaden their skillset within that path.
Professional & Technical Writing is not just for those pursuing communications or marketing related work. For instance, science majors often choose to learn professional writing because of the need to take complex research findings and make them relevant and useful to diverse audiences.
Professional writing careers
Social media & digital marketer
Grant & proposal writer
Public relations specialist
Instructional designer & corporate trainer
User experience designer
Technical writer
Corporate blogger
Human resources specialist
Government communications officer
Healthcare communications specialist
Scientific communicator
Brand strategist
Search engine optimization specialist
Web content writer
Project management specialist
Non-profit communications specialist
What is professional and technical writing?
Professional and technical writing is written communication within an organization for a specific purpose, typically aligned with the organization's goals. Professional writers can boil complex information into easy-to-digest prose. This writing may appear in technical documents, newsletters, reports, press releases, emails, messaging apps and more.
What distinguishes UWL's Professional & Technical Writing minor?
Learn to write across diverse platforms
Students will gain practice writing in diverse platforms and for different stakeholders. They'll gain experience with workplace communication tools such as Slack and Microsoft Teams, as well as emails, press releases and internal documents.
Engage in client service projects
Community stakeholders and campus clients provide real-world writing projects for students to oversee from beginning to end. In the past students have worked with local food pantries, libraries, foundations, neighborhood associations, and more.
Create a writing portfolio
All students will develop a writing portfolio over the course of the minor, providing a variety of writing samples to use in their career pursuits.
Focus on professionalization
Instructors focus on professionalization in their classes. They keep up with trends to help students understand and apply these new skills to their coursework. Students are prepared to market themselves post-graduation based on the skills they've learned.
Network with alumni
Alumni visit classes to talk to students about their professional trajectories in writing.
Write and receive regular feedback
Students can expect to write during every class in the writing minor. Most classes involve hands-on projects that help students problem solve in the work setting. Students will receive regular feedback on all of their writing from instructors.