Therapeutic Recreation
program
Undergrad major Graduate program
Recreational therapists help people adapt and grow through recreation and leisure.
Your future could be working to improve the health and wellbeing of people with disabilities or illnesses by creating therapeutic programs. These goal-directed programs are in areas such as exercise, aquatics, expressive arts, music and more.
UWL has been recognized nationally for "Excellence in Therapeutic Recreation Education." And the university is one of the few nationwide to offer therapeutic recreation as its own independent major.
UWL has given me so much: fond memories, lifelong friends, superstitions about clocktowers, frustrations, joys and everything in between. I am so proud to be able to call UWL my home away from home. I can say with certainty that there will always be a piece of me in La Crosse — no matter where I end up.
Kyra Neuser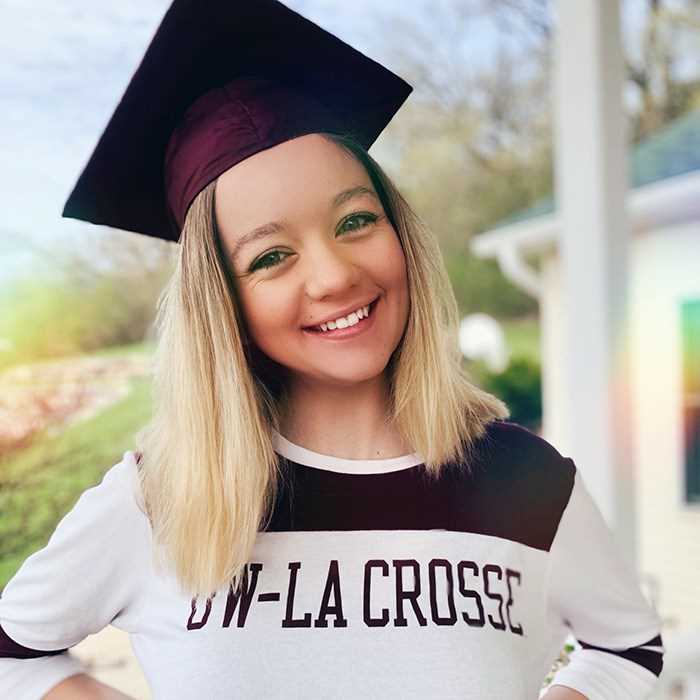 Recreational therapy jobs
UWL therapeutic recreation graduates are eligible to become certified therapeutic recreation specialists (CTRSs) through the National Council for Therapeutic Recreation Certification (NCTRC). Agencies that have employed UWL graduates include: Mayo Clinic, Rochester, Minn.; Wisconsin Resource Center, Wis.; Gundersen Health System, Wis.; Mendota Mental Health Center, Wis.; and North Suburban Special Recreation Associations in Illinois and more.
Entry-level positions
Certified therapeutic recreation specialist
Activity director
Life enrichment director
Activity therapist
Leisure education specialist
Recreation leader
Recreation therapist
Rehabilitation specialist
Inclusion specialist
What is a recreational therapist?
Recreational therapists assist people who are marginalized and/or live with disabilities and illnesses to help them improve their health and well-being. This is achieved through a wide range of recreation and leisure activities, as well as techniques to improve their physical, cognitive, emotional, social, and leisure needs.
What distinguishes UWL's Therapeutic Recreation program?
Excellent career placement
The job placement rate for UWL therapeutic recreation graduates has consistently been more than 90 percent.
Accredited program
The program is accredited by The Council on Accreditation of Parks, Recreation, Tourism and Related Professions (COAPRT).
Nationally-recognized program
Committed faculty
The award-winning faculty members in the program have diverse professional interests and are committed to scholarship and the professional development of students. All hold the credential as a Certified Therapeutic Recreation Specialist (CTRS). UWL has a large number of therapeutic recreation instructors, which is significant in that other universities may have only one staff member with a therapeutic recreation background.
Program of Merit designation
Master's degree in five years
Some graduates decide to continue their education, earning a master's degree in Therapeutic Recreation. UWL's program established a 4 + 1 graduate program in fall 2018, which provides an alternative and faster option to earn a master's degree in Therapeutic Recreation.