Translate this page, select your language:
Congratulations and Welcome to UW-La Crosse!
The university, campus community and the International Education & Engagement Office look forward to welcoming you to our campus.
If you have been admitted for the Fall 2018 semester, submit your arrival information here.
Please note that International Student Orientation is

mandatory

! Arrange your travel plans with this in mind.
Below you will find helpful information for your journey to UWL. If you are transferring from another institution in the US, scroll down to the next section. If you have any questions, please feel free to contact us.
Visa/Immigration Process
Obtaining a visa & entering the U.S.
Visa Interview: When preparing for your visa interview, you will need to remember the following:
Pay the SEVIS I-901 fee at least 3 days before your visa interview and bring the receipt with you to your appointment.
Complete the Nonimmigrant Visa Electronic Application (Form DS-160).
Pay the visa application fee. See your local embassy or consulate website for more information
Prepare the following documents for your interview:
Valid passport
Receipt of SEVIS I-901 fee payment
I-20 (

Certificate of Eligibility for Nonimmigrant (F-1) Student Status)

or DS-2019(

Certificate of Eligibility for Exchange Visitor (J-1) Status)

Proof of funding
UWL admission letter
Two 2x2 inch (5x5 cm) passport size photographs
Information showing strong ties to your home country (family, job prospects, etc.)
Check your local embassy or consulate website for any additional information they may require.
To obtain a student visa, you must demonstrate the following to the consular officer:
You are a student with an educational plan
You have the financial resources to study in the U.S. for at least one year
You have strong ties to your home country
You plan to return to your home country after you have completed your studies
Port of Entry & Customs
Port of Entry: International Students on an F-1 or J-1 visa can enter the U.S. no earlier than 30 days before the program start date listed on their I-20 or DS-2019.
When you arrive in the U.S., your first stop will be Customs and Border Protection (CBP). Make sure to carry these items with you for inspection. Do not pack them in your checked luggage!
Passport: Must be valid six months into the future
F-1 or J-1 student visa: Must not be expired
Proof of Funding
I-20 or DS-2019
UWL admission letter
Customs:
After you complete the CBP immigration inspection, you must go through customs. At this time you will be asked to declare what you have brought into the U.S. There are prohibited and restricted items which may not be allowed into the U.S. or items which are only allowed in limited quantities. This includes alcohol, cigarettes, food, and medicine. Please check the
Customs and Border Protection website
for current restrictions and limitations.
If you are carrying over $10,000 in any currency or travelers' checks, you must declare it on your customs declaration form!
Students Transferring from Institutions in the U.S.
If you are transferring from an institution in the United States and already have a valid F-1 visa, you must do the following in order to ensure that your immigration record is transferred.
Complete the UW-La Crosse SEVIS Transfer-In Form. Bring this form along with your UW-La Crosse acceptance letter to your current international student adviser (the person who signed your I-20). This will allow them to transfer your immigration record to our university.
How do I get to La Crosse?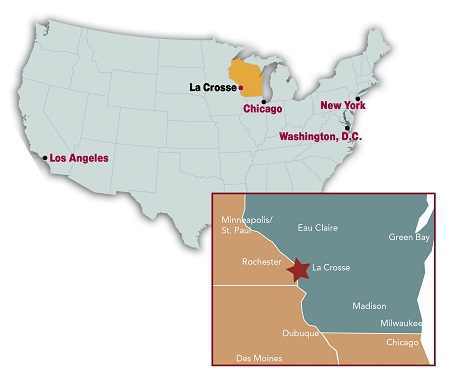 La Crosse Regional Airport (LSE) is served by two airlines: Delta Airlines and American Airlines. The International Education & Engagement Office recommends arriving at La Crosse Regional Airport, as it is the closest airport to UWL. Many flights arrive at the La Crosse Regional Airport daily, making it the most convenient choice.
Students who arrive during the designated arrival times will have the option of being picked up by the International Education & Engagement Office from the La Crosse Airport. If you arrive outside of the designated arrival dates you must arrange your own transportation to campus. Please be sure to submit your arrival information after you book your flight to La Crosse! Please click the appropriate link at the top of this page to submit your arrival information.
Weather in Wisconsin
Wisconsin's climate has four distinct seasons: fall, winter, spring and summer. Weather ranges from hot and humid conditions in the summer (70 to 90 F or 21 to 32 C) to cold, freezing and snowy weather in the winter (below 0 to 35 F or -18 to 0 C). Summer conditions require hydration while winter weather conditions require appropriate warm clothing.