Familiarize yourself with the WINGS Student Center
The WINGS Student Center is UWL's Student Information System. WINGS is utilized by students to:
Check course offerings
Register for courses
Pay outstanding balances
Accept/decline financial aid
Update personal information
View grades
Understand Desire2Learn
Desire2Learn is an online management system designed for online courses and face-to-face courses with an online component.
D2L allows access to:
Course related files
Electronic drop boxes for assignments
Online quizzes and tests
Email and grades
Get your student ID (Eagle ID)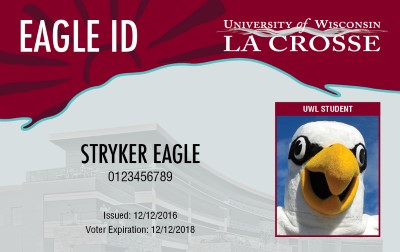 The Eagle ID Card is UW-La Crosse's official ID Card. It is University policy that all students and staff have an official University ID Card. This card can be obtained and replaced at the Card Office at 1131 Student Union. For your first card please bring some form of identification with you. This could be a driver's license, state issued ID, passport, military ID, permanent resident alien card, non-immigrant visa, certificate of U.S. naturalization, or Mexican consular card.
Some uses for the Eagle ID card include
Residence Hall Access
Spend Campus Cash
Recreational Eagle Center
Strength Center
Pepsi Machines
Meal Plans
Ride the City Bus for Free
Attend UWL Sporting Events for Free
WING Technology Center
Canteen Vending Machines
Learn about campus resources
Visit the Student Success page to learn more about what UWL has to offer in terms of academic support, financial support and campus involvement.
Know your contacts
| Campus resources | Location | Phone |
| --- | --- | --- |
| Academic Advising Center | 1140 Centennial Hall | 608.785.6950 |
| Athletics | 126 Mitchell Hall | 608.785.8616 |
| Career Services | 1140 Centennial Hall | 608.785.8514 |
| Cashiers Office | 121 Graff Main Hall | 608.785.8719 |
| College of Business Admin. | 138 Wimberly Hall | 608.785.8090 |
| College of Liberal Studies | 260 Morris Hall | 608.785.5454 |
| College of Science & Health | 205 Graff Main Hall | 608.785.8156 |
| Continuing Education and Extension | 205 Morris Hall | 608.785.6500 |
| Counseling & Testing | 2106 Centennial Hall | 608.785.8073 |
| Disability Resource Services | 165 Murphy Library | 608.785.6900 |
| Financial Aid | 215 Graff Main Hall | 608.785.8604 |
| Foundation Office | Cleary Center | 608.785.8489 |
| Graduate Studies | 220 Morris Hall | 608.785.8124 |
| International Education | 1209 Centennial Hall | 608.785.8016 |
| ITS Support Center | WINGS Technology Building | 608.785.8774 |
| Multicultural Student Services | 1101 Centennial Hall | 608.785.8225 |
| Parking Office | Parking Ramp | 608.785.8061 |
| Postal Services | 009 Graff Main Hall | 608.785.8060 |
| Records & Registration | 117 Graff Main Hall | 608.785.8951 |
| Residence Life | Eagle Hall | 608.785.8075 |
| School of Arts and Communication | 235 Morris Hall | 608.785.8113 |
| School of Education | 145 Graff Main Hall | 608.785.8127 |
| Student Health Center | 1030 Health Science Center | 608.785.8558 |
| Student Life Office | 149 Graff Main Hall | 608.785.8062 |
| Textbook Rental | LL Student Union | 608.785.8853 |
| UW Credit Union | Student Union | 608.785.8891 |
| University Centers | 3200 Student Union | 608.785.8888 |
| Veteran Services | 116 Graff Main Hall | 608.785.8751 |
On campus resources