Dialogue space
A page within Art
Across from the University Gallery on the first floor of the Center for the Arts is an area known as the Dialogue Space. Several long walls of display surfaces are available for students to show their two-dimensional work. Artwork rotates several times per semester as students complete projects in various studios
Student Artwork for Creative Imperatives 2020 - A Curved Lens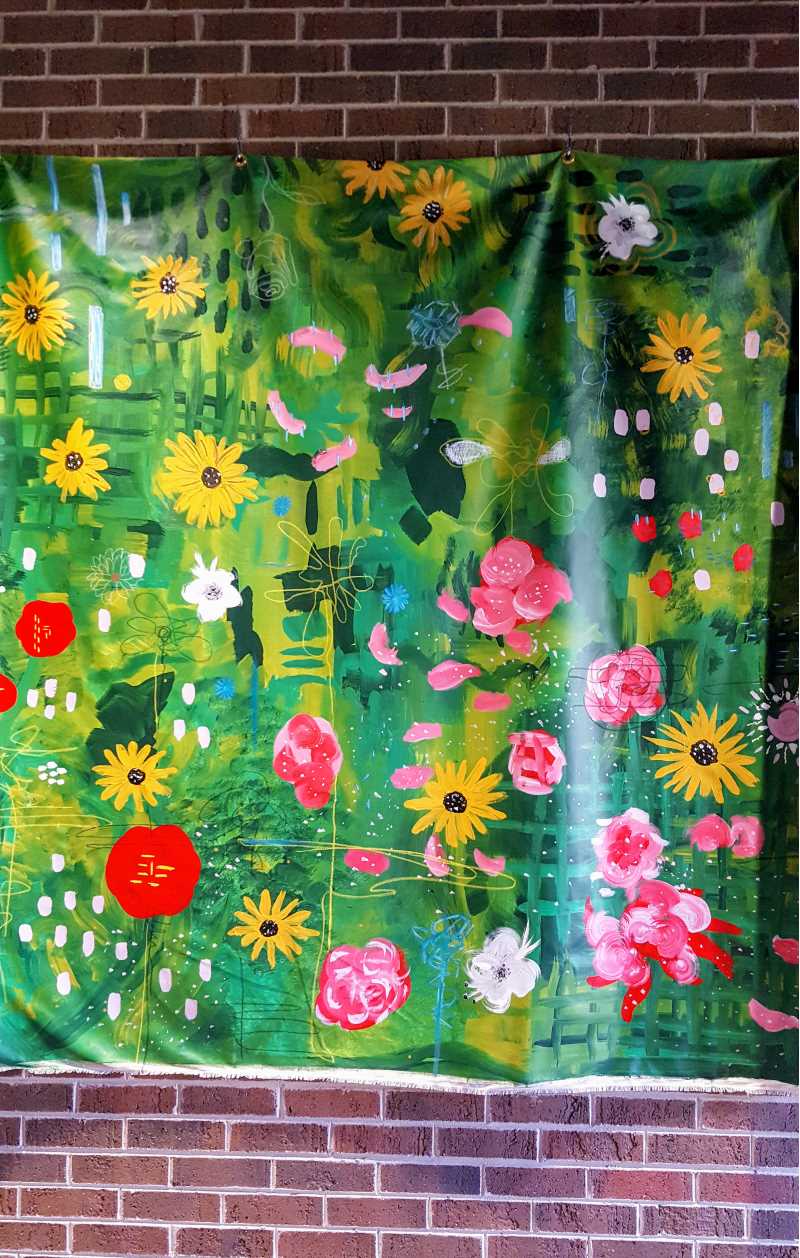 "Garden", painting by Nikita Conway, Molly Korinek, Emma Mashak, Isaiah Ohman, and Alex Sonnek
Garden by Nikita Conway, Molly Korinek, Emma Mashak, Isaiah Ohman, and Alex Sonnek
Garden: a place for collaboration and community as living things come together to create a beautiful space. Our hope was to create a whimsical piece that was variant in its use of line, texture, color and floral patterns. While we truly let creative spontaneity take the lead, we were also influenced by Andy Warhol and Hilma af Klint. In the end, these influences as well as our creative direction allowed for an abstract floral garden that is open to further interpretation.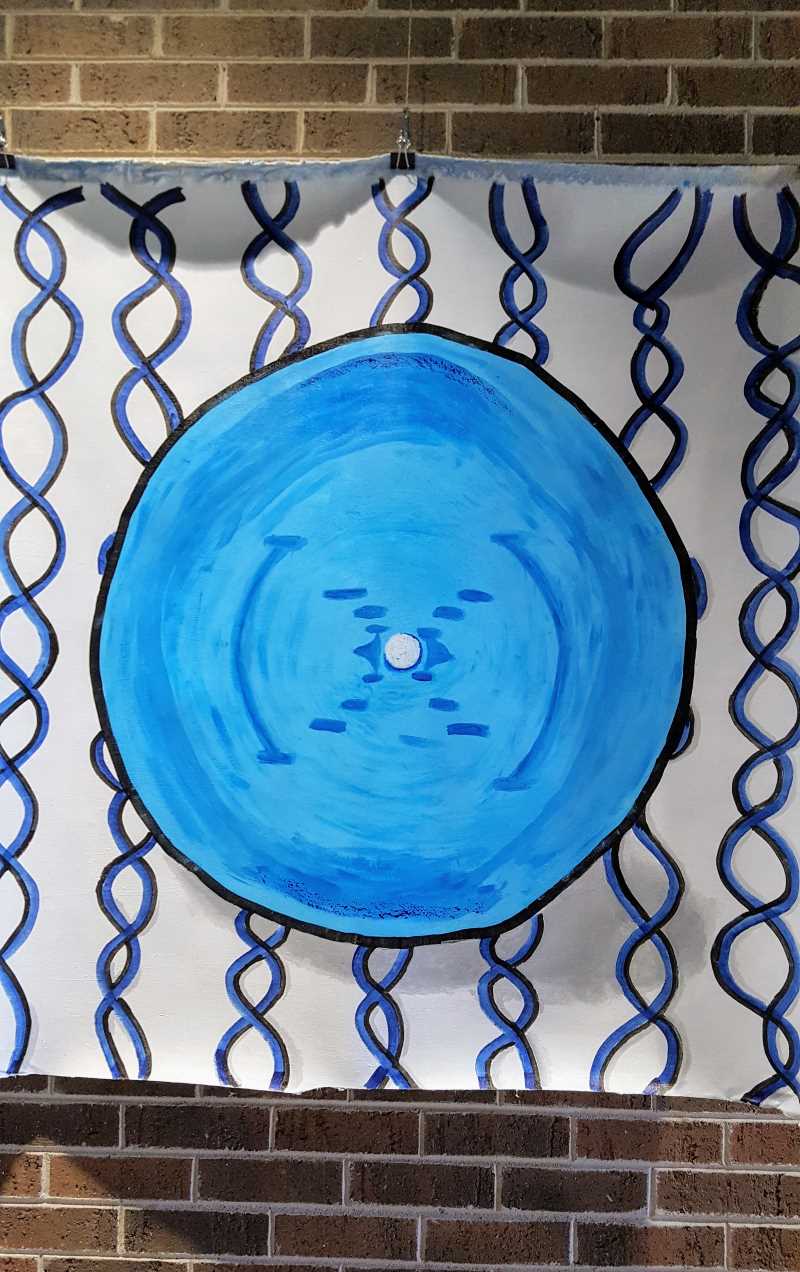 "Photo 51", painting by Hannah Anderson, Kyra Bruesewitz, Abigale Wilger
Photo 51 by Hannah Anderson, Kyra Bruesewitz, Abigale Wilger
We created painting inspired by Rosalind Franklin's breakthrough discovery of the structure of DNA. Rosalind Franklin was a chemist at ta time when women were not recognized as me were for their accomplishments in science. Her work in X-ray crystallography produced the now famous Photo 51 that demonstrated that the structure of DNA was in fact a double helix. Unfortunately, her male colleague, Maurice Wilkins, allowed Watson and Crick to use her, then unpublished, discovery in their work without her consent or knowledge. This led to Watson and Crick being credited with the discovery of the structure of DNA. She is known as the "Dark Lady of DNA" because her work was not recognized by the scientific community until recently. The theme of "curved lens" tied in with the rounded diffraction patterns on her photo as well as the new perspective that the scientific community has on the discoverers of the structure of DNA. This painting celebrates Rosalind Franklin's discovery, and her contributions to the scientific community.
We wanted to create a painting that outlined Rosalind Franklin's work. We recreated an image of her X-ray crystallography through various mediums and techniques. In the center of the composition, we used acrylic paint to emphasize an image that closely related to Photo 51.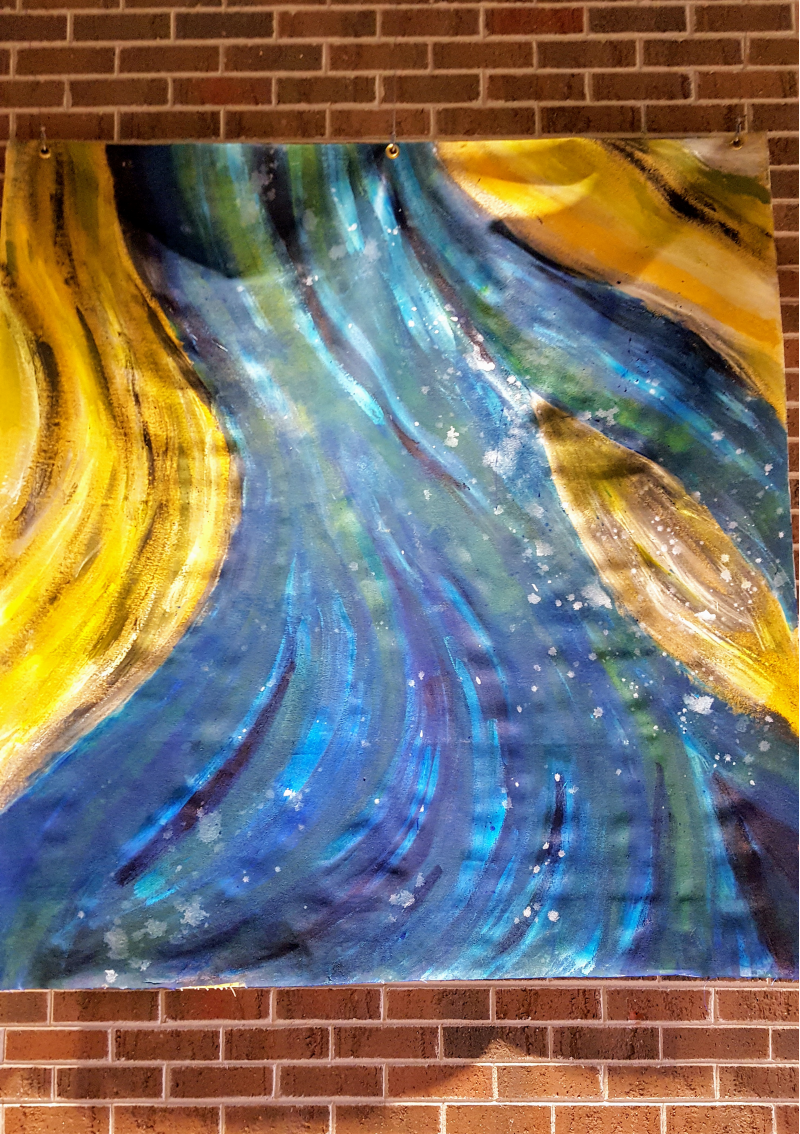 "Streaming", painting by Olivia Bull, Macy Hembd, and Maria Landgraf
Streaming by Olivia Bull, Macy Hembd, and Maria Landgraf
For this painting, we were able to continue the work of a "found" painting. While the original palette included shades of green and yellow, we all saw flowing water. We created a mix of blue and matte medium to create the look and feel of water running We then sprayed the canvas with a mix of water and paint to created the feel of splashing water over rocks. Ho-Chunk artist, Truman Lowe, was our initial inspiration for the painting.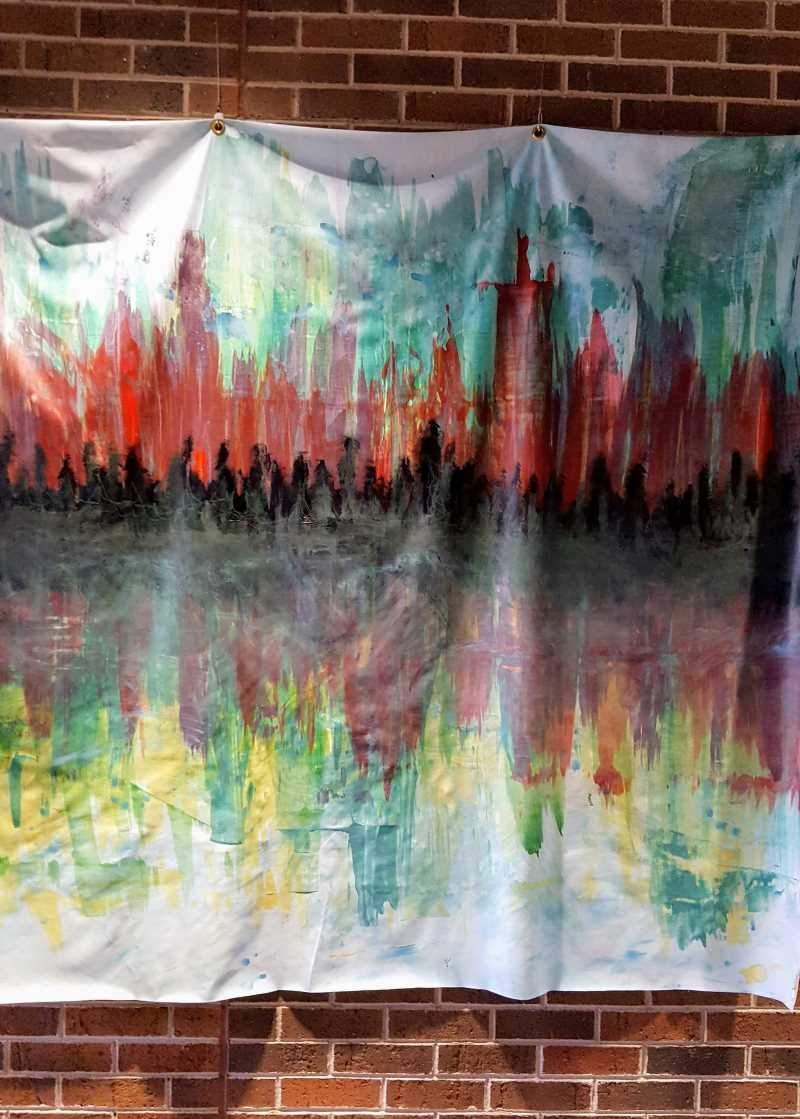 "Reflections", painting by Olivia Bull, Macy Hembd, and Maria Landgraf
Reflections by Olivia Bull, Macy Hembd, and Maria Landgraf
Our main inspiration for this painting came from abstract expressionist art and the gestural paint strokes found in that style of painting. Japanese painter, Chuta Kimura, was the artist we looked at the most. We were intrigued by his bold use of coor and the detailed line work in many of his paintings. Something that we have in common as artists is that we draw a lot of our inspiration from nature; therefore, it was an easy selection to run with the idea of abstract nature. The idea of reflection on water came up in conversation and we agreed that this would be fun to recreated. For our painting, we used a small squeegee over the canvas for a majority of the colors. After that layer, we were able to go back through with brush detailing, followed by the use of watercolor crayons to incorporate distinct line work. Poured acrylic matte medium was used as well to get the look of water. By using a squeegee, we were able to flow with where the paint wanted to go. This physical engagement with the painting connects with the theme for Creative Imperatives: A Curved Lens.