Summer reading groups
The Center for Advancing Teaching & Learning provides books on teaching and learning in higher education for informal book groups during the summer. This is an opportunity for UWL instructors to read and discuss a book on teaching and learning with several colleagues. CATL will support summer book groups each summer depending upon funding.
To participate:
1. Fill out the 2016 Summer Book Group Form.
2. On the form, identify one of the books from the list below.
3. CATL will provide you with a copy of the book.
4. Form or join a book group. CATL will not arrange the groups, but will provide a
contact list of participants so that you can self-organize.
5. Your group sets its own schedule, although it is recommended that you meet at least two times.
6. At the end of the summer you will be asked to complete a brief survey about your experience.
Application Deadline: June 6, 2016. Due to limited funding, we may not be able to purchase books for everyone interest in participating. We will make decisions on a first-come, first-served basis.
---
How Learning Works: Seven Research-Based Principles for Smart Teaching by Susan Ambrose, Michael Bridges, Michele DiPIetro, Marsha Lovett, and Marie Norman.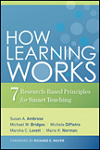 Distilling the research literature and translating the scientific approach into language relevant to a college or university teacher, this book introduces seven general principles of how students learn. The authors have drawn on research from a breadth of perspectives (cognitive, developmental, and social psychology; educational research; anthropology; demographics; organizational behavior) to identify a set of key principles underlying learning, from how effective organization enhances retrieval and use of information to what impacts motivation. Integrating theory with real-classroom examples in practice, this book helps faculty to apply cognitive science advances to improve their own teaching.
---
Peak: Secrets from the New Science of Expertise by Anders Ericson and Richard Pool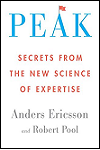 From the world's reigning expert on expertise comes a powerful new approach to mastering almost any skill. Anders Ericsson has made a career studying chess champions, violin virtuosos, star athletes, and memory mavens. Peak distills three decades of myth-shattering research into a powerful learning strategy that is fundamentally different from the way people traditionally think about acquiring new abilities.

Ericsson's findings have been lauded and debated, but never properly explained. So the idea of expertise still intimidates us—we believe we need innate talent to excel, or think excelling seems prohibitively difficult. Peak belies both of these notions, proving that virtually all of us have the seeds of excellence within us—it's just a question of nurturing them properly. Peak offers invaluable, often counterintuitive advice on setting goals, getting feedback, identifying patterns, and motivating yourself. Whether you want to stand out at work, improve your athletic performance, or help your child achieve academic goals, Ericsson's revolutionary methods will show you how to improve almost any skill that matters to you.

Peak offers more than just practical guidance, though. It demystifies the feats of many outstanding performers, from musical virtuosos to science prodigies to brain surgeons to entrepreneurs to professional athletes. It also offers compelling evidence that our schools are taking the wrong approach to education. And it shows us a convincing new view of the enormous potential we all possess.


---
Engaging Ideas: The Professor's Guide to Integrating Writing, Critical Thinking, and Active Learning in the Classroom, 2nd edition by John C. Bean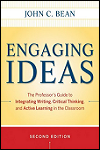 Learn to design interest-provoking writing and critical thinking activities and incorporate them into your courses in a way that encourages inquiry, exploration, discussion, and debate, with Engaging Ideas, a practical nuts-and-bolts guide for teachers from any discipline. Integrating critical thinking with writing-across-the-curriculum approaches, the book shows how teachers from any discipline can incorporate these activities into their courses. This edition features new material dealing with genre and discourse community theory, quantitative/scientific literacy, blended and online learning, and other current issues.


---
Discussion in the College Classroom: Getting Your Students Engaged and Participating in Person and Online by Jay Howard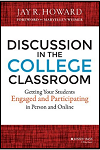 Second only to lecture as the most widely used instructional strategy, there's no better method than classroom discussion to actively engage students with course material. Most faculty are not aware that there is an extensive body of research on the topic from which instructors can learn to facilitate exceptional classroom discussion. Discussion in the College Classroom is a practical guide, which utilizes that research, frames it sociologically, and offers advice, along with a wide variety of strategies, to help you spark a relevant conversation and steer it toward specific learning goals.

Thoroughly grounded in the scholarship of teaching and learning, this book gives you concrete guidance on integrating discussion into your courses. You'll learn to:

• Overcome the challenges that inhibit effective discussion
• Develop classroom norms that facilitate discussion
• Keep discussion focused, relevant, and productive

The kind of discussion that improves learning rarely arises spontaneously. Like any pedagogical technique, careful planning and smart strategy are the keys to keeping students focused, engaged, and invested in the conversation. Discussion in the College Classroom helps you keep the discussion applicable to the material at hand while serving learning goals.


---
Grit: The Power of Passion and Perseverance by Angela Duckworth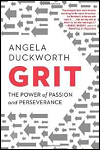 Angela Duckworth shows parents, students, educators, athletes, and business people—both seasoned and new—that the secret to outstanding achievement is not talent but a special blend of passion and persistence she calls "grit."

Drawing on her own powerful story as the daughter of a scientist who frequently noted her lack of "genius," Duckworth, now a celebrated researcher and professor, describes her early eye-opening stints in teaching, business consulting, and neuroscience, which led to the hypothesis that what really drives success is not "genius" but a unique combination of passion and long-term perseverance.

In Grit, she takes readers into the field to visit cadets struggling through their first days at West Point, teachers working in some of the toughest schools, and young finalists in the National Spelling Bee. She also mines fascinating insights from history and shows what can be gleaned from modern experiments in peak performance. Finally, she shares what she's learned from interviewing dozens of high achievers—from JP Morgan CEO Jamie Dimon to New Yorker cartoon editor Bob Mankoff to Seattle Seahawks Coach Pete Carroll.
---

Mindset: The New Psychology of Success by Carol Dweck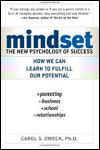 Mindset is one of those rare books that can help you make positive changes in your life and, at the same time, see the world in a new way. A leading expert in motivation and personality psychology, Carol Dweck has discovered in more than twenty years of research that our mindset is not a minor personality quirk: it creates our whole mental world. It explains how we become optimistic or pessimistic. It shapes our goals, our attitude toward work and relationships, and how we raise our kids, ultimately predicting whether or not we will fulfill our potential.

Dweck has found that everyone has one of two basic mindsets. If you have the fixed mindset, you believe that your talents and abilities are set in stone—either you have them or you don't. You must prove yourself over and over, trying to look smart and talented at all costs. This is the path of stagnation. If you have a growth mindset, however, you know that talents can be developed and that great abilities are built over time. This is the path of opportunity—and success.

Dweck demonstrates that mindset unfolds in childhood and adulthood and drives every aspect of our lives, from work to sports, from relationships to parenting. She reveals how creative geniuses in all fields—music, literature, science, sports, business—apply the growth mindset to achieve results. Perhaps even more important, she shows us how we can change our mindset at any stage of life to achieve true success and fulfillment. She looks across a broad range of applications and helps parents, teachers, coaches, and executives see how they can promote the growth mindset.
Summer 2015
---

Blindspot: Hidden Biases of Good People by Mahzarin Banaji & Anthony Greenwald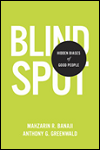 From the publisher's website: In Blindspot, Mahzarin Banaji and Anthony Greenwald explore hidden biases that we all carry from a lifetime of experiences with social groups – age, gender, race, ethnicity, religion, social class, sexuality, disability status, or nationality. "Blindspot" is a metaphor to capture that portion of the mind that houses hidden biases. The authors use it to ask about the extent to which social groups – without our awareness or conscious control – shape our likes and dislikes, our judgments about people's character, abilities, and potential. In Blindspot, hidden biases are revealed through hands-on experience with the method that has revolutionized the way scientists are learning about the human mind and that gives us a glimpse into what lies within the metaphoric blindspot – the Implicit Association Test. The title's "good people" are the many people – the authors included – who strive to align their behavior with their good intentions. The aim of Blindspot is to explain the science in plain enough language to allow well-intentioned people to better achieve that alignment. Venturing into this book is an invitation to understand our own minds.
---

How We Learn: The Surprising Truth About When, Where and Why it Happens by Benedict Cary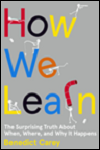 In How We Learn, award-winning science reporter Benedict Carey sifts through decades of education research and landmark studies to uncover the truth about how our brains absorb and retain information. What he discovers is that, from the moment we are born, we are all learning quickly, efficiently, and automatically; but in our zeal to systematize the process we have ignored valuable, naturally enjoyable learning tools like forgetting, sleeping, and daydreaming. Is a dedicated desk in a quiet room really the best way to study? Can altering your routine improve your recall? Are there times when distraction is good? Is repetition necessary? Carey's search for answers to these questions yields a wealth of strategies that make learning more a part of our everyday lives—and less of a chore.
---

Engaging in the Scholarship of Teaching and Learning: A Guide to the Process, and How to Develop a Project from Start to Finish by Cathy Bishop-Clark and Beth Dietz-Uhler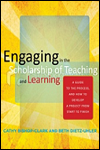 This is a book for anyone who has ever considered engaging in the scholarship of teaching and learning – known familiarly as SoTL – and needs a better understanding of what it is, and how to engage in it. The authors describe how to create a SoTL project, its implications for promotion and tenure, and how it fosters:
Increased satisfaction and fulfillment in teaching

Improved student learning
Increased productivity of scholarly publication
Collaboration with colleagues across disciplines
Contributing to a growing and important body of literature
This guide provides prospective SoTL scholars with the necessary background information, foundational theory, tools, resources, and methodology to develop their own SoTL projects, taking the reader through the five stages of the process: Generating a research question; Designing the study; Collecting the data; Analyzing the data; and Presenting and publishing your SoTL project. Each stage is illustrated by examples of actual SoTL studies, and is accompanied by
worksheets to help the reader refine ideas and map out his or her next steps. The process and worksheets are the fruit of the successful SoTL workshops the authors have offered at their institution for many years.

Summer 2014 & 2015
---
What the Best College Teachers Do by Ken Bain.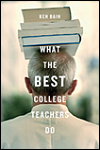 What makes a great teacher great? Who are the professors students remember long after graduation? This book, the conclusion of a fifteen-year study of nearly one hundred college teachers in a wide variety of fields and universities, offers valuable answers for all educators.
The short answer is—it's not what teachers do, it's what they understand. Lesson plans and lecture notes matter less than the special way teachers comprehend the subject and value human learning. Whether historians or physicists, in El Paso or St. Paul, the best teachers know their subjects inside and out—but they also know how to engage and challenge students and to provoke impassioned responses. Most of all, they believe two things fervently: that teaching matters and that students can learn.
In stories both humorous and touching, Ken Bain describes examples of ingenuity and compassion, of students' discoveries of new ideas and the depth of their own potential.What the Best College Teachers Do is a treasure trove of insight and inspiration for first-year teachers and seasoned educators.
---
Make It Stick: The Science of Successful Learning by Peter Brown, Henry Roediger III, & Mark McDaniel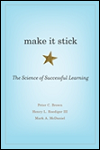 To most of us, learning something "the hard way" implies wasted time and effort. Good teaching, we believe, should be creatively tailored to the different learning styles of students and should use strategies that make learning easier. Make It Stick turns fashionable ideas like these on their head. Drawing on recent discoveries in cognitive psychology and other disciplines, the authors offer concrete techniques for becoming more productive learners.
Memory plays a central role in our ability to carry out complex cognitive tasks, such as applying knowledge to problems never before encountered and drawing inferences from facts already known. New insights into how memory is encoded, consolidated, and later retrieved have led to a better understanding of how we learn. Grappling with the impediments that make learning challenging leads both to more complex mastery and better retention of what was learned.
Many common study habits and practice routines turn out to be counterproductive. Underlining and highlighting, rereading, cramming, and single-minded repetition of new skills create the illusion of mastery, but gains fade quickly. More complex and durable learning come from self-testing, introducing certain difficulties in practice, waiting to re-study new material until a little forgetting has set in, and interleaving the practice of one skill or topic with another. Speaking most urgently to students, teachers, trainers, and athletes, Make It Stick will appeal to all those interested in the challenge of lifelong learning and self-improvement.
---
Why Don't Students Like School: A Cognitive Scientist Answers Questions about How the Mind Works and What It Means for the Classroom by Daniel Willingham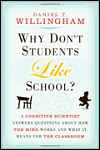 Cognitive scientist Dan Willingham focuses his acclaimed research on the biological and cognitive basis of learning. His book will help teachers improve their practice by explaining how they and their students think and learn. It reveals the importance of story, emotion, memory, context, and routine in building knowledge and creating lasting learning experiences. The book includes nine research-based principles with clear applications for the classroom.