Posted 2:33 p.m. Tuesday, Nov. 9, 2021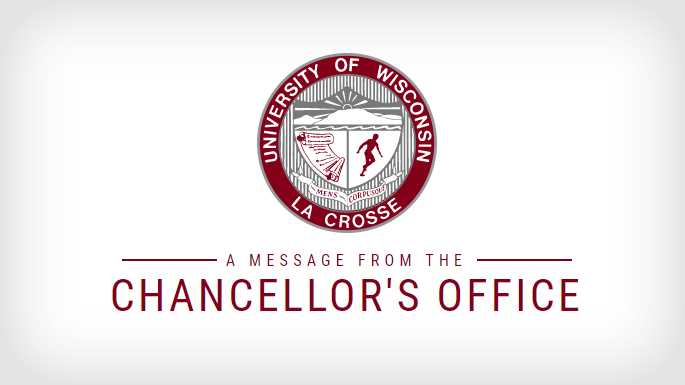 New student award to recognize community service
Dear students:

We're excited to introduce a new award that will be given to students this academic year: The Chancellor's Service Award.
It will be awarded annually near the end of the spring semester to recognize students who have served the community during their time on campus. The service award will be available to any student registered and attending classes either online or in person.
We're doing this for a number of reasons. First, we hope this will encourage even more community engagement on campus. Community service helps students find a sense of belonging. You'll learn about the community you call home during your college years. Community engagement helps students take ownership in the La Crosse community and instills a sense of pride in being an Eagle. And just as important, it will help you prepare for living in communities across the state and country when you begin your career after graduating.
Students will be eligible for the following awards based on the number of hours given to service projects:
• Level 1: Bronze: 25-50 hours
• Level 2: Silver: 51-75 hours
• Level 3: Gold: 76-100 hours
• Level 4: Platinum: 101+ hours
• Eagle Achievement Award: Over 400 hours during their time at UWL
You can participate by declaring the level you hope to attain. But, you will be able to change your level at any point if your service hours surpass the current level in which you registered.
Students may compile volunteer hours in their hometowns as well. In La Crosse, volunteer opportunities can be found on UGetConnected, or by reaching out to agencies interested in student volunteers. All volunteer hours need to be recorded in UGetConnected to be counted toward the award. Hours should be recorded as individual hours if the opportunity was not found using UGetConnected.
Register for the program using the registration form on MyOrgs. Simply select the level of engagement you plan to achieve. Someone will reach out to you with instructions about tracking hours and sharing more ideas on how to find volunteer opportunities.
This spring, and in future springs, we plan to hold an awards ceremony on campus to recognize the fine community service being done.
Get involved! We hope to see many of you at the ceremony in the spring.
Thank you for all the work you continue to do to make our campus strong in the community.
Sincerely,
Joe Gow, Chancellor, UWL
Jared Zwettler, President, UWL Student Association
K.C. Cayo, Vice President, UWL Student Association