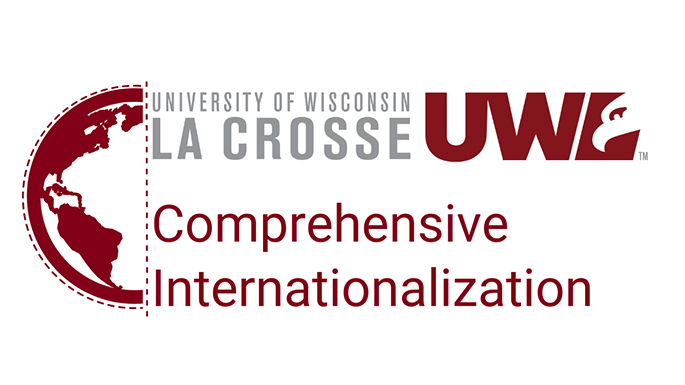 Welcome
After consultation with members from the Internationalization Select Committee, International Education Committee, University Strategic Planning Committee, as well as with the assistance of the Office of International Education & Engagement, University of Wisconsin-La Crosse (UWL) applied to become a cohort institution of the American Council on Education's two-year Internationalization Laboratory. We were selected for the 15th cohort, and two UWL representatives (Marcie Wycoff-Horn and Emelee Volden) will be serving as co-chairs of the Lab. Both co-chairs attended the inaugural workshop in Washington D.C., which was held in August of 2017. After a call for volunteers and much deliberation, a group of faculty, staff, and students representing diverse experiences and expertise, were selected to establish the Internationalization Steering Committee.
The American Council on Education (ACE) Internationalization Laboratory program will provide expertise that supports a systematic and collaborative approach to comprehensive internationalization at UWL. The Laboratory is a project of the ACE Internationalization Collaborative, a learning consortium of more than 100 institutions, which provides a forum for the sharing of ideas and practices promoting global education goals.
Working with an ACE Consultant, members of the UWL Internationalization Steering Committee and its Action Teams will work to develop a strategy for the comprehensive internationalization of our University community, as well as a means to assess it. Six Action Teams will be created to focus on the following content areas: Articulated Institutional Commitment; Education Abroad; International Student and Scholar Recruitment & Retention; Faculty & Staff Policies, Procedures and Development; Collaboration and Partnerships; and Curriculum and Learning Goals. Together with UWL faculty, staff, and students, the Steering Committee and Action Teams will devote the first Laboratory year to outreach and information gathering. Most importantly, we will focus our inquiries around our students and global learning opportunities.
The University is well positioned to take this major step. UWL's mission statement emphasizes that "UWL is a regional academic and cultural center that prepares students to take their place in a constantly changing world community." Likewise, in our University Vision Statement, it is our stated purpose to "foster within each student the curiosity, creativity, and tenacity necessary to solve the regional, national, and international challenges of the 21st century." Finally, it is in our institutional statement of values that we pursue and achieve "diversity, equity, and the inclusion and engagement of all people in a safe campus climate that embraces and respects the innumerable different perspectives found within an increasingly integrated and culturally diverse global community." Working together as a team, The Internationalization Steering Committee members shall assess, plan, and promote the strategies for comprehensive internationalization that best realizes these aspirations.