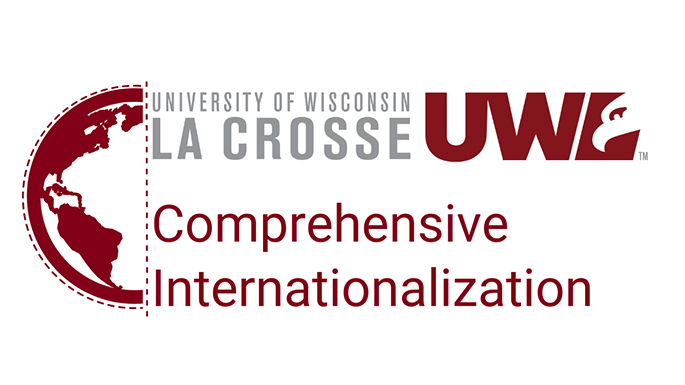 Welcome
UWL's internationalization efforts are a result of the American Council on Education's Internationalization Laboratory.
UWL's Internationalization Report can be found here and a summary of key participation dates and outcomes can be found here.
Internationalization Advisory Group
The role of the advisory group is to support UWL's strategic goal of advancing global learning for all students. To do this, the advisory group will provide a framework for effective communication and the institutionalization of internationalization at UWL. This framework will include engagement with and oversight of identified internationalization priorities.

The advisory group collaborates with each of the main subcommittees shown below and the chairs of each subcommittee are members of the advisory group.
Membership: Karolyn Bald, Rose Brougham, Tim McAndrews, Marie Moeller, Kate Parker, Gubbi Sudhakaran, Emelee Volden (Chair), Dina Zavala
Priority 1: Establish UWgLobal
2019-2020 Goals:
4/15/2020 Update: Due to the COVID-19 pandemic and campus closure, these initiatives will convene fall semester.
Membership: Karolyn Bald, Jordan Brick, Enilda Delgado, Marie Moeller (Chair), Aaron Nielsen, Adam Van Liere, Maren Walz
Priority 2: Creation of International Enrollment Advisory Group
2019-2020 Goals:
Investigate partnership development opportunities to enhance UWL international student recruitment

Assess current international students' experiences & support services
4/15/2020 Update: The committee identified several academic areas of potential growth for UWL Admissions & Recruitment. Some initial meetings were conducted prior to the COVID-19 campus closure.
Membership: Mark Gibson, Karl Kunkel, Adrienne Loh, James Murray, Miranda Panzer, Heather Pearson, Gubbi Sudhakaran (Chair), Lynn Weiland
Priority 3: Internationalization of UWL Curriculum
4/15/2020 Update:
Identify opportunities to integrate global curriculum into UWL General Education & Global Learning Outcomes

Explore faculty incentives & possibility for faculty appointed consultant

Develop resources to best utilize technology to internationalize curriculum.
4/15/2020 Update: In January 2020, The General Education Revision Committee requested this group develop a framework for a "Global Emphasis" component of the new General Education program. This proposal was submitted to the General Education Committee in March 2020. Other goals will continue in the 2020-2021 academic year.
Membership: Gerardo Apone-Safe, Rose Brougham, Natalie Eschenbaum, Nicole Gullekson, Kristin Koepke, Heather Linville, Tim McAndrews (Chair), Diane Sasaki
Priority 4: Expansion of Education Abroad
Initial draft of charges:
Curriculum integration of education abroad
Increased marketing & promotion
4/15/2020 Update: A formal committee has not yet been established and IEE staff has continued to work on these goals.
Membership: TBD, this committee will be internally established by International Education & Engagement as part of their strategic planning efforts. External stakeholders will be invited by IEE's director at a later date.
internationalization-lab-participant.jpg