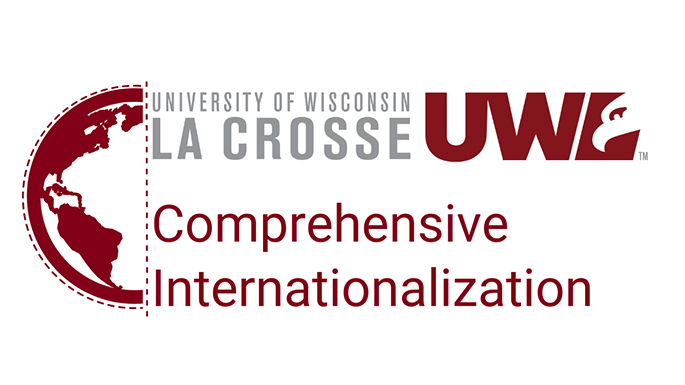 Campus communication & documents
UWL Faculty & Staff Survey Results (May 2018)
UWL Students Survey Results (May 2018)
UWL Faculty & Staff as Global Resources
Are you interested in developing new or additional professional connections and would like to talk to other faculty and staff who have done so? Would you like to know who on campus is willing to discuss their experiences with you?
At the link below you will find a list of UWL faculty and staff who have indicated their willingness to serve as a resource to the UWL community regarding globalization. Your NETID will be required to view the list.
The list provides the names and units of individuals who have experience with one or more of the following:
Lived Abroad (one year or more)
Language Fluency
Teaching Experience Abroad (at the college level for UWL or other institution)
Significant Scholarship/Research Abroad and/or Research with Colleagues at Universities outside the U.S.
Fulbright as a Faculty Member (UWL or elsewhere)
Peace Corps Experience
Steering Committee Updates
Steering Committee Meeting 1 - October 5, 2017
Agenda:
Welcome by Enilda Delgado & Review Charge of the Steering Committee and its place in UWL's Strategic Plan
Introduction of Steering Committee Members
Introduce Action Teams, tentative members, and leadership of steering committee members
Review ACE Lab Process
Review Consultant Visit
Discuss next steps and meeting times
Steering Committee Meeting 2 - November 9, 2017
Agenda & Minutes
November 15 & 16, 2017, ACE Consultant Visit Agenda
Dr. McKenna Brown's ACE Internationalization Presentation
December 2017 Steering Committee Minutes
February 2018 Steering Committee Minutes
February 2018 mid-term ACE meeting agenda
UWL's working definition of internationalization:
Internationalization is the process of integrating multicultural and intercultural dimensions both domestically and internationally into the teaching and learning, research, and global engagement functions of the UWL community.