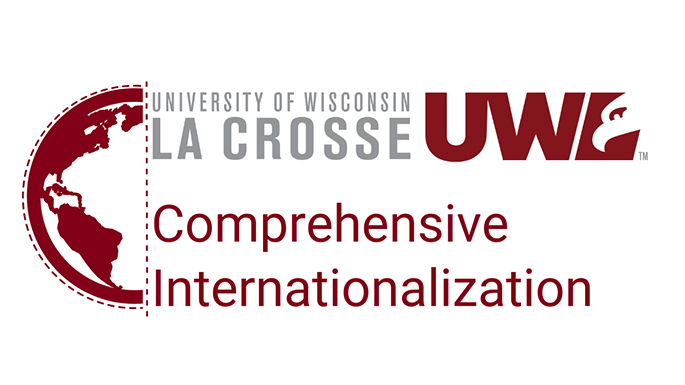 Action Teams
ACE Action Teams
ACE Internationalization Action Teams
Articulated Institutional Commitment
Chair: Karolyn Bald (Assistant Director, Academic Advising Center & Career Services)
Members:
Keli Frigo (Student Services Coordinator, University Advancement),
Gary Gilmore (Professor, Health Education And Health Promotion),
Nicole Gullekson (Associate Professor, Management),
Adam VanLiere (Assistant Professor, Political Science & Public Administration)
CHARGES:
Review peer & aspirant institutions' IZN committee structures and identify needs for UWL IZN committee.
From the review, establish a definition of internationalization specific to UWL.
Establish articulated goals of campus internationalization for UWL.
Create assessment process to measure articulated goals, progress and outcomes of campus IZN.
Identify resources that are needed to sustain a comprehensive internationalized campus.
Collaboration & Partnerships
Chair: Mark Gibson (Assistant Professor & Chair, Exercise and Sport Science)
Co-Chair: Diane Sasaki (International Student & Scholar Coordinator, IEE)

Members:
Marcie Wycoff-Horn (Dean, School of Education),
Huiya Yan (Associate Professor, Math & Statistics)
CHARGES:
Identify "strategic partnerships" in which UWL is currently engaged. A strategic partnership is defined as a relationship between UWL and an international organization that significantly enhances opportunities for faculty, staff and students

What is the scope of the partnership?
What documents support the partnership?
How long has the partnership existed?
Has the partnership ever been reviewed?
Who is involved in the partnership?
How active is the partnership?
What is the history of this partnership – how did it get started?
What are the strengths and weaknesses of the partnership?
Does the partnership meet needs of the entire university?



Establish a set of procedures for identifying, implementing and evaluating new opportunities for strategic partnerships and a process for evaluating current partnerships to identify if they still meet the needs of UWL.
Examine opportunities to grow current partnerships or establish new partnerships.
Identify challenges for maintaining external partnerships that support UWL's internationalization efforts.
Identify resources and structures needed to support international partnerships & collaboration
Curriculum & Learning Goals
Chair: Rose Brougham (Assistant Professor, Global Languages & Cultures)
Co-Chair: Jennifer Butler Modaff (Associate Professor, Communication Studies)

Members:
Heather Linville (Assistant Professor, Educational Studies),
Gretchen Newhouse (Associate Professor, Recreation Mgmt and Therapeutic Rec),
James Szymalak (Assistant Professor, Political Science/Public Administration)
CHARGES:

Review current UWL course offerings to determine number of internationalized courses.
Using standard criteria (ACE LINK) review current UWL course offerings and align them along ACE Continuum for internationalized courses.
Identify challenges and opportunities to increase the number of internationalized courses at UWL.
Identify ways to ensure UWL students who do not have an international experience abroad increase their cultural and global awareness.
Identify if all majors include opportunities for students to gain global perspective from their disciplinary point of view.
Identify resources and structures needed to support global learning for UWL students.
Education Abroad
Chair: Shelly Lesher (Associate Professor, Physics)

Members:
Kaisa Crawford-Taylor (CSH student),
Ashley Cree (Academic Services Officer, School of Ed),
Carol Miller (Professor, Sociology),
Deya Ortiz (Study Abroad Adviser, IEE)
Emelee Volden (Director, IEE)
CHARGES:
Evaluate current levels of participation in education abroad, including destination countries and academic areas.
Conduct an inventory of current opportunities for education abroad: study, work, intern, volunteer programs.
Identify obstacles for increasing participation in abroad programs.
Establish global learning goals UWL hopes to achieve by sending students abroad.
Identify which academic departments need more support to increase their students' participation in education abroad.
Benchmark UWL participation in abroad programs against peer and aspirant institutions and recommend target levels for participation.
Identify resources needed to enhance and grow education abroad opportunities for UWL students.
International Student Recruitment & Retention
Chair: Emelee Volden (Director, IEE)
Co-Chair: Kristin Lettner (International Admissions Counselor, Admissions)
Members:
Yuanman Ma (SAH student, International Student Org VP),
Robert Packard (International Admissions Specialist)
Miranda Panzer (International Student Adviser, IEE),
Milandrie Wakim (Outreach Program Manager, Continuing Education),
Taylor Wilmoth (Development Specialist, University Advancement)
CHARGES:
Document current patterns of international student recruitment, including degree programs, home countries, emerging trends.
Identify barriers and opportunities for international student recruitment.
Evaluate international student and visiting faculty experiences on the UWL campus.
Determine retention strategies to assure international students are successful at UWL.
Identify needs for faculty & staff to be prepared to work with an increasing number of international students.
Document current practices for tracking international alumni and recommend improvements for process.
Identify necessary resources for increasing international student enrollment.
Faculty Development, Policies & Procedures
Chair: Tim McAndrews (Professor, Anthropology & Archeology)
Co-Chair: Michael Hoffman (Professor, Microbiology)

Members:
Patricia Markos (Instructional Program Mgr, Institute for Professional Studies in Education),
Kasilingam Periyasamy (Professor, Computer Science),
Andrew Stapleton (Professor, Management),
CHARGES:
Identify the greatest strengths of the UWL faculty that support global learning.
Identify areas of support for UWL faculty to improve their engagement with global learning.
Examine the tenure, promotion, and recognition system for faculty – is work properly calibrated to account for global engagement of the faculty in teaching, scholarship, and service?
Identify priorities to invest in faculty development for global learning.
Identify resources needed to support faculty to internationalize their curriculum and to increase global learning for their students.