Western Teaching and Learning: Montessori Methods of Education
Thursday, January 19–Friday, January 27, 2017
University of Wisconsin-La Crosse
La Crosse, Wisconsin, United States of America
Sharing strategies across the globe for the improvement of all learners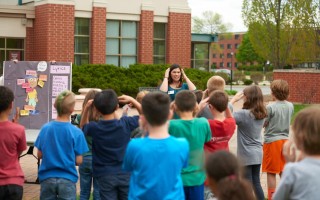 Program objective:
An overview of Western teaching and learning with a focus on the Montessori Methods of Education providing you with the knowledge and tools to apply the methodologies in your own classrooms and community.
Designed for administrators, teachers, parents, and involved officials.
Learning outcomes:
Understand the philosophy, key principles, and instructional and curricular methods of Montessori Methods of education
Define the essential components of successful Montessori schools and professional learning cultures
Discover ways to implement a Montessori school or Montessori Methods in your current teaching and learning culture
Activities:
Attend a regional Montessori Conference with regional teachers, administrators, and parents
Visit local Montessori schools to observe and interact with teachers and administrators
Participate in discussions and workshops with University of Wisconsin La Crosse faculty and local experts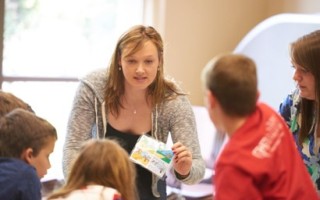 Celebrating our Montessori Children Conference
www.uwlax.edu/conted/montessori
A Montessori orientation:
Format: Discussions, videos, exploration of Montessori Materials
Specific Topics:
An authentic Montessori school – identification of essential elements

Certified Montessori teachers
Teachers are guides and observers
Teachers prepare and use the Montessori classroom environment
Multiple age groups of children
Children are active learners, and they learn with the Montessori materials
The classroom is a Montessori prepared environment
The Montessori classroom daily schedule

The Montessori philosophy – understanding how children learn

The planes of development
The sensitive periods
The absorbent mind

Montessori classroom management – understanding how children become self-disciplined and why this is important

Independence and choice in the Montessori environment
How children develop coordination and concentration
How children develop self-control

Overview of the Montessori prepared environment – identification of essential components

Order
Beauty and nature
The Montessori materials

Introduction to the Montessori curriculum – exploring the materials

Practical Life
Sensorial
Language
Mathematics
Cultural Subjects

How Montessori teachers use the materials to instruct

The fundamental lesson
The 3-period lesson
Small and large group presentations

Preparation for classroom observations

How Montessori classrooms are set up
What to look for when observing in a Montessori classroom
How to establish an authentic Montessori School
Montessori School Design and Implementation process
Curriculum: The required Montessori materials
Facilities: Types of spaces and required furniture
Faculty: Complete Montessori teacher education
Parent education: What parents should know and understand about a Montessori education
$4,200 per person, double occupancy lodging
Single Occupancy Supplement: $400
$500 non-refundable deposit due at the time of registration
Full payment due no later than December 20, 2016

Includes: Lodging, instruction, materials, transportation, translation, and meals during the length of the program (see itinerary for specific meals)

Does not include: Air travel, excursions, travel insurance*, expenses relating to obtaining a visa
*Travel Insurance is highly recommended
No special Visa required. You can use a visitor Visa!
Homestays
Homestays may be available upon request. If you would like to stay in the home of a local resident, please email Katie Nauth at knauth@uwlax.edu. If we are able to accommodate your request, you will receive a $350 discount off the registration fee.
Itinerary is subject to change.
Lodging included with the program registration fee
Nights of Thursday, January 19–Thursday, January 26: Radisson Hotel La Crosse, La Crosse, WI, USA
Night of Friday, January 27: Country Inn and Suites Mall of America, Bloomington, MN, USA
Double Occupancy rooms provided for the nights of Thursday, January 19–Friday, January 27. Single occupancy rooms are available for an extra fee.
Transportation:
A coach shuttle will be provided from the Minneapolis Airport departing at 3 p.m.
The shuttle will bring you to the Radisson Hotel La Crosse, La Crosse, WI, USA for hotel check in. Shuttle transportation will be provided to each itinerary activity throughout the length of the program.
A coach shuttle will return you to the Country Inn and Suites Mall of America, Bloomington, MN, schedule to arrive at 1:30pm on Thursday, January 26.
The Country Inn and Suites Mall of America hotel shuttle will be available for transportation to the Mall of America and to the Minneapolis−Saint Paul International Airport, Minnesota as needed by each individual.
Airfare: Airfare is not included in the cost of the program. All air travel arrangements are the responsibility of the individual. We will provide a shuttle from the Minneapolis−Saint Paul International Airport, Minnesota departing for La Crosse, Wisconsin at 3 p.m. on Thursday, January 19, 2017. A return shuttle will be provided to the Country Inn and Suites Mall of America, Bloomington, Minnesota at the end of the program.
You may choose to fly into the La Crosse Municipal Airport (LSE). The airport is located approximately 6 miles from the hotel and taxi fare is approximately $10 one way.
Should you fly into a different location, it will be the responsibility of the individual to arrange transportation and accommodations outside of the planned program agenda.
Visa: It is the individual's responsibility to obtain the appropriate travel visa for the program. The University of Wisconsin-La Crosse will provide the necessary documents electronically to you.
VISA Invitation Letter Request
If you need an invitation letter, email Katie Nauth at knauth@uwlax.edu with your request. Because of the number of requests received for visa support letters, please submit your request as soon as possible.
You will need a visa to enter the U.S. Because of world events, visa applications are subject to a greater degree of scrutiny than in the past. The greater scrutiny means a longer waiting period, the State Department recommends that you begin your visa application process well in advance of your travel dates.
Visa requirements vary from country to country. Contact the U.S. embassy or consulate in the country where you live to determine if you will need a visa and/or a visa support letter to visit the U.S. (You may apply for a visa at any U.S. consular office, but it may be more difficult to qualify if you apply from outside your country of permanent residence.) Locate a consular office http://www.usembassy.gov/
The decision to grant visas belongs solely to the embassy/consulate. The University of Wisconsin La Crosse cannot promise that you will receive a visa. Likewise, the University of Wisconsin La Crosse cannot change the decision of the governmental agency should your application be denied.
Paul Epstein, Ph.D.
Paul has worked in Montessori education since 1976 as an administrator, teacher, researcher, consultant, speaker, and author. His administrative experiences include working as a head of schools, executive director of a school consulting agency, director of teacher education programs, and coordinator of a public school magnet program. As a teacher educator, Paul has worked as a director of Montessori teacher education programs for both the early childhood and secondary programs. He has been a Montessori classroom teacher in Montessori early childhood, middle and high school programs. He earned his doctorate in Cultural Anthropology and Montessori teacher certifications in early childhood and secondary levels one and two from the American Montessori Society. He was an associate professor of education at Transylvania University and an adjunct professor of education at Northwestern University.
Paul co-authored the book The Montessori Way – a definitive work on the Montessori experience. He is also the author of An Observer's Notebook: Learning from Children with the Observation C.O.R.E.