Pre-Pharmacy is NOT a major at the University of Wisconsin-La Crosse.
It is a statement of your intention to go to pharmacy school someday. Our pre-pharmacy advising will help you prepare for pharmacy programs around the country.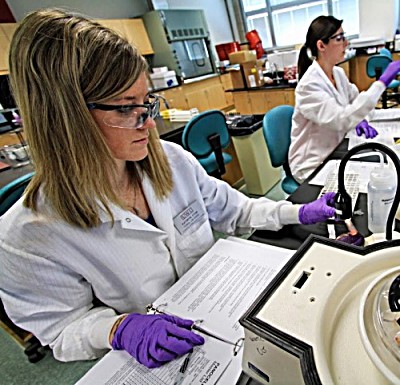 Pharmacy is the science and technique of preparing and dispensing drugs. It is a health profession that links health sciences with chemical sciences and aims to ensure the safe and effective use of pharmaceutical drugs.
Student interested in Pharmacy are encouraged to check out the Pre-Pharmacy Club.
A three-year pre-pharmacy and the four-year professional program lead to a bachelor's degree.
A typical pre-pharmacy program, which requires 65 semester credits, can be completed at UW-La Crosse.
Admission to an accredited school of pharmacy requires a grade point average of at least 2.75 on a 4.0 scale.
Most pharmacy schools require the Pharmacy College Admission Test.
UW-La Crosse maintains a close working relationship with the College of Pharmacy at the University of Minnesota-Minneapolis and the University of Wisconsin-Madison, and representatives from each program visit our campus each fall.
Specific required courses include anatomy, physiology, chemistry (general and organic), biochemistry, physics, calculus and statistics.

All courses necessary for a pre-pharmacy curriculum are available at UW-La Crosse.