UW-La Crosse Chancellor Joe Gow on the Value of Diversity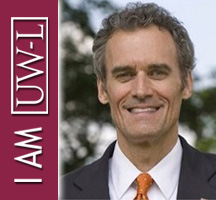 UWL values diversity both in our programs and in the people who learn and work here. We are committed to ensuring an intellectually challenging, welcoming, and respectful learning environment for all people of diverse perspectives, races, ethnic backgrounds, ages, genders, religions, sexual orientations, abilities, socioeconomic status, family situations, national origins, and other individual differences.
Students, administrators, faculty, staff, and community members learn and work in a physically and psychologically safe environment where they are valued for their similarities and differences. Differences are recognized as valued resources for the academic, cultural, and personal development that has occurred in our country and our world; therefore, they are viewed as essential to an intellectually stimulating environment.
An atmosphere that fosters the exploration of issues from multiple perspectives fosters academic exploration and growth. Because diversity is an integral part of UWL, students graduate with a commitment to being culturally knowledgeable world citizens.