Instructors
A page within Human Rights Policing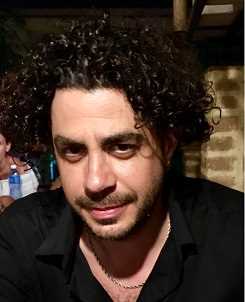 Peter Marina Ph.D.
Peter Marina received a Ph.D. in Sociology at the New School for Social Research in New York City. He is an Associate Professor of Sociology & Criminal Justice at the University of Wisconsin–La Crosse. Dr. Marina's work incorporates the striking dialectic of history and biography that allows him to penetrate and interact with a wide range of culturally diverse social groups—from public high school youths and street kids, to police officers and Hispanic immigrants, to religiously inspired residents of the inner-city and charismatic religious leaders in the Caribbean, and most recently, to down and out urban dwellers—in a quest to make empirical and theoretical sense of this rapidly changing, surprising and highly contradictory late-modern world. Marina's latest book Human Rights Policing: Reimagining Law Enforcement in the 21st Century is now under contract with Routledge Press. His other books include, among others, Down and Out in New Orleans: Transgressive Living in the Informal Economy (Columbia University Press) and Chasing Religion in the Caribbean: Ethnographic Journeys from Antigua to Trinidad (Palgrave Macmillan) at petermarina.com.

Additional media mentions:
2020 radio interview: Wisconsin Public Radio. "UW-La Crosse Offering Class On 'Human Rights Policing' To Local Law Enforcement: Online Training Will Teach Officers How To Identify, Apply Human Rights In Their Work" (2020, Published and aired on September 8).
2020 newspaper interview: La Crosse Tribune "UW-L program to dig deep into 'human rights policing' (2020, August 31).
Presented: Know Your Rights Circle Conversation, Saturday, October 9th, 2021 at Camp Pepin, Stockholm, WI.

Dr. Marina's latest book: Human Rights Policing: Reimagining Law Enforcement in the 21st Century is now under contract with Routledge Press.

Pedro Marina
Pedro Marina is a retired Police Lieutenant from the New Orleans Police Department with thirty years of law enforcement experience in the Big Easy. He graduated from the University of New Orleans with a degree in sociology and joined the New Orleans Police Department in 1975. Before being promoted to the Civil Service rank of sergeant he served in the Vice Crime Section, the Second Police District in uptown New Orleans as a patrol officer, the Robbery Unit of the Major Crimes Division, the Special Operations Bureau as a SWAT officer and twelve years as narcotics agent. After being promoted to sergeant, Marina served in the Eighth District in the New Orleans French Quarter as a platoon supervisor before returning to the Narcotics Section as a platoon commander. While serving in that section he was promoted to the rank of lieutenant and reassigned to the Eighth District as platoon commander. Lieutenant Marina retired in 2003 from the Third Police District where he was serving as a platoon commander. During his career, the Lieutenant received numerous awards for exemplary performance in the line of duty. Upon retirement, he returned to the University of New Orleans where he earned a certification to teach social studies and Spanish, after which he taught Spanish Lakeshore High School in Mandeville, Louisiana for almost two decades.
What past participants are saying:
"Learning more about the history of policing that typically isn't taught in CJ classes or police training classes. Hearing the different perspectives of Dr. Marina was invaluable, he is well-read and very knowledgeable. I also enjoyed the stories and perspectives of Lt. Marina's life experiences and years of service with the New Orleans Police Department."
—UW-La Crosse Police Chief, Allen Hill