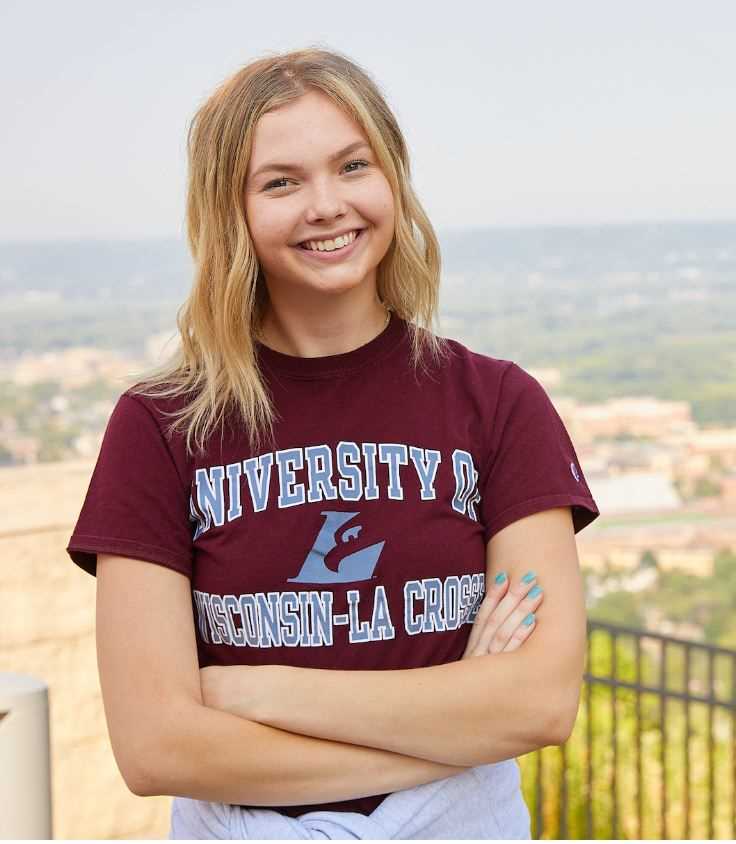 'I'm forever thankful to the UWL alum who saw the potential in me.'
- UWL Alumna Olivia Steingraber
Donor support paved the way for her business plans
Olivia Steingraber says scholarships — including a large gift from a UWL alum her freshman year — gave her freedom to explore and realize her full potential during college. Steingraber graduated in 2021 and is now a small business owner, working to expand her Wisconsin-based retail company.
"I'm forever thankful to the UWL alum who saw the potential in me," she says.
The UWL Fund supports not only scholarships for talented students like Olivia, but also a number of other unique opportunities and pressing needs for the university. Examples include things like:
Give a stipend to a deserving undergraduate student to explore research
Support a professor in creating a class project for a community client
Transport student volunteers to Ft. McCoy to assist Afghan refugees
Steingraber says scholarships allowed her to do more in college. A marketing major, she created an online retail store in early 2020 while still in college. She built the business with a friend, UW-Madison student Megan Kronsee. Now three years old, the business sells clothing primarily online at shoptwenties.com and locally at Natty West in Onalaska, Wisconsin. They will be expanding to other retail stores this year.
"My business partner and I are looking forward to continuing to dig our roots into the La Crosse area," says Steingraber. "We believe there will be great economic growth in this area, and we want to be a part of that development."
The two love entrepreneurship and are working to develop a business plan for a wedding and corporate event design/planning business as well.
Steingraber paid her own way through college with scholarships, loans and full-time work. She is excited about the work she is doing now. UWL donors supporting her educational foundation paved the way for her business plan.
"The support that I and so many other students receive is incredibly valuable," she says. "Donor support helps foster us to grow and reach our full potential."
Every gift to UWL
no matter how large or small
is important.
Many small gifts, when combined, can provide a scholarship, support a program, or fund an undergraduate research experience.
How to
Each year, the UWL Fund supports:
Scholarships to students
Small grants to faculty and staff for professional and program development
Research opportunities for faculty and staff
Recruiting and retaining educators
Special funding needs for campus building projects
New programs or projects that represent new ideas and unique initiatives.
The UWL Fund is supported through:
phonathons (fall/spring)
direct mail appeals to alumni, parents and friends
If you want to make a donation, but aren't sure where to give, you can give a gift to the UWL Fund to be used in an area of highest need.
Every dollar helps impact greatness at UWL.
Annual giving to the UWL Fund keeps the university strong and our alumni and friends connected to campus.
The UWL Fund makes it possible for the university to respond to the campus' most pressing needs, offers flexibility to take advantage of unique opportunities, and be prepared to handle unexpected needs arises.
The UWL Fund allows small gifts to add up. Alumni giving to the UWL Fund says graduates believe in the education they received and the UWL mission. Giving is a vote of confidence in the continued work on campus.
Your annual gift to the UWL Fund ensures the university can continue to keep initiatives moving forward.