Generous donors and supporters of the University of Wisconsin-La Crosse allow us to continue to set the bar higher each and every year.
Each gift we receive impacts students' success and the opportunities we can offer to our students. See how gifts have given responsibility, encouragement and opportunities for students, faculty and the campus community to grow and achieve their dreams, and hear see why donors have chosen to give and what they gained with their UWL education.
When you make a donation, you decide how it's used to help UWL. The Foundation can help you make and manage your gift—ensuring it gets used how you intended. If you don't designate your gift, we'll apply it to UWL's greatest needs, which are determined by the Foundation in collaboration with our Board of Directors and the University.
How giving empowers students
How giving inspires donors
Second Chances
Linda '73 and Tom Templin
Life is an adventure. We try hard to write our own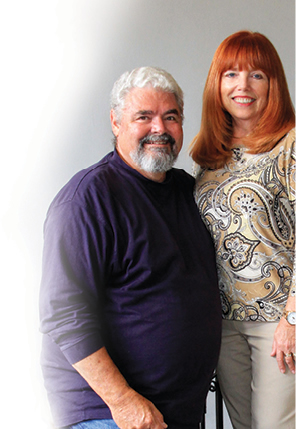 script through the choices we make, but even the best laid plans can change in an instant. Linda and Tom Templin know firsthand how life can throw you a curve.
"We were in the wrong place at the wrong time," Linda says. "I could see it coming, almost in slow motion. There was nothing we could do."
Linda and Tom were enjoying an afternoon motorcycle ride when they were struck by an emergency vehicle that ran a stop sign at high speed without its siren on. After undergoing multiple surgeries and therapy, both consider themselves blessed to be alive.
"The whole ordeal allowed us to reassess our lives and plans for the future," Linda explains. "We take nothing for granted anymore and we decided we wanted to help those things that mean the most to us."
The retired educator and firefighter changed their estate plans. One change was to include a scholarship fund at UWL to benefit future educators.
"We love the idea of being able to give back to the students at my alma mater," added Linda.
"We know our gift will one day make a huge difference for those who follow in our footsteps."
Returning the Favor
Mary Lou Thornburg, '58
Mary Lou Thornburg knows what it's like to work hard to make it through college.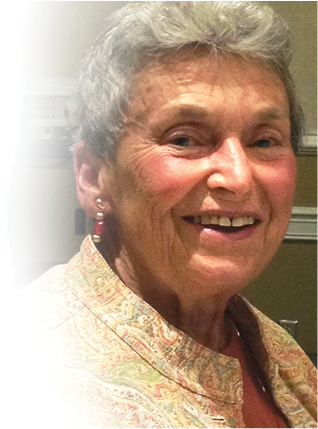 As a first-generation college student and the oldest of six children, she knew she'd have to fund college by herself. And she did. Along the way she worked many odd jobs and received two scholarships.
Now the retired Bridgewater State University physical education professor plans to help other college students struggling to get through financially. Thornburg has pledged a generous estate gift to further endow two scholarships honoring UWL professors who left an impact on her.
One was Anna Thomas. "I feel a continuing bond in honoring her," explains Thornburg. The other is A.B. Culver, whom she met through a national physical education organization. "I admired her leadership, commitment to the profession and dedication to UWL," she says.
These are only two awards to which she is contributing. She has established another scholarship and funded professional development for grad students at Bridgewater.
"Knowing the financial burdens on today's college students and hearing stories of many working several jobs and taking out loans, I decided I could help through my estate," concludes Thornburg.
How giving supports the campus community
Hoeschler Clock Tower
Janet Hoeschler, UWL class of 1940, donated the funds to create the tower as well as the Carillon (bells) that sit in the tower today. A 1998 email written by Louis M. Markwith, then President of the UWL Foundation, confirms that Hoeschler donated $75,000 to fund construction, matched by $60,000 from the university. The funds were used efficiently, enough to earn the tower the 1997 Excellence in Architectural Design Award for new construction. Without the Hoeschler family, UWL would lose a lot more than just the clock tower.
Hoeschler Tower has been the focus of many UWL traditions since it's creation about 20 years ago. One tradition that out lives the tower by 61 years is the hanging of the lantern. In the fall of 1931 UWL English professor O.O. White wrote a letter to one of our returning alums, "We'll hang the lantern in the old college tower over the south door. You won't need a key, the door will be open."
The Cleary Alumni & Friends Center
The Center was built in 1995 by the UWL Foundation as a gift to the University. Campus and community members alike gather here for various events including lectures, banquets, award ceremonies and receptions.
The building houses UWL Advancement Services: the UWL Foundation and the UWL Alumni Association. In addition, there is a large multi-purpose room, conference center, three smaller conference rooms, reception area and outdoor courtyard.
The Cleary Alumni & Friends Center is open from 7:45 a.m. to 4:30 p.m. Monday through Friday.
Centennial Hall
Centennial Hall was built in 2011. The building is located in the center of campus and holds 46 classrooms, two auditoriums, and various academic and student advising departments. A large, open entryway in the building opens up to the Hall of Nations. The Hall of Nations is a meeting room which holds flags from 44 countries, representing the diversity of UWL's international students.

Centennial Hall was made possible in part through gifts from alumni and friends of UWL.
Roger Harring Stadium
The stadium is named to recognize the accomplishments of Roger Harring, who led the UWL football team from 1969 to 1999. Harring, who was selected to the College Football Hall of Fame in 2005, won three national championships and 15 conference titles at UWL.

The Eagles' football and track & field squads host their home events at Roger Harring Stadium at Veterans Memorial Field Sports Complex. UWL's soccer and tennis teams also call Veterans Memorial Field Sports Complex its home. The soccer field is a lighted facility with a seating capacity of 500 while the tennis facility features 16 courts.

The sports complex was funded in large measure by private dollars and is a partnership between UWL (faculty & staff, students and alumni), local schools and the community. The stadium has a seating capacity of 6,250 seats, plus expanded locker rooms, restrooms, concessions and training facilities.

Veterans Memorial Field Sports Complex also features recreation and intramural fields, a football practice field and other amenities.

Veteran's Memorial Hall of Honor
UWL's Veterans Memorial Hall of Honor, located inside the entrance of the stadium, was dedicated in Sept. 2009.
Inside the Hall of Honor, TV monitors play a slideshow of war experiences, including the stories of local veterans.
A smaller replica of the "Three Soldiers" sculpture at the Vietnam Veterans Memorial on the National Mall in Washington, D.C., is on display.

Small Grants Program
The small grants program is funded through unrestricted donations to the UWL Foundation. The program has funded a variety of faculty and staff projects over the years. Most recently, 15 grants were awarded. Read about their innovative projects and inspiring success below.
Crocheted Coral Reef: Funding was used to purchase yarn and supplies for the project.
Building Champions Park: Funding supported the construction of the Building Champions Trail sign that provided art department students practical experience and display their artwork publically in Hixon Forest.
Gaining Ground II: Building College Level Information Literacy: Funding supported UWL librarian efforts to prepare high school students for college level research and writing.
Hear Here: Funding was used to bring speakers to campus to launch the "Here, Hear Poetry" contest and expenses associated with promoting the event.
Big Read: Funding supported the continued effort to develop a Jail Literacy Program. The Jail Literacy Program is now a thriving program with seven trained English faculty volunteers and bi-monthly two-hour sessions reading and writing poetry and prose with both male and female inmates in the La Crosse County Jail.
Vision Simulator Goggles: Purchased"vision simulator" goggles with funding. Goggles that simulate conditions such as cataracts and macular degeneration used in the classroom.
Boys and Girls Science Exploration Camp: Funding provided registration scholarships to local youth attending camp at UWL.
"Search for Economic Justice" through photography: Funding supported expenses to professional print images from fieldwork in Bolivia and Dominican Republic highlighting topics discussed in the General Education course series, Search for Economic Justice. The exhibit also marketed the (new) class in a creative way to students.
Coulee Region Math Circles: Funding helped develop a community of mathematicians in the Coulee Region made up of high school and middle school teachers.
Science and Engineering Unit with Elementary Children: Funds were used to buy supplies to implement a five day science and engineering unit with elementary children at Northside in an after school program. Several teacher candidates developed and implemented the science and engineering unit.
Oral History Program - Digital Collections: Funding helped support student workers who digitized audio files and created searchable databases of relevant interviews.
Mississippi Valley Archaeology Center : Matching Funds Program helps K-12 educators with the cost of bringing presentations to their classrooms.
Jonathan Borja- Flute Day: First time event, Flute Day 2017 brought together UWL students, local high school students, parent and community guests and UWL faculty