Welcome to the Master of Science in Community Health Education Program
The Master of Science in Community Health Education prepares professionals to administer and develop health education programs, to implement health education processes and concepts, to understand current health issues, and to hone skills appropriate to current or projected career goals. The program provides latitude for candidates to select a health-related focus along with a number of courses which will prepare them with aligned skill sets. Candidates are encouraged to tailor coursework to their particular interests and the health issues specific to their professional responsibilities. This is a non-thesis degree in which a student completes a four-credit "Graduate Project in Health Education" (HED 798) related to a focused health education health promotion issue.
Welcome to the Master of Public Health in Community Health Education Program
The Master of Public Health in Community Health Education (MPH-CHE) prepares health and human service professionals to work in various settings where community health education approaches are employed to improve health and well being. This practitioner-oriented program addresses behavioral theory, communication and motivational processes, community intervention strategies, and evaluation procedures for community health promotion and primary prevention.
The first degree of its kind in the UW System, the MPH-CHE has had ongoing accreditation by the national Council on Education for Public Health (CEPH) since 1992. It was ranked 6th in the Nation in the 2004 US News and World Report of the Best U.S. Graduate Programs in Community Health.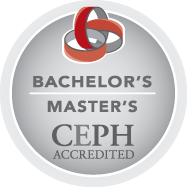 Accreditation and Recognition
The MPH-CHE program at UW-La Crosse was initiated in 1991 and has been CEPH accredited since 1992. The first MPH degree offered in the University of Wisconsin System, every student who has graduated from the MPH program has graduated from an accredited program.
Accreditation Reports: During 2014, the MPH and BS-CHE programs were nationally re-accredited through the Council on Education for Public Health (CEPH) for the full seven-year period until December 31, 2021. The final Self-Study document and the final Accreditation Report are available upon request by contacting The Department of Health Education and Health Promotion.

For more information on the CEPH accreditation please visit the CEPH website: Council on Education for Public Health.
The Lattice Issue 2015
Graduates Are Prepared To:
assess individual and community health needs
plan effective health education and health promotion programs
implement and evaluate educational experiences
coordinate and manage the provisions of health education services
serve as a resource in health education
communicate health and health education needs, concerns and resources
conduct health education and health promotion research
Graduates Are Employed In:
public health agencies
voluntary and private agencies
hospitals and other health care settings
local, state, and national governmental agencies
business and industrial settings
global health-related organizations
Kate Noelke is a 2014 MPH-CHE graduate who is open to communications from prospective students and wished to share the following sentiment,"Dive in and connect with your peers, your instructors, your community members and the issues of the world around you. Reach out: the connections I made during my MPH experience enriched my education in ways I never imagined. Public health is action and interaction, so get busy!"