Welcome to the Master of Public Health in Community Health Education Program
The Master of Public Health in Community Health Education (MPH-CHE) prepares health and human service professionals to work in various settings where community health education approaches are employed to improve health and well being. This practitioner-oriented program addresses behavioral theory, communication and motivational processes, community intervention strategies, and evaluation procedures for community health promotion and primary prevention. The MPH-CHE courses are offered primarily through evening campus-based classes. The program is designed for both the full-time student and the working professional who wish to expand their career options in public health. The small class sizes and professors who are accessible help to ensure student success.
The first degree of its kind in the UW System, the MPH-CHE program has had ongoing accreditation by the national Council on Education for Public Health (CEPH) since 1992.
Benefits of accreditation: "CEPH accreditation serves multiple purposes for different constituents. In general, specialized accreditation attests to the quality of an educational program that prepares for entry into a recognized profession." In promoting the standards associated with public health accreditation the Association of Accredited Public Health Programs (AAPHP), established in 1999, "has a major commitment of encouraging and supporting higher education institutions to seek and maintain CEPH accreditation." The Association of Schools and Programs of Public Health states "Graduates of CEPH-accredited schools and programs of public health are equipped with the population health skills to address the world's most pressing health issues." The following video produced by the Association of Specialized and Professional Accreditors explains why programmatic accreditation is important.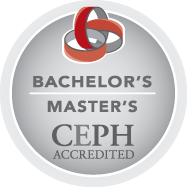 Accreditation and Recognition
The MPH-CHE program at UW-La Crosse was initiated in 1991 and has been CEPH accredited since 1992. The first MPH degree offered in the University of Wisconsin System, every student who has graduated from the MPH program has graduated from an accredited program.
Accreditation Reports: During 2014, the MPH and BS-CHE programs were nationally re-accredited through the Council on Education for Public Health (CEPH) for the full seven-year period until December 31, 2021. The final Self-Study document and the final Accreditation Report are available upon request by contacting The Department of Health Education and Health Promotion.
Graduates Are Prepared To:
assess individual and community health needs
plan effective health education and health promotion programs
implement and evaluate educational experiences
coordinate and manage the provisions of health education services
serve as a resource in health education
communicate health and health education needs, concerns and resources
conduct health education and health promotion research
Graduates Are Employed In:
public health agencies
health departments
voluntary and private agencies
hospitals and other health care settings
managed care organizations
consulting firms
local, state, and national governmental agencies
international agencies
business and industrial settings
global health-related organizations