To view the current OT curriculum grid please select the following
OT Curriculum Grid (through Fall 2018)
OT Curriculum Grid (effective Spring 2019)
Curriculum Design
Curricular Threads
The professional program is conceptualized as a confluence of five curricular threads: foundational science, research skills, professional identity/leadership, clinical skills, and theory. Some of these threads are emphasized at different points in the curriculum (i.e. foundational sciences occur in the first year and clinical skills is more heavily emphasized in the last year).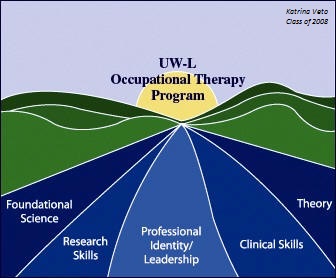 Graphic by Katrina Veto, Class of 2008
Foundational Science forms the basis of scientific reasoning. Courses dealing with the structure and function of the human body, how the body moves, and various medical conditions, form the building blocks of understanding how occupational performance is affected by disease and developmental delays. The rigorousness of these courses and the scientific reasoning used in them gives students a solid foundation for learning and practicing the occupational therapy process and developing clinical reasoning. These foundational science courses occur in the first year of the curriculum. Students are then asked to apply foundational science concepts in other coursework, including fieldwork. Examples include explain: the medical condition using foundational science concepts, the "science" behind treatment interventions, and the validity of a new intervention based on the "science" of the proposed mechanism of change.
Scholarly Practice Skills are needed to approach everyday occupational therapy practice with scholarly rigor. Learning the skills and rigor of evidence-based practice (EBP) helps students develop professional reasoning. An evidence-based practitioner has the tools to make ethical and effective evaluation and intervention choices. A scholarly clinician is precise in administering evaluations, interpretation of data, and documentation. The coursework in this thread includes content that helps student develop the skills needed to be a scholarly occupational therapist. Evidence based applications are woven into other courses, including fieldwork, to promote application of EBP concepts in different treatment contexts and with different populations.
Professional Identity/Leadership is the thread that encompasses how students implement their skills and knowledge as a student and a therapist. The coursework in this thread emphasizes collaborating in teams, assuming leadership roles, internalizing a strong professional identity, demonstrating ability to practice with minimal supervision, valuing life-long learning, serving as a person centered advocate for the client and supporting/ promoting the profession of occupational therapy. Therapeutic use of self, multicultural sensitivity and professional behaviors are strongly emphasized throughout the coursework and all fieldwork experiences.
Clinical Skills include the knowledge and skills that occupational therapists use to make decisions at each step of the occupational therapy process. Courses in this thread include focus on occupational performance problems encountered by various populations in different practice settings (both current and emerging) as well as assessment and intervention options.
Theory provides guides for understanding practice situations, considering assessment and intervention options, selecting the intervention, timing and method of delivery. Occupational therapy theories are applied in the clinical skills thread in context with populations and practice settings.
Scope of the Curriculum
Our mission, "to graduate entry level occupational therapist leaders who are committed to providing excellent occupation-centered, person-centered, evidence-based occupational therapy based on foundational science", drives decisions about the scope of our curriculum. Based on the practice areas of our graduates, we continue to conclude that the best preparation for our graduates is grounding in foundational science, evidence based practice, and clinical knowledge and skills in mental health, physical dysfunction, and pediatric settings. With continued professional development, UW-graduates are prepared to work in emerging practice settings.
Curriculum Sequence
The overall sequence of courses was designed to steep the students with foundational science courses early so these science concepts becomes the foundation for building each student's occupational therapy knowledge base. The first year also includes coursework on the building blocks of occupational therapy practice: patient handling, ethics, and introduction to occupational therapy, activity analysis, and group leadership.
The end of the first year and first semester of second year is focused on using the foundational science and foundational occupational therapy building blocks to develop clinical skills with different populations in different contexts. There are various points of integration throughout the curriculum
The critical analysis of practice courses (CAP) in the 3rd and 5th semester provide students with the opportunity to integrate content from all courses taught in that semester using case studies. The CAP 2 course, taught in the fall 2 semester uses data that students collect on their physical dysfunction fieldwork in the summer as the basis of a case study that they develop during the semester.
There is some sort of fieldwork experience in each semester of the program. Integrated fieldwork experiences are designed to familiarize the students with a variety of different intervention settings, reinforce course content by applying it to real-life settings, begin to build clinical skills, and develop beginning professional behaviors. Level I Fieldwork is primarily designed to give students exposure to a specific population in different intervention contexts and to help the students continue to develop professional behaviors. Two of the Three Level 1 fieldwork experiences are full time for 1 week to give the student an immersion experience in an occupational therapy setting. Since the population and contexts are different with each of the level I experiences, we do not expect students to develop more proficient skills by the end of the program. However, we do expect the students' professional behaviors to develop over all of the fieldwork experiences. The debriefing after the fieldwork I placements provides excellent opportunities for integration between the clinic and the classroom.
Patient laboratories for children and adult clients are designed to give students the opportunity to apply the entire occupational therapy process with one adult and one child. Students are expected to demonstrate specific skills to a level of competency and continue growth in professional behaviors. They are supervised (2 students to 1 clinician) and given extensive feedback to help them develop competencies and to become comfortable accepting and learning from feedback. The curricular threads (i.e. foundational science, theory, clinical skills, scholarly practice, and professional identity/leadership) are integrated into the student's intervention plan for the client. Both of these laboratories are placed in the spring 3 semester (last semester on campus) to aid in the transition from student to student therapist by having a caseload of 2 clients.
The fieldwork II experiences at the end of the didactic content are designed for the student to reach entry level competency in clinical knowledge and skills and professional behaviors. The threads of the curriculum are integrated through assignments (i.e. case study, EBP project, and observation/participation in leadership and advocacy experiences.