Program profile
A page within PT demo page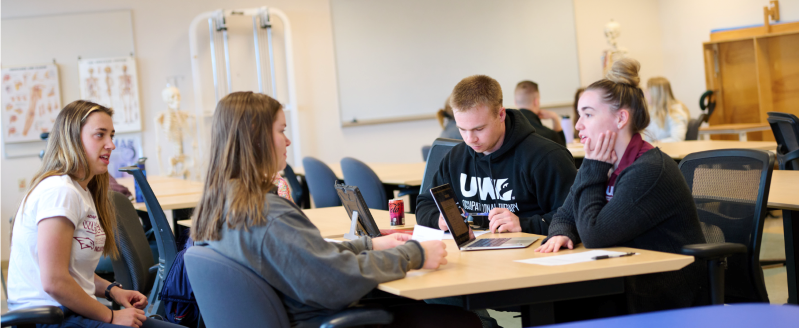 The University of Wisconsin-La Crosse Physical Therapy Program is dedicated to quality graduate education in Physical Therapy. The entry-level Doctor of Physical Therapy program is designed to train therapists who can enter the profession as generalists. Program graduates are able to competently evaluate patients/clients, critically analyze new information, solve complex patient problems and have developed the skills to be life-long learners. Our faculty represent the major sub-disciplines of physical therapy practice (musculoskeletal, neuromuscular, cardiovascular and pulmonary, integumentary and research) and the state of the art Health Science Center provides exceptional clinical lab and research facilities. The Physical Therapy Program supports the La Crosse Institute of Movement Science (LIMS) and the Exercise Program for Adults with Neurologic Disorders (EXPAND). In addition, The UWL Physical Therapy program is affiliated with the Gundersen Health System Sports Medicine Residency Program.
In Physical Therapy, You Can Make A Difference!!!
A factory worker with an injured back...an elderly individual with arthritis...a recreational or elite athlete...an individual who has had a stroke...a child or adult with a disability...an individual who works all day at a computer workstation...a middle aged adult who is experiencing shoulder pain...an individual recovering from surgery...an elderly person living in a nursing home...a diverse group of people, yet each can benefit from physical therapy.
When individuals are recovering from injury or disease, the physical therapist evaluates and directs the recovery process to relieve pain, make them stronger, and help them to regain use of an affected limb. Physical therapists also teach patients and their families what to do so that healing continues through self-care at home.
Physical therapists have an opportunity to make a positive difference in people's quality of life. Their work often involves direct contact with people-with patients and other health care professionals.
Physical therapists also promote wellness and injury prevention. They teach the importance of personal fitness and explain how to prevent injury at work or at play.
Physical therapy attempts to meet an individual's health goals, whether a patient's goal is walking without assistance or running a marathon. A physical therapist is an integral part of the health care team that makes these goals a reality.
A Variety of Responsibilities and Settings
Physical therapists are part of the health care team. They work with other health care providers, such as physicians, occupational therapists, nurses, dentists, psychologists, social workers, podiatrists, and speech pathologists and audiologists.
Physical therapists many be self employed or work as an employee in many health care setting including hospitals, rehabilitation centers, community health centers, nursing homes, home health agencies, corporate or industrial health centers, sports facilities, research institutions, schools, pediatric centers, and colleges and universities.
Text Modified from the American Physical Therapy Website (www.apta.org )
Employment Outlook
According to the U.S. Bureau of Labor Statistics, employment of Physical Therapists is expected to grow 36% from 2012-2022, considerably faster than the national average for all occupations. To learn more about the current employment outlook please visit – Bureau of Labor Statistics
A dual degree program leading to an undergraduate degree in Biology (no emphasis) or Physics (Biomedical Concentration) from the University of Wisconsin-La Crosse and a graduate degree in Physical Therapy at the University of Wisconsin-La Crosse is available to qualified University of Wisconsin-La Crosse Students. The dual degree program will require at least three years of attendance at the University of Wisconsin-La Crosse to complete undergraduate requirements, followed by 34 months of attendance at the University of Wisconsin-La Crosse in the graduate program in Physical Therapy.
More information on the Biology Dual Degree Program

More information on the Physics Dual Degree Program
ORGANIZATION AND OPERATION
A. Vision Statement
The University of Wisconsin-La Crosse Physical Therapy Program will be a recognized leader in evidence-based, clinically integrated, physical therapy education through collaboration among uniquely specialized professionals and institutions, serving diverse student and community populations and the physical therapy profession.
B. Mission Statement
The mission of the DPT Program is to produce physical therapists who are autonomous practitioners and leaders in the prevention, diagnosis and treatment of movement dysfunction, and who enhance the health and functional abilities of the Wisconsin public.
C. Philosophy
The faculty believes that the professional education of physical therapists is complex and multifaceted. It involves the student, the faculty, the academic institution and the professional community. The faculty further believes that the learning environment must be student-centered in order to maximize the learner performance. Faculty also recognizes students possess a wide array of desires, past experiences, and capability to learn. Therefore, the program promotes teaching styles that encourage students to be active learners and to take responsibility for their own learning.
Professionalism is central to the educational process and will be modeled for and developed in students as an integral part of their academic and clinical learning. Therefore, the program promotes inclusion of professional behaviors into the curriculum as a required component for many academic courses and all clinical courses.
Physical Therapists practicing in healthcare at this time must be able to provide direct-access to their clients and serve as expert practitioners throughout patient management. Therefore, the program uses a hybrid model whereby curricular content is centered on strong foundational sciences, and evidence-based clinical practices which promote the development of clinicians who are capable of managing patient/client care.
D. Program Goals
In order to execute the mission statement that is consistent with the faculty philosophy on physical therapy education, the following goals have been established:
DPT Education will allow:
1. Recruitment and matriculation of the most qualified and diverse students, challenging and supporting them to completion of the Program.
2. Development of generalist practitioners who are prepared to assume the roles of clinician, educator, administrator, and whose practice is shaped by research evidence.
3. Recruitment and retention of diverse faculty who exemplify excellence in teaching and who serve as professional role models.
4. Contribution to evidence-based practice through faculty and student scholarly activity.
5. Facilitation of life-long learning within the physical therapy community.
6. Development of physical therapists who display the core values of professionalism that include accountability, altruism, compassion/caring, excellence, integrity, and professional and social responsibility.
E. Expected DPT Student Outcomes (Student Learning Outcomes)
DPT graduates will:
1. practice professionalism as observed through their ethical, moral and legal actions.
2. displays cultural competence through words and actions (as defined by the CPI).
3. examine patients of all ages by obtaining a history, performing a systems review, and administering selected tests and measures.
4. evaluate data from the examination in order to render evidence based clinical decisions and determine a diagnosis that guides patient/client management.
5. prepare a patient plan of care that is safe, effective, considers available resources, and client centered.
6. perform physical therapy interventions and monitor patient outcomes.
7. promote prevention, health and wellness at the individual, community, and societal level.
8. display ability to utilize information technology to access scientific literature to support clinical decisions.
he Doctor of Physical Therapy Program at the University of Wisconsin-La Crosse is accredited by the Commission on Accreditation in Physical Therapy Education (CAPTE), 3030 Potomac Ave., Suite 100, Alexandria, Virginia 22305-3085; Telephone: 703-706-3245; Email: accreditation@apta.org; Website: http://www.capteonline.org. If needing to contact the program/institution directly, please call 608-785-6623 or email Patrick Grabowski, MPT, PhD at pgrabowski@uwlax.edu.
Complaints regarding the program can be submitted directly to the Commission on Accreditation in Physical Therapy Education (CAPTE) using this link: CAPTE Testimony
Complaint Procedures From Clinical Sites, Students or Community Members
Any person (e.g. prospective and currently enrolled students, clinical instructors, employers of graduates and the general public) can file a signed complaint about the Physical Therapy Program with the Program leadership, the Department of Health Professions Chair, or the University administration. The complaint must be in writing and must identify the complainant. The complaint must clearly identify and describe the specific nature of the complaint, provide supporting data, and specify the requested response to the complaint.
In general, a formal complaint should be initiated with the person who is the next level higher than the target of the complaint. For example: a complaint against a faculty member should be addressed to the Program Director (pgrabowski@uwlax.edu 608-785-6623); a complaint against the program director should be addressed to the Department Chairperson (tkernozek@uwlax.edu 608-785-8468); and a complaint against the Department Chairperson should be addressed to the Dean of the College of Science and Health (msandheinrich@uwlax.edu 608-785-8218). Such complaints should be lodged either orally or in writing within 90 days of the last occurrence.
All students complete five internships throughout the curriculum. The first internship, held during the student's first J-Term, is a two week experience to practice basic skills such as patient interviewing, muscle testing, documentation, etc. The second experience occurs at the end of the student's second summer semester and lasts four weeks. Emphasis is placed on rural/ primary care hospitals, home health, SNF, subacute settings. After completing two years of study in La Crosse the program concludes with three 12 week internships – inpatient rehab or acute care, outpatient general orthopedics and a niche setting of the student's choice (rural medicine, pediatrics, sports, schools, research) which models the values characterized by autonomous practitioners.
Please be aware that a felony charge may affect your ability to obtain fieldwork placements and/or sit for the board examination.
University of Wisconsin La Crosse Doctor of Physical Therapy Student Outcomes
The University of Wisconsin- La Crosse Doctor of Physical Therapy Program's outcomes reflect the collective efforts of a diverse academic faculty and committed clinical educators who challenge and support our students through a rigorous 34 month curriculum. The following tables reflect a sample of objective outcome measures which describe our graduates for the Classes of 2012 - 2022.
University of Wisconsin-La Crosse Physical Therapy Graduation Rates

(does not include students who elected to withdraw for personal reasons)

Class of
Students Enrolled
Graduation Rates
Recent Two-Year Average: 98% (Class of 2021 & 2022)
2022
44
100%
2021
43
96%
2020
44
98%
2019
91%
2018
98%
2017
93.3%
2016
97.8%
2015
100%
2014
100%
2013
100%
2012
97.8%
First Time NPTE Pass Rate for University of Wisconsin-La Crosse Graduates

Year
Graduates
UWL Pass Rate
National Pass Rate
Recent Two-Year Average: 97% (Class of 2020 & 2022)
2022
44
93%
86%
2021
43
100%
88%
2020
43
100%
92%
2019
100%
91.4%
2018
98%
92.3%
2017
100%
93.9%
2016
100%
94.3%
2015
100%
91.3%
2014
100%
91%
2013
100%
90%
2012
100%
89%

Ultimate 3 year pass rate

Ultimate 3 year pass rate *

98%
* Ultimate pass rate for graduates of US accredited PT Programs https://www.fsbpt.org/FreeResources/NPTEPassRateReports/NPTEPassRatesByState.aspx?exam=PT
University of Wisconsin- La Crosse Physical Therapy Program Employment Rate

(within one year for graduates eligible for and seeking employment)

Class of
UWL Employment Rate
Recent Two-Year Average: 100% (Class of 2020 & 2021)
2021
100%
2020
100%
2019
100%
2018
100%
2017
100%
2016
100%
2015
100%
2014
100%
2013
100%
2012
100%
Opened in 2000, the Health Science Center (HSC) serves as the home of the PT Program, the La Crosse Institute of Movement Science (LIMS), and the Exercise Program for Adults with Neurologic Disorders (EXPAND). The second floor provides lecture space for didactic courses while the third floor houses the program's clinical and lab space. Other UWL programs housed in the HSC include the Medical Dosimetry, Occupational Therapy, Physician Assistant , Nuclear Medicine Technology, and Radiation Therapy programs.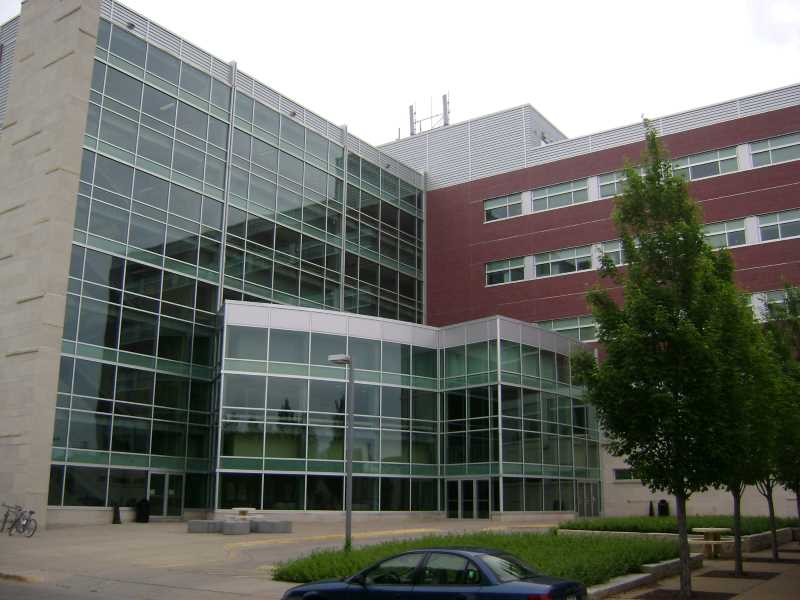 HSC Outside1

Virtual Tour
Take a web tour of the HSC as it relates to the Physical Therapy Program. The tour will take you through the following HSC facilities:
Directions
The HSC is located at 1300 Badger St. on the western edge of the UWL campus.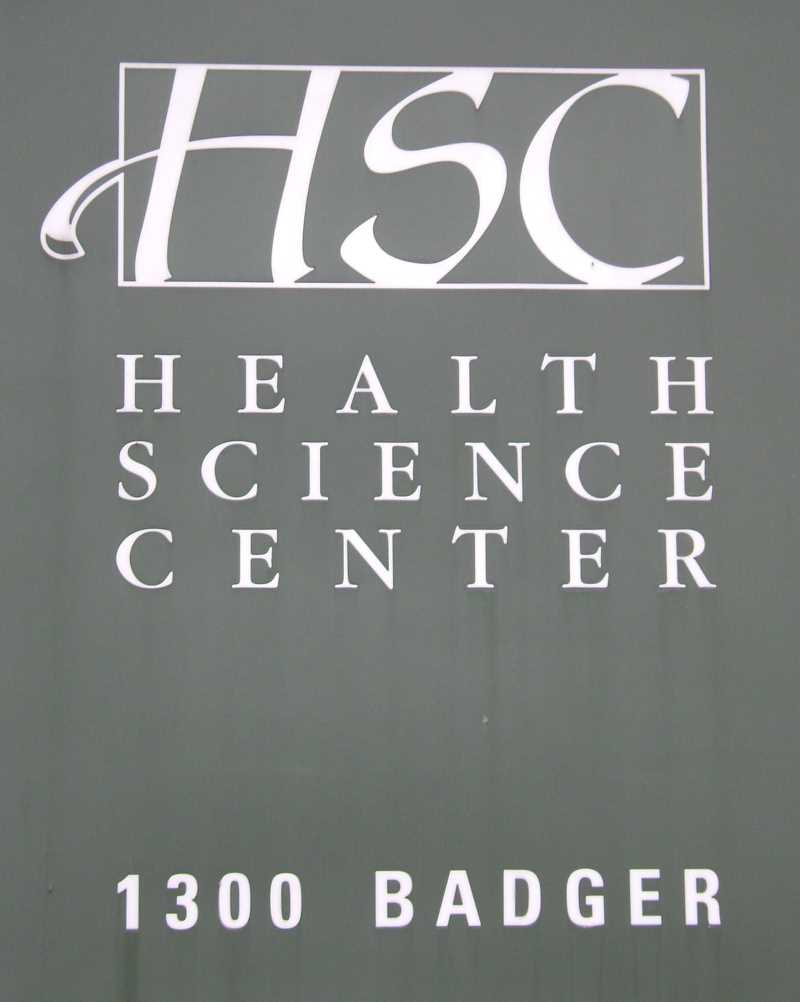 HSC Sign