Interdisciplinary projects
The UWL Graduate Strategic plan includes the action step of providing interdisciplinary opportunities to enhance graduate education at UWL. To make progress towards this goal, the Graduate Studies Office will provide funding to develop interdisciplinary projects that serve faculty, staff and students in graduate programs, up to $2,000/project.
Up to four projects of $2000 each will be funded for the 2019-20 academic year.
The application deadline Spring 2020 is 12:00 pm on Friday, February 7.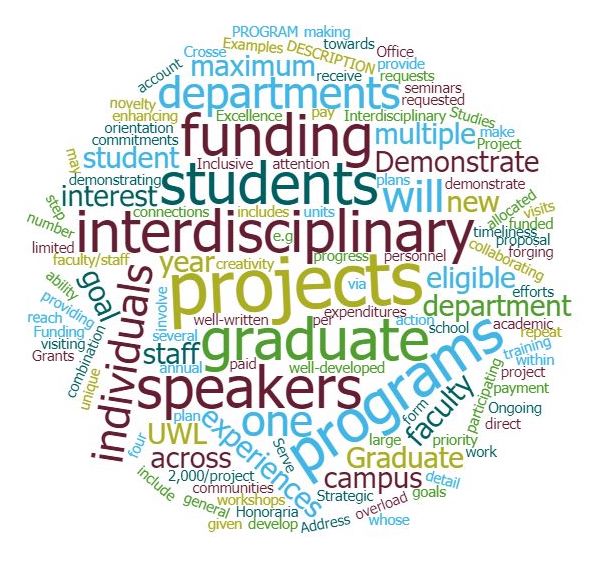 Funding priorities

expanding section
Funding priority will be given to projects that:
Serve multiple graduate programs across several departments, demonstrating the ability to reach a large number of individuals (both graduate faculty/staff and students)
Demonstrate creativity in forging new connections across graduate programs
Address the goals of Inclusive Excellence
Demonstrate novelty and timeliness, making them of interest to the general campus and the La Crosse communities (for speakers)
Are well-written and demonstrate attention to detail
Have well-developed plans and funding commitments from other campus units (e.g. participating departments)
Guidelines and application

expanding section
Guidelines
Examples of projects include, but are not limited to: 1) training experiences which involve graduate faculty and students from more than one department, 2) visits from speakers whose work is of interest to graduate faculty and students in more than one department, and 3) orientation programs for new graduate students from multiple departments. Individuals associated with any graduate program (on or off campus) are eligible to apply. Ongoing or annual projects are eligible for repeat funding. Honoraria for visiting speakers are eligible for funding. Up to $500 may be requested to pay project personnel for their efforts; faculty and staff will be paid via overload form while students will receive a direct payment to their student account. Only one proposal will be funded per academic year for each unique combination of collaborating programs.
How to apply
The application (see button below) consists of the cover page, a budget sheet, and a 2-page (maximum) narrative. Applicants need to have the form signed by their Graduate Program Director, Department Chair, and College/School Dean.

Applications will be accepted two times a year, at the start of the fall and spring semesters. Signed applications should be scanned and electronically submitted via the link below. Applications must be received no later than noon on the third Friday of the fall semester and the second Friday of the spring semester.

Applications will be evaluated and funding decisions made by the Graduate Council. If funded, you will need to complete a short report after your project is completed.
Resources

expanding section
Look for potential collaborators by visiting the graduate programs page.
Information about how to make a reservation for space on campus.
Learn more about resources for hosting events on campus.