Graduate student award nominations
Nominate a graduate student
Program directors and graduate faculty should consider top students for these annual awards. Faculty nominations of students are due by the last Friday in February.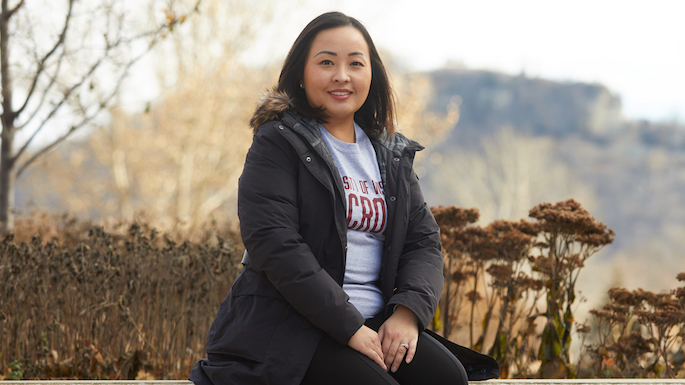 Academic Achievement Award

expanding section
Graduate Student Achievement Awards recognize students who demonstrate evidence of scholarly accomplishment beyond the completion of degree course work. Up to four students are recognized each year: one in the College of Arts, Social Sciences and Humanities, one in the School of Education, and two in the College of Science and Health. Awards are presented at the May commencement ceremony and come with a $500 scholarship.
Eligibility:
Students must have completed or anticipate completing all degree requirements during the academic year of the award.
Nominees must demonstrate evidence of scholarly accomplishment beyond completion of degree course work. This may include:
Demonstration of excellence in completing thesis, seminar paper, or culminating project.
Superior performance on comprehensive examinations
Demonstration of excellence in academic or professional internship/practicum
Involvement in research and other scholarly pursuits
Demonstration of leadership in program.
Process:
Nominations are due to your Dean's Office by the last Friday in February.
The Dean's Offices will forward award nominations to the Office of Graduate Studies (for review by Graduate Council) no later than four weeks after the February date.
Each college will determine its procedures for selecting nominees. A letter of nomination from the Graduate Program Director and/or major advisor addressing the eligibility criteria listed above and any supporting materials should be submitted to the respective Dean by the deadline. Late nominations will not be considered. A Dean's office may elect to make no award in any given year.
Rosandich Graduate Thesis Award

expanding section
The Rosandich Graduate Thesis Award recognizes the originality, impact, and quality of a student thesis. The Graduate Council, at its sole discretion, may choose to limit the number of Rosandich Graduate Thesis Awards to no more than two annually. One or more of these awards will carry a cash award.
Eligiblity:
Graduate Students who completed their thesis in the preceding calendar year may be nominated. Self nominations by the students are strongly discouraged. However, multiple high quality submissions by an academic graduate program are encouraged.
Process:
Nominations are due in the Graduate Studies Office by the last Friday of February, for review by Graduate Council. The nomination letter must include the following:
Nominee transcript (unofficial is fine)
Copy of thesis
Nominee contact info (address, phone number, and/or email)
Detailed letter of nomination. This letter should address as many evaluation criteria (listed below) as possible, as well as specifically addressing the impact, relevance, and significance of this research in the academic field.
Members of the selection committee will judge each thesis on the criteria listed below. The letter of nomination from an expert in the field who was closely associated with the student's work will also provide meaningful insights during the selection process.
Selection committee:
The Graduate Studies Director will solicit volunteers from the Graduate Council, to form a committee with a minimum of three members, representing the university community. The Associate Vice Chancellor serves as an ex-officio member of this committee. The Graduate Studies Office will handle all the communications related to the Rosandich Graduate Thesis Awards.
The specific evaluation criteria may include (but may not be not limited to) the following:

Impact of the study on the field and future research implications
Significance and originality of contribution embodied in the thesis
Quality of analysis and conclusions
Work that is primarily attributed to the student's own initiative
Use of appropriate literature/resources in the field of study
Quality of organization, writing and overall presentation of thesis