Health Education and Health Promotion
COVID-19 Update
11/16/2020
Our operational status
Classes for Fall 2020 and Spring 2021 are a mix of in-person, online, and hybrid modalities. We recommend email and/or Canvas as the best way to reach faculty and instructors. Academic departments are minimally staffed.
For more information: UWL's COVID-19 info hub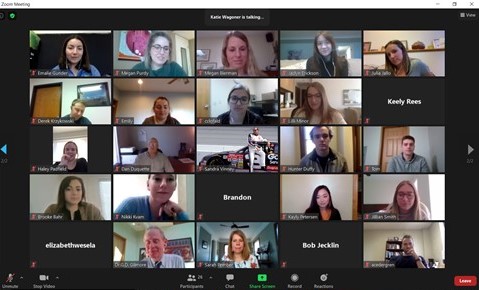 UW La Crosse Alumni Association - What's new Wednesdays
Thriving in the wake of COVID-19's new normal
Drs. Dan Duquette and Gary Gilmore shared what UWL is doing to support students during the COVID-19 pandemic, and discussed ways alumni and community members can stay safe and healthy. They shared with the audience their perspectives on the long-term implications of the pandemic.
Dr. Dan Duquette's PH 335 Environmental Health class at UW La Crosse
COVID-19, alongside other coronaviruses, such as SARS and MERS are a hot topic right now in UWL's Environmental Health course.
The class, taught by Dr. Dan Duquette, focuses on real-life examples of the viral interaction between people, the environment and animals.
Students at UW La Crosse in Dr. Dan Duquette's PH 335 Environmental Health class were busy studying about the coronavirus Tuesday as part of their environmental health class.

Promoting a healthy world video
The Department of Health Education and Health Promotion (HEHP) offers the following degree options:
✹ the only Council on Education for Public Health (CEPH) accredited Bachelor of Science in Public Health and Community Health Education in the UW System
✹ an online collaborative degree completion program in Health and Wellness Management
✹ an online Master of Science in Health Care Administration
Individuals completing their degree from the HEHP department can find employment in a variety of settings to include:
✹ government - local, county, state and federal
✹ not-for profit, for profit, and voluntary organizations
✹ business and industry
✹ healthcare, clinics, hospitals and insurance companies
✹ schools, universities and many other community-based agencies
Students who graduate with our public health degree have a strong foundation in public health and are skilled in the competencies identified by the Council on Education for Public Health at the Bachelor's level.
Vision: Healthier people participating, learning, and living in healthier communities.
Mission: To prepare leaders in school and community health through the bridging of competency and standards-based education, scholarship, advocacy, and service-related endeavors, thereby contributing to healthier people and healthier communities.
To pursue this mission, we (department faculty, staff, students, and others) collaborate to:
✹ Advocate for the advancement of the profession.
✹ Provide the highest quality of professional preparation.
✹ Prepare students, professionals, and academic programs for credentialing processes.
✹ Provide innovative professional development opportunities.
✹ Offer authentic life-enhancing service-learning opportunities.
✹ Strengthen health-related community capacity through collaboration and service within our world.
✹ Aim to cultivate motivated, self-directed, continuous life-long learners.
Select from the links to the left to view information about each program. For additional information about this department or the programs it offers, please contact the Department Chair.
Dr. R. Daniel Duquette, CHES, Chair
Department of Health Education
and Health Promotion
University of Wisconsin La Crosse
416A Wimberly Hall
1725 State Street
La Crosse, WI 54601
608.785.8161
608.785.6792 (fax)
rduquette@uwlax.edu