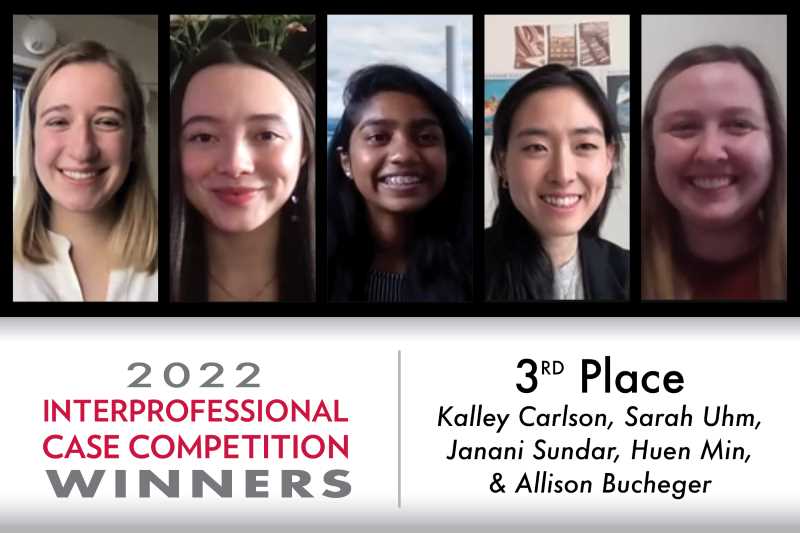 Edith Ben-Eboh recognized for academics, community involvement
Edith Ben-Eboh recognized for academics, community involvement
Edith Ben-Eboh, a junior majoring in public health and community health education, recently received the UWL Student Association's Women of Color Scholarship. "I'm happy someone saw something in me and felt I deserved this," she says.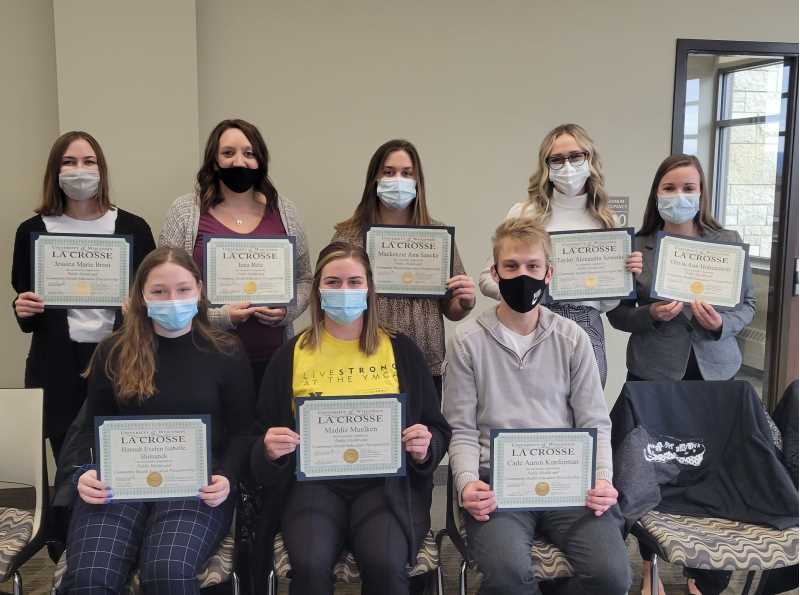 Study shows UWL, Viterbo students plan to get vaccinated
More than three-quarters of students attending La Crosse's four-year colleges intend to roll up their sleeves and get a COVID-19 vaccine.
Researchers from Gundersen Health System's Wisconsin Academy for Rural Medicine, UW-La Crosse and Viterbo University found that 76% of students surveyed at UWL and Viterbo this winter plan to get vaccinated.
The reasons: 81% think the vaccine will protect them, while 82% think the vaccine will protect others. A total of 78% believe the COVID-19 vaccine will be beneficial in getting things back to normal.
"I think what surprised me in the study, if anything, was the percentage of students indicating they would get the vaccine when it became available to them," says Professor Dan Duquette, chair of the UWL Health Education and Health Promotion Department and the study's lead facilitator. "And one of the main reasons was to help things return to normal."
Of the roughly 350 students completing the survey between mid-February and early March, 66% reported they had already received the seasonal flu shot — heeding advice of health professionals to avert a double health crisis.
Duquette says it was an all-hands-on-deck study for him and his students, along with Associate Professor Matthew Bersagel Braley of the Viterbo Ethics, Culture and Society Department, and Dr. Kim Lansing, Gundersen Health System. UW-Madison School of Medicine and Public Health WARM (Wisconsin Academy for Rural Medicine) students from Gundersen and undergraduate students from Viterbo also assisted.
The research is timely for creating strategies to increase turnout for the vaccine once it's available to college students, says Duquette.
"Part of the follow-up messaging needs to point out that most college students intend to get vaccinated — that may inspire some fence-sitters to roll up their sleeves, too," he says.
Please see the full story: https://www.uwlax.edu/news/posts/a-vaccine-victory/?utm_source=Campus%20Connection%202021-04-12&utm_medium=Email&utm_campaign=Campus%20Connection&ConnectionDate=2021-04-12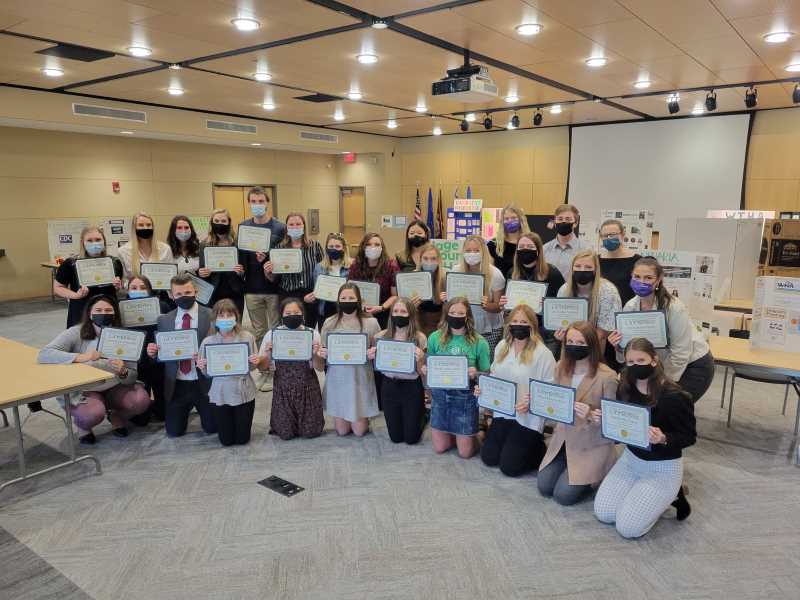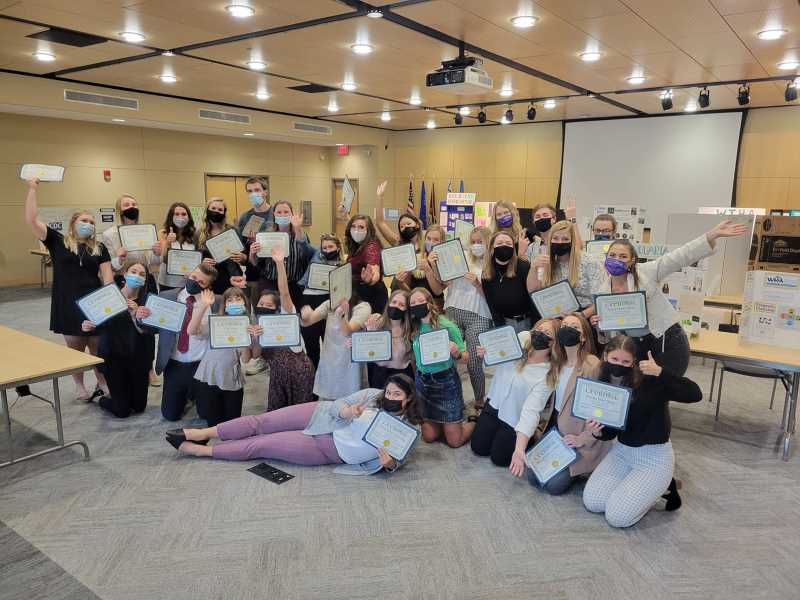 Health Education & Health Promotion kudos
Allison Bucheger
Allison Bucheger, Health Education & Health Promotion student, received a third-place award at the statewide interprofessional case competition at Wisconsin AHEC Hosts 9th Annual Interprofessional Case Competition on Jan. 6, online. A student team from UW-LaCrosse, Medical College of Wisconsin, and UW-Madison studying various health fields earned $1,000 for winning third place at a statewide interprofessional case competition organized by Wisconsin AHEC (Area Health Education Centers) in January. Third place team members representing South Central AHEC: Allison Bucheger (Community Health Education, UWL), Heun Min (Medicine, Medical College of Wisconsin), Kalley Carlson (Public Health, University of Wisconsin-Madison), Sarah Uhm (Public Health, University of Wisconsin-Madison), Janani Sundar (Medicine, University of Wisconsin-Madison). The student team competed online virtually against eight finalist teams chosen from 17 that applied. The teams, made up of students studying healthcare disciplines from public and private universities across the state. The student teams were assigned a case study of a complicated situation, and each team worked together for two months to conduct an analysis of interprofessional efforts during the care of a patient/client within the community. The top teams virtually presented their recommendations for enhanced interprofessional collaboration to a panel of judges. This traditionally in-person event brought together interdisciplinary teams of health professions students across multiple professional schools and programs, both private and public, to develop and present a proposed solution to a healthcare challenge. Eight teams were selected out of 17, all of which competed for a $3,000 first-place cash prize. The finalist teams were judged by a panel comprising of interprofessional leaders within Wisconsin's healthcare community.
Submitted on: Jan. 11
Sierra Rooney, Megan Litster, Katherine Lavelle, Sarah Pember and Jennifer Kosiak
Sierra Rooney, Art; Megan Litster, Biology; Katherine Lavelle, Communication Studies; Sarah Pember, Health Education & Health Promotion; and Jennifer Kosiak, Mathematics & Statistics; presented "Where Do We Go From Here?" at OPID Spring Conference on Teaching on Friday, April 16 online. Invited to be featured roundtable presentation.
Submitted on: April 16, 2021
Ashley Clark, Morgan Worachek, Lillian Minor, Keely Rees, Katie Wagoner and Eta Sigma Gamma, Beta Phi
Ashley Clark and Morgan Worachek, both BS Public Health- Community Health Education; Lillian Minor, Keely Rees and Katie Wagoner, all Health Education & Health Promotion; and Eta Sigma Gamma, Beta Phi ; received the award for Health Education & Health Promotion at SOPHE Annual Meeting 2021 on Monday, April 5 in St Louis (virtual). The Chapter Excellence Award is the highest award a Chapter can receive and recognizes a year of Chapter achievement. The Chapter Research Award was based the research project the Beta Phi Chapter conducted in coordination with the UWL Greenfund for the DivaCup Research. This fund provided 40 reusable menstrual cups to be given to University of Wisconsin-La Crosse students. In the spring of 2018, students who were given reusable menstrual cups were asked to participate in research regarding their perceived benefits and barriers to regular use of menstrual cups, social support, and self-efficacy. This project was created using the Health Belief Model for behavior change.
Submitted on: Mar. 19, 2021
Dan Duquette
Dan Duquette, Health Education & Health Promotion, elected Chair Caucus Collaborative of the American Public Health Association at the APHA Annual Meeting. The purpose of the APHA Caucus Collaborative is:
-To represent the interests and common concerns of the caucuses relevant to overall caucus administration to the Executive Board and other elements of APHA.

-To facilitate relations between caucuses and other relevant bodies of the association including the Council on Affiliates and Inter-Sectional Council.

-To assist caucuses in their internal management and inter-caucus communications. Eighteen caucuses are organized around an identified public health issue of significance to APHA with a strong focus on social justice.
Submitted on: Nov. 2, 2020
Keely Rees
Keely Rees, Health Education & Health Promotion, elected National Eta Sigma Gamma President. Rees will serve a six year term total, 2 years as vice president, current two as president and the last two as past President. The mission of Eta Sigma Gamma is the promotion of the discipline by elevating the standards, ideals, competence, and ethics of professionally prepared individuals in Health Education. The goals of the honorary include:

-Supporting the planning, implementation and evaluation of health education programs and resources.

-Stimulating and disseminating scientific research.

-Motivating and providing health education services.

-Recognizing academic achievement.

-Supporting health education advocacy initiatives.

-Promoting professional standards and ethics.

-Promoting networking activities among health educators and related professionals.
Submitted on: Oct. 26, 2020