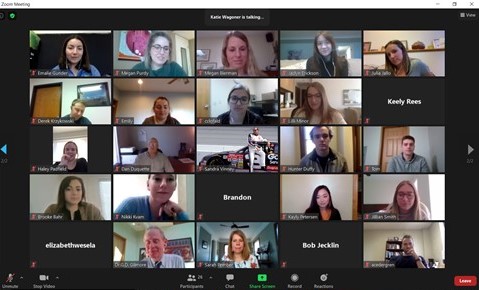 UW La Crosse Alumni Association - What's new Wednesdays
Thriving in the wake of COVID-19's new normal
Drs. Dan Duquette and Gary Gilmore shared what UWL is doing to support students during the COVID-19 pandemic, and discussed ways alumni and community members can stay safe and healthy. They shared with the audience their perspectives on the long-term implications of the pandemic.
Dr. Dan Duquette's PH 335 Environmental Health class at UW La Crosse
COVID-19, alongside other coronaviruses, such as SARS and MERS are a hot topic right now in UWL's Environmental Health course.
The class, taught by Dr. Dan Duquette, focuses on real-life examples of the viral interaction between people, the environment and animals.
Students at UW La Crosse in Dr. Dan Duquette's PH 335 Environmental Health class were busy studying about the coronavirus Tuesday as part of their environmental health class.

Health Education & Health Promotion kudos
Dan Duquette
Dan Duquette, Health Education & Health Promotion, elected Chair Caucus Collaborative of the American Public Health Association at the APHA Annual Meeting. The purpose of the APHA Caucus Collaborative is:
-To represent the interests and common concerns of the caucuses relevant to overall caucus administration to the Executive Board and other elements of APHA.

-To facilitate relations between caucuses and other relevant bodies of the association including the Council on Affiliates and Inter-Sectional Council.

-To assist caucuses in their internal management and inter-caucus communications. Eighteen caucuses are organized around an identified public health issue of significance to APHA with a strong focus on social justice.
Submitted on: Nov. 2, 2020
Keely Rees
Keely Rees, Health Education & Health Promotion, elected National Eta Sigma Gamma President. Rees will serve a six year term total, 2 years as vice president, current two as president and the last two as past President. The mission of Eta Sigma Gamma is the promotion of the discipline by elevating the standards, ideals, competence, and ethics of professionally prepared individuals in Health Education. The goals of the honorary include:

-Supporting the planning, implementation and evaluation of health education programs and resources.

-Stimulating and disseminating scientific research.

-Motivating and providing health education services.

-Recognizing academic achievement.

-Supporting health education advocacy initiatives.

-Promoting professional standards and ethics.

-Promoting networking activities among health educators and related professionals.
Submitted on: Oct. 26, 2020
Katie Wagoner
Katie Wagoner, Health Education & Health Promotion, served Vice President for GROW. GROW is a non-profit on a mission to connect children with healthy food and nature. Even during these challenging times, GROW continues to reach and impact hundreds of children, even in the face of COVID, through weekly video lessons and resources, as well as handouts of school garden-produce bundles and snacks delivered through the district lunch program.
Submitted on: Oct. 27, 2020
Keely Rees
Keely Rees, Health Education & Health Promotion, presented "Incorporating Advocacy in the Classroom" at 2020 Advocacy Summit Preview Session on Sept. 8 in Washington, DC. During the session you will be able to get a glance of some of the skills you can gain by attending SOPHE's 2020 Virtual Advocacy Summit. The summit focuses on the effects of climate change on health and how public health professionals can use advocacy skills in three specialized tracts (the effects of climate change on health, advocacy skill-building, incorporating advocacy in the classroom). Learn how climate change is impacting infectious/chronic diseases, especially impacting vulnerable populations and social justice issues. Attendees will be able to participate in virtual congressional visits with their elected officials (October 19-25) and participate in a pre-summit workshop, "Climate for Health Ambassadors Training".
Submitted on: Oct. 26, 2020
Keely Rees
Keely Rees, Health Education & Health Promotion, presented "Advocacy on the Local Level: Moving the Mountain Rock by Rock" at MN SOPHE: "What the Health? Understanding Disease, Diversity and Disparities on Oct. 22 in Minnesota. Advocacy is a process. It is grounded in theory, organization, and community building. It requires leadership, persistence, and passion and it can be tiring, frustrating and cumbersome. With strategic thinking, creativity, and compassion driven humans leading the efforts a lot can be accomplished over time. Rock by rock, step by step health educators can climb the advocacy mountain. We will cover seven key strategies for public health educators who are either just beginning their advocacy journey or need a refresher as a seasoned professional.
Submitted on: Oct. 26, 2020