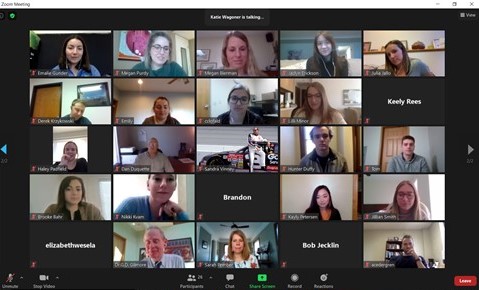 UW La Crosse Alumni Association - What's new Wednesdays
Thriving in the wake of COVID-19's new normal
Drs. Dan Duquette and Gary Gilmore shared what UWL is doing to support students during the COVID-19 pandemic, and discussed ways alumni and community members can stay safe and healthy. They shared with the audience their perspectives on the long-term implications of the pandemic.
Dr. Dan Duquette's PH 335 Environmental Health class at UW La Crosse
COVID-19, alongside other coronaviruses, such as SARS and MERS are a hot topic right now in UWL's Environmental Health course.
The class, taught by Dr. Dan Duquette, focuses on real-life examples of the viral interaction between people, the environment and animals.
Students at UW La Crosse in Dr. Dan Duquette's PH 335 Environmental Health class were busy studying about the coronavirus Tuesday as part of their environmental health class.
Eta Sigma Gamma
Eta Sigma Gamma is a health education honorary for students within the Public Health and Community Health Education Major. Our chapter here at the University of Wisconsin La Crosse is Beta Phi. The main purpose of the Beta Phi Chapter of Eta Sigma Gamma is to promote health education. We do this through our four pillars that are service, research, education and advocacy. Students are involved in various projects on campus, in local schools, and the community. Additional goals of the honorary include promotion of professional standards and ethics, networking activities among health educators, and recognizing academic achievement. Eta Sigma Gamma helps further the professional competence and dedication of the individual members in the health education field.
Contact:
Dr. Keely Rees
Department of Health Education and Health Promotion
217 Mitchell Hall
608.785.8168
krees@uwlax.edu
You can view the UWL Eta Sigma Gamma web site https://uwlmyorgs.collegiatelink.net/organization/etasigmagamma