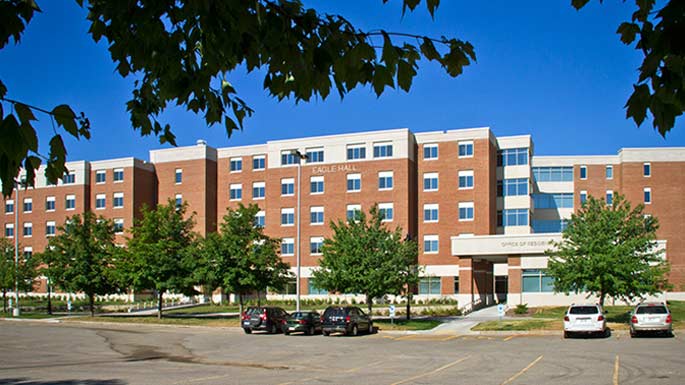 Housing
Checklist for preparing for your stay at UWL
Housing Assignment Details
Assignments will be made prior to teams arriving. You'll find out your team's assignment when you check-in at the REC. Groups will be assigned to halls in the order their reservations are received. We will provide assignments within the following guidelines:
Only members of the same team will be assigned in the same bedrooms.

Coaches will only be assigned with other coaches. Athletes will only be assigned with other athletes.

Male and female guests will be assigned to separate bedrooms.

Single rooms are not guaranteed to be provided.
Campus housing is limited due to multiple residence hall projects in White and Laux Halls. In the event that received reservations exceed our available campus housing we will notify the latest submitted reservation contacts as soon as possible.
Housing Accommodations
Each guest will be provided with the following:
Linens (sheets, pillowcase, towel and washcloth) will be available in your room.
One pillow will be provided for each bed.
Guests are encouraged to bring their own blanket if needed.
Eagle Hall is the only hall with air conditioning and elevator service. This summer Eagle Hall will be the same housing rate as all other residence halls. Groups will be assigned to halls in the order their reservations are received. Groups can indicate their interest in being assigned to Eagle Hall in the housing reservation form.
Check-in
Housing check-in is at the Recreational Eagle Center (REC) 3pm-10pm, June 2nd, and 8am-12pm, June 3rd.
To make your check-in easier. Bring your completed emergency contact/agreement form and your completed coaches cell phone list.
Once we've confirmed your assignment and collected your payment we will direct you to your assigned residence hall. You can pick up your team's keys at the front desk and head to your rooms.
If your arrival time changes and you anticipate arriving outside of our check in hours (see above), please call the housing office 608-785-8075. We can provide directions for check in at that time.
Payment
Payment must be made at the time of check-in at the REC. Payment can be made by check, cash or credit card. An ATM is available in the Student Union.
Hall Pricing
$28.75/person/night (All Halls)
Questions?
If you have any questions concerning this information, feel free to contact the Office of Residence Life at 608.785.8075 or wiaahousing@uwlax.edu. We look forward to your visit.
WIAA Track Meet Housing policies and procedures for Volunteers
Upon arrival, all track meet volunteers can report to the Reuter Hall front desk to check-in and pay for housing by cash, check or credit card. Checks are payable to: UWL- Office of Residence Life.
Due to contractual obligations, we cannot house non-volunteers, non-athletes or non-coaching staff in the residence halls.
We do not allow adults to share a room with minors.
Reuter Hall front desk hours are:

June 2: 10 a.m. - 10 p.m.
June 3: 6 a.m. - 10 p.m.
June 4: 6 a.m. - 10 p.m.
June 5: 10 a.m. - 10 p.m.

You will be asked to complete a UWL Housing Agreement form when you check-in at the Reuter front desk to get your room assignment, key and front door access card.
You are responsible for turning in all keys/door access cards to the front desk at check-out. Charges will be assessed for a lost key or access card and an invoice will be emailed to you. An apartment key costs $99, a bedroom key is $11 and a front door access card is $11. If a key or access card is found, it must be returned, postmarked by June 10, 2022.
You will assume total responsibility for your behavior. Our professional staff and student staff are available as informational resources and to assist you in the enforcement of residence hall policies.
Apartment doors close automatically and lock upon closure. A photo ID will be required from you if you need to be let in by a staff member.
Quiet hours are from 11 p.m. to 8 a.m.
Alcohol is allowed only within your apartment. Drugs are not permitted in the UW-La Crosse residence halls. The residence halls are smoke and tobacco free environments.
The following behavior is prohibited:

Public intoxication
Verbal abuse of professional staff or student staff
Physical intimidation or menacing behavior
Interference with a staff member engaged in performance of duty
Removal of any screens on the windows

Please remove garbage from rooms and take to the outside trash or recycle bins prior to check-out time.
We will be checking your room and the 4-bedroom apartment after check-out time. The room should be in the same condition as it was upon your arrival. Cleaning supplies will be available at the front desk. Residence Life staff will follow up with a volunteer if a room or apartment is left in unsatisfactory condition or if there are missing items.
Reuter Hall is for officials and volunteers only. Your room/apartment is not to be used by any athletes or as a "team room."
Note: Any violation of the above policies may be reported to the WIAA office.
We look forward to having you stay on campus. If you have any questions, please contact the Office of Residence Life at 608.785.8075 or wiaahousing@uwlax.edu.