English as a Second Language (ESL)
UWL's ESL Institute is accepting applications for Spring 2023 & Fall 2023
We welcome individuals who want to improve their English proficiency for further education, professional development, or personal enrichment. Our focus is on learning academic English through classroom instruction and interactive activities.
ESL PROGRAM
3 levels of instruction from beginning to advanced
Classes in speaking, listening, reading, writing
Classes are content-based, so you learn English while studying a topic
English proficiency test to determine your level of ESL study
Classroom activities with American students
Bridge program to enroll in one regular university class in addition to ESL classes in your final semester
Opportunity to earn General Education credit toward a degree program in some Level 3 classes
WHY UWL ESL INSTITUTE?
Small class sizes to ensure a better learning environment
Options for conditional admission to a degree program
Improve English proficiency for personal, educational, or professional advancement
Unique cultural experience in a mid-size community within the beautiful scenic Mississippi River valley region in the Upper Midwest, and within driving distance from the large metropolitan cities of Chicago and Minneapolis.
ONLINE/VIRTUAL ESL OPTIONS
Our online/virtual program is a complete three-level English language course available to students internationally. This program allows students to learn ESL entirely online.
**The online program does not qualify for F1 Visas.
FULL ESL Program Enrollment

16 US course credit enrollment per semester
Pay tuition and fees by semesters

INDIVIDUAL ESL Course Enrollment

3-4 US credits per course
Pay tuition and fees per credits attempted
WHAT THE ONLINE PROGRAM OFFERS
The program is fully online (synchronous and asynchronous components) – including placement testing, registration, payment, all coursework, and full access to an instructor.
The program offers individualized learning plans based on placement testing.
The program is available to students internationally.
Students can work from home or anywhere they can access the internet.
Students will have live interaction with other ESL students enrolled virtually and with the in-person program.
Students will engage in learning and conversation with US students as part of the course requirements.
Students can complete part of their coursework any time of the day.
Students gain full acceptance to the online ESL Institute at the University of Wisconsin-La Crosse.

Upon completion of all necessary courses, students will receive a UWL Certificate of Completion and gain eligibility to apply for conditional acceptance to UWL's undergraduate and graduate programs.

Upon completion of the program, students will be prepared to take the TOEFL or similar exam.


FULL SEMESTER COURSE (January 23-May 5, 2023)
Reading the Region (Written Skills) - 4 credit course

Students in this course join a community of readers on campus and develop reading skills in meaningful ways by reading local/regional authors. Academic reading skills are the focus, including summarizing, paraphrasing, skimming, scanning, making inferences, and distinguishing between different purposes for reading. Students develop their ability to critically read academic and other texts.

Technology and Social Media (Written Skills) - 4 credit course

In this course, students engage in reading a variety of texts and text types, demonstrating reading strategies, and developing academic reading abilities. Students develop critical reading skills (i.e. drawing inferences, understanding author perspective, identifying bias). Students analyze a variety of social media and write response essays of varying lengths and genres. Language foci include understanding denotative and connotative meaning, recognizing the use of active vs. passive voice, and recognizing ambiguous language.
HALF SEMESTER COURSES (January 23-March 10, 2023)
Talking about Health and Wellness (Oral Skills)

- 3-credit course

This course gives students practice understanding spoken English of varying lengths and complexity as they talk about teamwork, recreational activities, healthy eating, mental health, and the importance of these topics in U.S. society, especially on college campuses. Instruction focuses on understanding and engaging in natural, unplanned conversations, both formal and informal, to improve communication skills. Special attention is given to the pronunciation (phonology) of words and phrases in this region. Seven-week course.

Appreciating the Arts (Written Skills) - 3-credit course

Students practice the foundational skills of writing academic sentences and paragraphs through controlled and free writing about visual arts by local artists. Students also explore visual literacy and compare written organizational patterns across languages. Seven-week course.
HALF SEMESTER COURSES (March 20-May 5, 2023)
Wisconsin and Its People (Oral Skills)

- 3-credit course

With a focus on developing academic oral language skills (listening and speaking), students learn about Indigenous peoples and historical and present-day migration to Wisconsin through authentic texts, such as the Hear, Here project in La Crosse. Students practice note-taking skills and practice listening to lectures and conversational English, including skills such as guessing meaning from context, stressed words and understanding fast English. Students practice speaking skills in whole-class and small-group formats as they develop skills in managing their own learning. Students develop critical thinking skills around displacement and migration. Seven-week course.

Telling Your Story (Oral Skills) - 3-credit course

Students develop speaking and intercultural communication skills for informal and formal settings. Telling their own story(ies) through the creation of a digital media project, students practice tailoring communication to particular audiences, standard forms of organization, and common transition signals used in oral communication. This course also introduces students to oral conversation strategies, such as circumlocution and pronunciation for understanding. Seven-week course.
Please inquire about course availability and requirements UWL ESL Institute staff at international@uwlax.edu.
La Crosse Community
La Crosse, Wisconsin is a mid-sized city (52,000 residents) located in western Wisconsin next to the Mississippi River
Unique scenic beauty including Granddad Bluff, nature trails, and parks
Wide variety of seasonal recreational activities such as biking, kayaking, hiking, skiing, sledding, and ice skating
Regional center for shopping, dining, entertainment, health care, and education
La Crosse Regional Airport (LSE) offers daily flights to and from Minneapolis/St. Paul International Airport (MSP), Chicago O'Hare International Airport (ORD), and Detroit Wayne County Airport (DTW).
CUSTOMIZED ESL PROGRAMS
The UWL ESL Institute is happy to design a program to meet the language needs of your educational institution, business, or government organization. Whether it's a one-week intensive program or a one-year immersion program, we can work with you to create an in-person, virtual or hybrid program that fits your budget, your schedule, and the goals and objectives of your curriculum. We can even include tourist activities, sightseeing trips, or other field trips and experiential learning activities that would complement your curriculum. Students who successfully complete a custom program will receive a certificate of attendance from the English as a Second Language (ESL) Institute.
UWL ESL Instructors are willing to consider international or on-site training over the university winter and summer breaks with advanced notice.
EXAMPLES OF CUSTOM PROGRAMS
The UWL ESL Institute has worked for and partnered with many organizations to create custom English programs for their students or employees. We have taught intensive English courses for students from Brazil, China, Colombia, Mexico, Saudi Arabia, South Korea, and many more. Below is a sample of program ideas:
Community English Program in the Workplace

US Pop Culture and Language Course

US Culture and English Academy (focus on middle and high school students)

English Communication for the Sciences

English for Malaysian Medical Professionals Program

English for Egyptian Police Officers Program
REQUIREMENTS FOR CUSTOM PROGRAMS
All participants must be high school graduates or students/employees of partners.

Custom programs are designed for groups of 10 or more. If the group is smaller than 15, the total cost of the program is divided by the actual number of students participating in the program.

For custom programs whose participants enter the US on a tourist visa, classroom hours cannot exceed 16 hours per week.

UWL may be able to issue an I-20 for an F-1 student visa for special programs that are at least 18 ESL classroom hours per week and are scheduled according to the calendar of our on-campus ESLInstitute. If the schedule of your custom program does not match these schedules, an I-20 for full-time study may still be possible if we are provided with at least 9 months' advance notice.
COST
The cost of a custom program depends on many things, including:
the content

number of classroom hours

length of the program

Added extracurricular activities and field trips included in the program

the total number of students in the program

type of housing and accommodations and other factors.
UWL ESL Institute is committed to providing a program that fits the needs of any group. Please contact the UWL ESL Institute staff at international@uwlax.edu for more information regarding your customized program.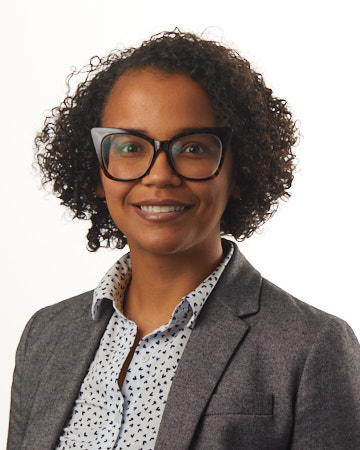 Where are you from?
St. Louis, MO
What's your favorite part of your job so far?
The best part of the job is getting to know my students and their highly rich and diverse cultures. My experiences traveling throughout the world allows me to better connect with students from all over the planet. My favorite part of the job is always the "aha" moment when students finally understand a new word, expression, or concept in a way that makes sense to them. I can see their mind open and consciousness expand to see the world in new ways. Seeing the growth in language and consciousness is just one of many perks of the job.
How long have you worked at UWL?
I have worked at UWL since August of 2021. I have tutored children and adults since 2013, both in and outside of the United States, from various language backgrounds including Hmong, Karen, Somali, Tigrinya, Punjabi, Mandarin, Korean, Japanese, Arabic, French, Spanish, Hindi, Haitian Creole, Portuguese, Greek, and Tagalog.
What do you do when not at work?
Like most of my colleagues in IEE, I love to travel as much as possible. Having the opportunity to learn about various cultures is such a privilege, and it's a privilege that I cherish.
What have you read/viewed/listened to/etc. recently?
I've been reading through Toni Morrison's collection again, while still inching through A People's History of the World by Chris Harman.
What might surprise us about you?
I have listened to every episode of This American Life.
Favorites:
Book –

One Hundred Years of Solitude

by Gabriel Garcia Marquez. I've read it so many times now, and each time I have a new interpretation of the many characters and events. It's so beautifully written. Also: anything by David Sedaris.

Movie – Forrest Gump
TV show – The Three Stooges and I Love Lucy.
ESL lab

expanding section
1142 Centennial Hall
ESL Language Lab Resources
Internet and Computer Use for Students
Voice Recording Software for Pronunciation Practice
Academic Tutoring
Student Library Collection (Fiction, Non-Fiction, and Reference Books)
Language Games and Activities
Calendar

expanding section
2023 Spring Term
Priority Application Deadline
December 15
Arrival
January 17

Orientation


January 19-20
Classes begin
January 23
Spring break recess:
The ESL Institute will be closed during the week of Spring Break
March 10-29
Last day of ESL classes
May 5
UWL Finals Week
May 8-12
UWL Halls Close
May 14
2023 Fall Term
Priority Application Deadline
July 15
Arrival
late August

Orientation


late August-early September
Classes begin
September 5
Thanksgiving recess:
The ESL Institute will be closed during the week of Thanksgiving
November 22-26
Last day of ESL classes
mid-December
UWL Finals Week
mid-December
UWL Halls Close
TBA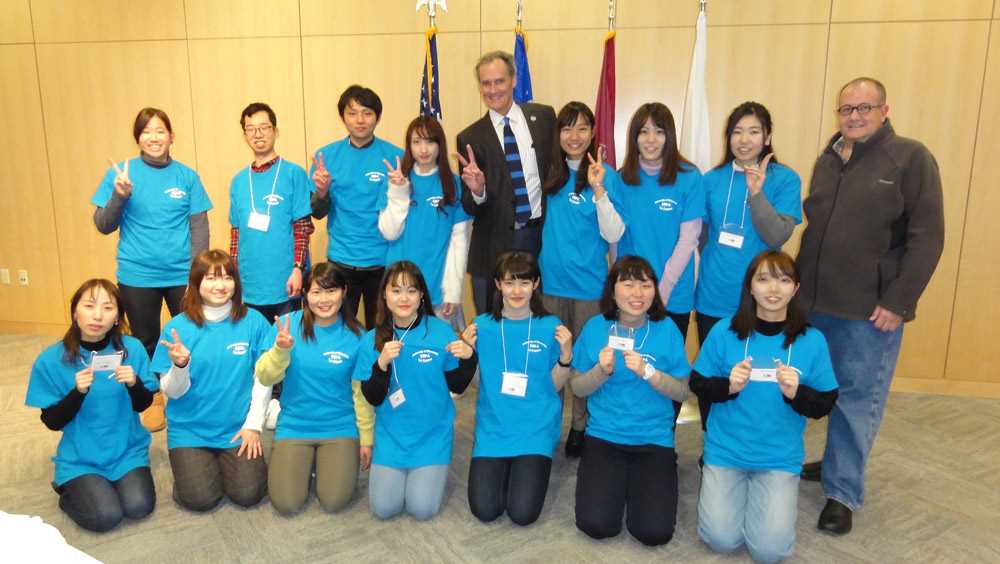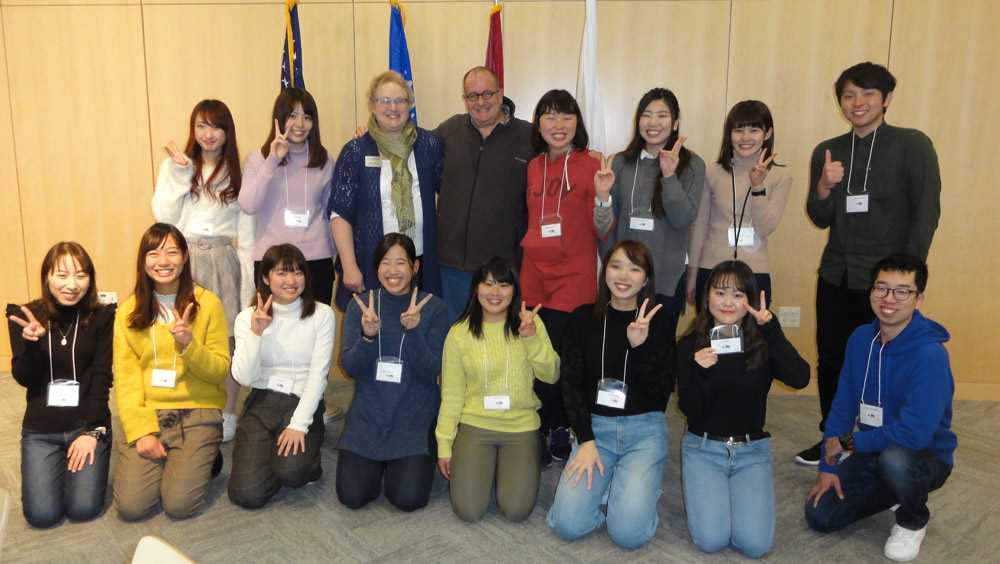 Students from the University of Teacher Education Fukuoka meet with Chancellor Joe Gow and Provost Betsy Morgan