To understand the basics of credit, check out our Credit Basics Brochure.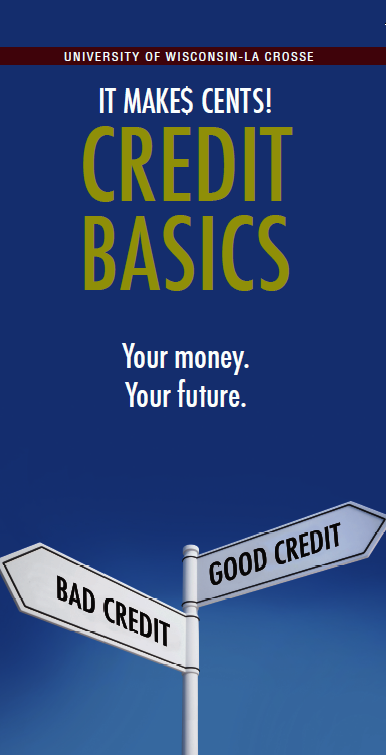 Credit Score
A credit score is a number between 300 and 850 that ranks how risky of a borrower you are. The score is published by the Fair Issac Corporation (thus credit scores are also called FICO scores), and includes a number of factors about how you borrow money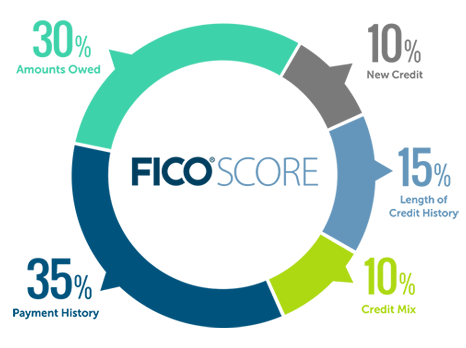 | | |
| --- | --- |
| | Consumers can request a free copy of each of their three credit reports once every 12 months from Annual Credit Report, the only official site to access your free credit report. |
| | Credit Karma is another site where you can check your credit score for free. |
| | The Federal Fair Credit Reporting Act (FCRA) promotes the accuracy, fairness and privacy of information in the files of consumer reporting agencies. There are many types of consumer reporting agencies, including credit bureaus and specialty agencies (such as agencies that sell information about check writing histories, medical records, and rental history records). |
Make goals
When setting goals it helps to make sure that they are SMART. With these tips it'll be more likely that you actually follow through and achieve your goals.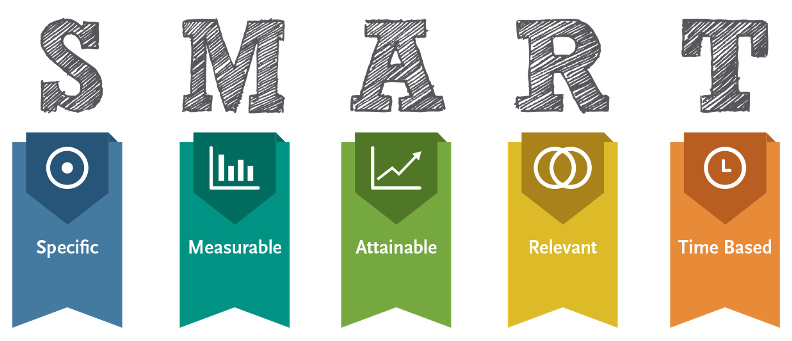 Specific
"I'll go to the coffee shop only twice each week" is more specific than "I won't go to the coffee shop as much as I used to."
Measurable
"I will call and speak to an advocate at my local Parent Center to get a list of organizations that might be able to help pay for technology assistance (is measurable). "I want to find out how other parents pay for technology assistance (is not measurable).
Achievable
"I will save $5 a week" is more achievable than "I am going to save $50 a week" if you don't have the money.
Relevant
"I will shop around for a low-rate, low-fee credit card by the end of the month" is realistic only if you set aside the time to actually do that.
Time bound
"I will start contacting funding sources for assistive technology by the end of next week" is a more specific time frame than "I will start looking for funding sources after the holidays."
Budgeting Calculators
Expense Tracker (.PDF)

Monthly Budget (.XLSX)

For a .PDF version, click here.

Spending Plan (.PDF)

Online Budget Calculator

Spending Plan Categories (.PDF)

Holiday Wants (.JPG)

Holiday Spending Tracker (.PDF)
Time Based Goals
Goals for spending get broken in to 3 categories: Short Term, Mid Term, and Long Term goals. Making this distinction helps you plan your saving and spending in order to reach your goals.
A short-term goal
(Less than a year) might be something like buy a new CD or setting up an Emergency Fund with 6 months expenses in it.
A mid-term goal
(Under 5-years) could be to invest $1200 a year for grand total of $6000 in 5-Years time.
A long-Term goal
(More than 5-years) is something like having saved up a certain amount of money towards buying a house, or have $1,000,000 saved for retirement.
Financial Pledge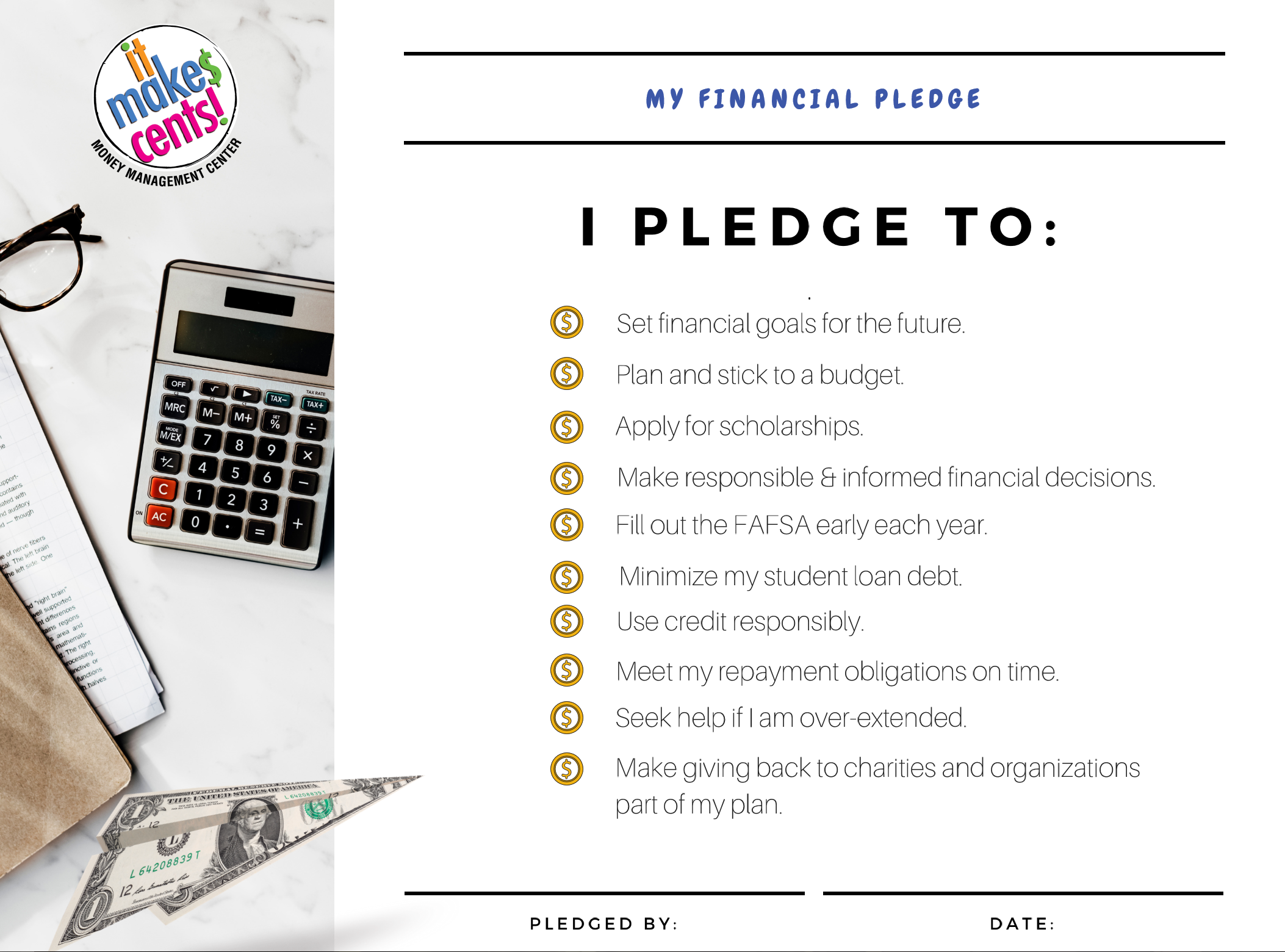 Budgeting Tips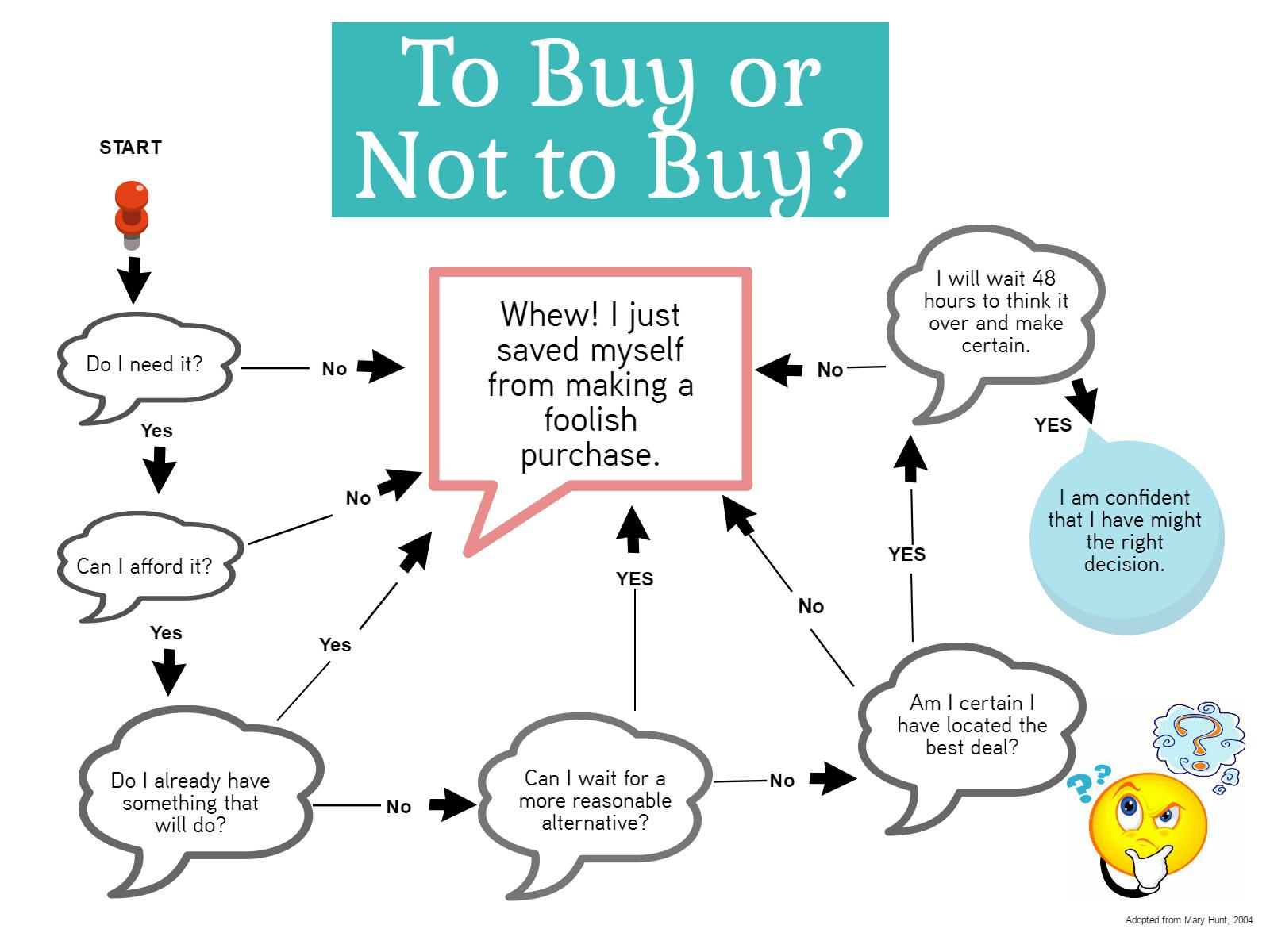 When building your budget it is important to keep the following ideas in mind.

1. Overestimate your expenses. It is better to under-spend and end up with a surplus than it is to NEED some groceries but not have any money in your budget for expenses. If you overestimate how much you will need you tend to fall on the 'under-spending' side of things.

2. Underestimate your income. If you are on salary your income is pretty much black and white (provided you keep your steady job) but if you work for wages you will have to approximate how much you will make in a given time period. Because this can change depending on overtime, cut hours, a sick day or tip income this number can shift paycheck to paycheck. If you under-estimate your income you will find yourself with some extra cash rather than running out.

3. Build in an emergency fund. I cannot over stress how important Emergency Fund's are! If something happens that is completely unexpected (i.e. your car breaks down and needs some repair work) having the emergency fund can really save the day!

4. Set saving goals. You may be able to live perfectly fine on your paycheck but if you aren't saving some of it you could be in serious trouble down the road. What if this job folds? You may need some stowed away cash to get you through until you land the next interview. What if you want to rent a new apartment, or buy some furniture for your place? Without a savings account you may be taking all this money out of your food allowance which means living on Ramen Noodles and Easy Mac for MONTHS. It's never too late to begin planning for Retirement.
Campus Food Pantry
Thrift Stores in La Crosse
Compound Interest
What is Compound Interest?
Compound interest (or compounding interest) is interest calculated on the initial principal and also on the accumulated interest of previous periods of a deposit or loan. Thought to have originated in 17th-century Italy, compound interest can be thought of as "interest on interest," and will make a sum grow at a faster rate than simple interest, which is calculated only on the principal amount (Investopedia).
Learn more at the Calculator Site or use their Compound Interest Calculator.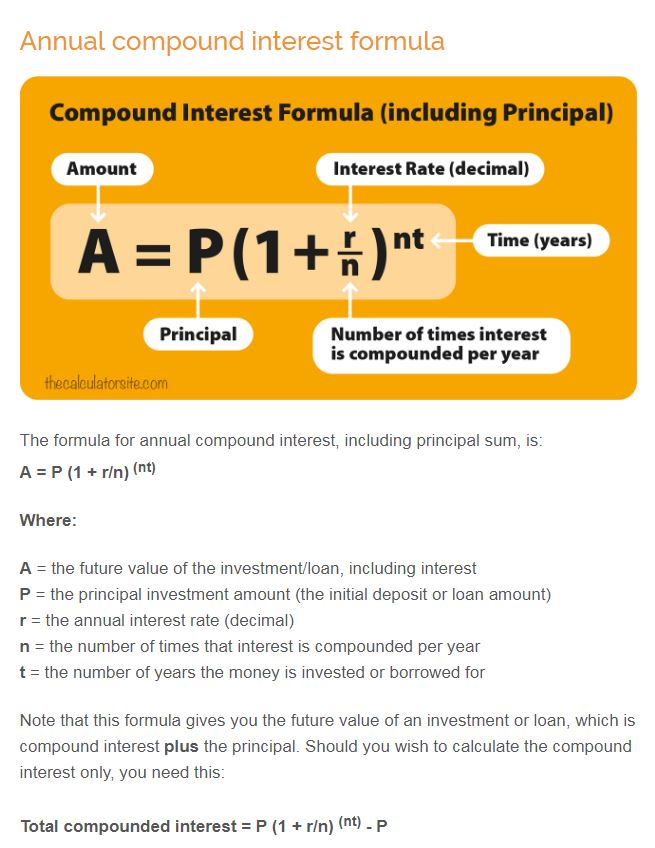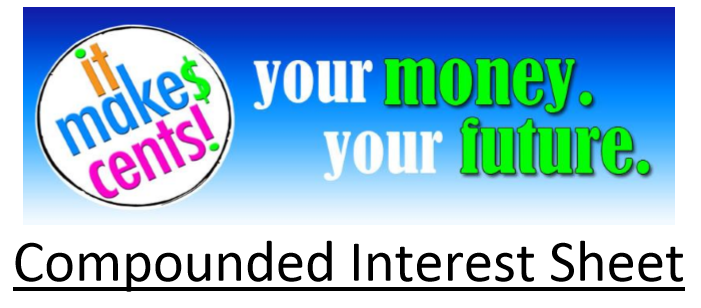 Investing Basics
Investing can be rather confusing, so IMC! has a few guides we made for you to use! There's also many guides available online and lots of reading to do on the topic, but we keep it basic at IMC! for beginners to start off.
| | |
| --- | --- |
| Investing Basics (.PDF) | Investing Brochure (.PDF) |
| | |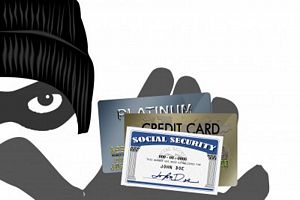 What is Identity Theft?
The Basics
Identity theft is the crime of using forged or stolen identification documents (birth certificates, social security cards, passports, etc.), usernames and passwords, or other personal information (banking pins, credit card numbers, etc.) for any purpose at all.

For more information visit these sites:
The Federal Trade Commission and Nelnet
Becoming a victim: the odds
Violent crime =

1 in 5,000
Heart disease =

1 in 2,600
ID theft =

1 in 23 (9 million/year in U.S.)
ID theft within 5 yrs =

1 in 5
$6 – 10 billion loss

in U.S. due to identity theft
(estimates)
Protect Yourself
7 Signs of a scam
The company or person does not provide their address or phone number where they can be reached.
They require you to act immediately on the information they provide you.
It's to good to be true.
You're asked to move money.
The webpage prevents you from leaving the page by using pop-ups or hijacks your browser. (close the browser and clear your history and cookies if this happens. If the browser does not close shut down the computer.)
You receive official or professional looking mail, but the company or logo is unfamiliar.
Search engines turn up negative results such as complaints or warnings.
5 Ways to protect yourself from identity theft
Read your credit card and bank statements carefully and often.
Know your payment due dates. If a bill doesn't show up when you expect it, look into it.
Read the statements from your health insurance plan. Make sure the claims paid match the care you got.
Shred any documents with personal and financial information.
Review each of your three credit reports at least once a year. It's easy, and it's free. You can check your credit report here at www.annualcreditreport.com
For more tips and tools on dealing with identity theft, visit The Federal Trade Commission.
What to do
If you have been scammed
Step-by-step instructions can be found here
As soon as you think your information is compromised, report it to government authorities such as:
Federal Trade Commission
State/Local officials Consumer Action
Internet Crime Complaint Center
Place a fraud alert on your credit reports and review your credit reports
Close any accounts, including bank accounts, you know or suspect have been tampered with
File a police report in the community where the ID theft took place
File a complaint with the Federal Trade Commission and Wisconsin Office of Privacy Protection
Cancel government-issued ID and obtain a replacement if appropriate
The right bank for you
Many banks offer special discounted rates to try and recruit college students. This can include checking accounts along with credit accounts. While it may seem easier to simply use one bank for both, that may not be the smartest decision. With modern technology, it is also important to consider which banks have the best and most efficient apps.
UW Credit Union
UW Credit Union works directly with the University of Wisconsin-

La Crosse to offer a banking solution for students.
Our Campus Package fits your busy lifestyle. Take care of all your banking needs quickly and easily by opening a Campus Package online or by stopping by one of our convenient campus branches.
The Campus Package services were designed for your needs. Our free essentials are accessible and easy-to-manage.
Checking. No minimum balance.
Free Debit Card. Unlimited ATM transactions with no fees.
Free Online Banking. Access to balances, statements, bill pay and Money Management Tools.
Visa® Student Credit Card.* Build credit responsibly.
Savings Account. Be prepared for future purchases or emergencies.
Reserve Line of Credit.1 Your defense against bounced checks.
Finding a job can be a daunting task, especially after graduating college. Below are tips and resources to help you from your interview to giving your 2 week notice. If you would like a personalized meeting, schedule an appointment today to better help you prepare to enter the workforce.
While our people are happy to give you advice, carrier services will be able to help you far more than we will.
2. Searching
Job Fairs
Job fairs are a great place to mingle with potential employers and get a feel for companies. UWL hosts several job fairs throughout the year. Visit the Career Services page for a look into all of our fairs and workshops. Remember to bring several copies of your resumé!
UWL Job Board
Career Services Job Board called Handshake has been used internationally by employers to hire UWL students. This is a great place to submit your resumé and browse job descriptions.
Search engines
Sometimes a keyword search such as "editing jobs" or "accounting positions" is all you need to turn up potential employers. The most popular website tailored to find you a job is Indeed, but don't just look at one and hope for the best. You should be open and look everywhere you can until you find and land that perfect job! Many links can be found on Career Services webpage too!
Knowing someone on the inside
Having a friend who works somewhere you would like to work gives you an edge on getting that job. If your friend is a good employee and refers you to their boss, there's a better chance you'll get a the job based on their recommendation.
3. The Interview
Do your homework
Research the organization you're applying for.
Visit their website, read their mission statement, and read articles about them so that if you're asked questions about the company you have some ready-to-go answers. Doing your homework might even save you from working for a disreputable company.
Clean up your web
It has become common practice for employers to search for your profile on social networking sites. Make sure all of your social media posts are appropriate and your photos don't portray you as an unstable worker.
Be prepared
Have copies of recommendations and reference letters with you when you show up to the interview.
A lot of students will bring the recommendation letters someone wrote them when they applied to college. You are a different person then you were four years ago! Try to get one of you professors or employers from the last two years to write you a reference or recommendation letter! Be prepared to answer questions about your previous employers, your coworkers, your hobbies, etc.
Try career services practice interviewing system.
Dress professionally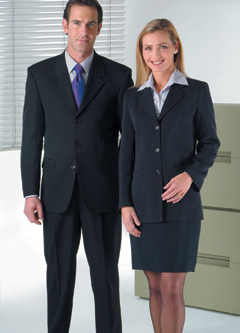 A good rule is to dress a notch above what the job's dress code requires. For example if the job requires a collared shirt and tie, wear a suit. If the job only requires a company t-shirt, wear a collared shirt to the interview. If the job requires a suit, wear your best suit. For more information view our Dressing on a Budget Brochure.
Act professionally
Even if you look nice, employers are also looking for good people skills. Introducing yourself, shaking hands, remembering please and thank you, eye contact, and smiling are good first steps in a successful interview.
Making the best decision
Do your research. Know what the
average salary
is for this position you are interviewing for and how your experience and education
measure up
.
Were you offered more than one job? View our brochure to make the best decision.
Two Job Offers?
It is important to know how to negotiate a job offer too. Your starting salary will make big difference in the long run. Especially with pay increases and putting away money for the future.