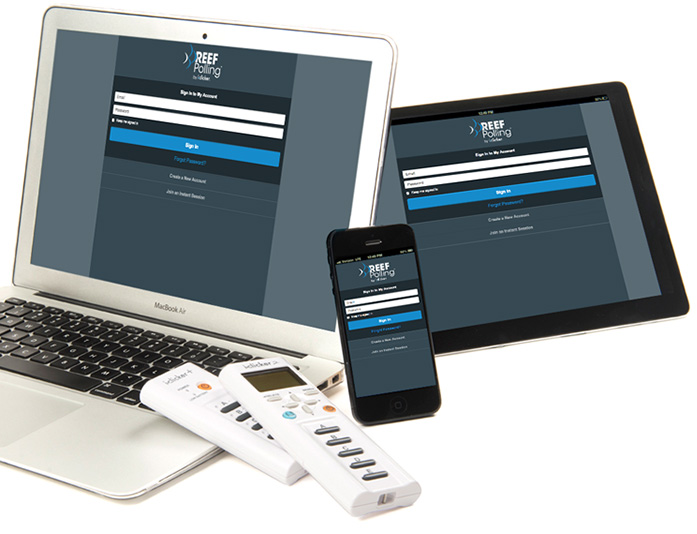 Classroom polling can be used to facilitate more meaningful and interactive learning experiences by allowing instructors to gauge prior student knowledge, before covering new material, provide student self assessment opportunities, encourage discussion and foster peer instruction.
UWL faculty have been using i>clicker version 7 as the centrally supported student response system, which is a hardware based solution. Beginning in the Fall of 2016, UWL has officially supported REEF by i>clicker. REEF Polling, a new mobile-optimized engagement system offered by i>clicker, is a cloud based technology that allows students to use any laptop, smartphone, or tablet to respond to questions posed in class and review the material afterwards as study guides if the faculty so wish. With REEF, polling takes place over a wireless Internet connection eliminating the need and cost of using the dedicated i<clicker remote. For students that have already purchases physical i>clicker 2 remotes they are still support in REEF as long as the classroom has an i>clicker base. UWL has no plans to remote bases from current classrooms.
Faculty will need to decide if REEF Education or i<clicker 7 instructor software will meet their needs and we recommend discussing with ATS to determine the best individualized solution. Both i>clicker 7 and REEF Education instructor software are compatible with student REEF subscriptions and D2L. Faculty create their REEF account for free. Students opting for REEF pay a fee based registration that is available in increments of 6 months, 1 year, 2 years, or 4 years. An instructor using the REEF polling application can easily access past sessions, grade questions, and view reports.
A brief introduction to REEF Polling can be found here.
Some key features of REEF Polling include:
REEF Education (instructor software) is cloud based and thus does not require instructors to carry software on a flash drive to each classroom, which also insures you are always using the most up to date version.
ITS has preloaded the REEF Education software to all classroom computers and you will just need to sign in to your REEF Polling account
REEF Polling is a hybrid product which allows the use of the i>clicker2 remote, smart phone, tablet, or computer through a browser - all in the same class.
Instead of buying an i>clicker remote, students can buy a REEF Polling subscription that is often cheaper and can be bought for a 6 month, 1 year, 2 year, or 4 year time frame
REEF Polling (i>clicker 7 and REEF Education instructor software) is integrated with D2L to allow for grade book syncing of grades
REEF Polling like i>clicker works with any presentation software (you tube, web page, word, pdf, slides, etc), and provides REEF Polling subscribing students a "study guide" of the questions asked in class at instructors discretion
Clicker resources
Download the latest version of i>clicker 7 (instructor application) with D2L Resource Files
Loading knowledge base....