University of Wisconsin-La Crosse | uwlax.edu
The James Sobota Mathematics Scholarship
The James Sobota Mathematics Scholarship
The department has renamed the Junior Scholarship Award to the James Sobota Mathematics Scholarship to honor Professor Emeritus James Sobota for his many years of service to the department.
Presented annually to the top junior mathematics major, as determined by the faculty.
A the Spring 2012 awards ceremony, it was announced that Sara Kamoske had been named the Junior Scholarship Award winner. Unbeknownst to her and Dr. Sobota, the award had been renamed.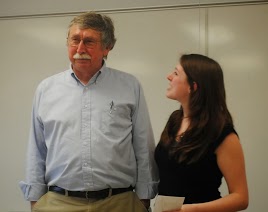 Dr. Sobota has served as a member of the math department at UWL for 32 years, starting in 1970. During that time, he has impacted the lives of countless students. In addition to that, he has taught the children of former students, having parents say to their children "you have to take Dr. Sobota for math." Not only has Dr. Sobota helped students during his tenure at UWL, but has served to mentor faculty within the math department. Dr. Robert Allen comments that "Dr. Sobota has had a direct impact on my career, and I wouldn't have tried the things I have without his feedback and support."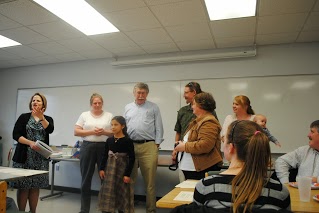 Even in retirement Dr. Sobota contributes to the department. He still teaches a class every now and then, and he is acting as the director of the Murphy Learning Center. What many people don't know is that Dr. Sobota is still very active in the hiring process in the math department. He offers tours of La Crosse and the surrounding areas to candidates. These tours are sited by many as having contributed to their decision to come to UWL.