Chemistry
A page within Murphy Learning Center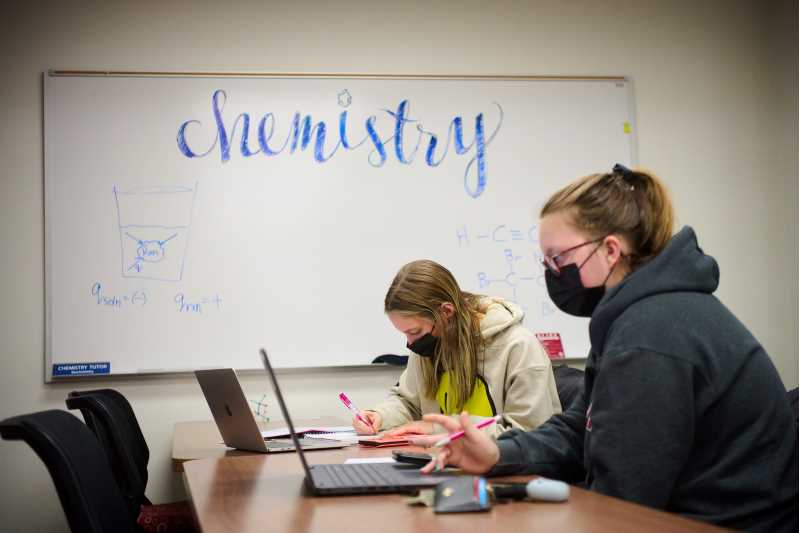 Chemistry students
Confused about chemistry? Not sure where to begin? Come to the learning center and talk to one of our chemistry tutors! Tutors are available for General Chemistry (103/104), Analytical Chemistry (301), Organic Chemistry (250/300/303/304/305), and Biochemistry (250/325).
Tutors in the learning center can help you learn to start (and finish!) chemistry problems by refining your understanding of chemistry concepts and guiding you through example problems.
The purpose of the Murphy Learning Center is to provide tutoring in the listed disciplines at no cost. All students can come to the Learning Center any of the hours listed. Please note that not all tutors can assist with all courses.
Chemistry tutors are supervised by the Chemistry Tutor Coordinator, Dr Yevgeniya Turov. Specific questions about chemistry tutors can be directed to yturov@uwlax.edu.
Here at the Murphy Learning Center, our tutors are all friendly, qualified individuals. All of our tutors have gotten good grades in the classes they tutor and have been recommended by faculty from their department. In addition to their knowledge our tutors are now taking a class designed to make them effective tutors. Meet our tutors!
Chemistry tutor coordinator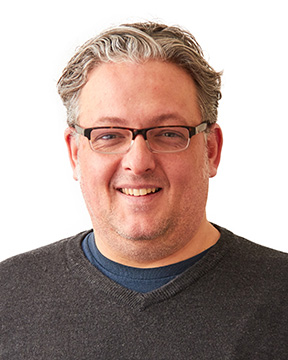 Abby Sailer
Abby Sailer
Major: Biology with Molecular Genetics and Cell Biology Concentration
Minor: Chemistry and Neuroscience
About me: I am from Eden Prairie, MN. I like to stay active by playing sports, I also enjoy the competition that comes along with it. In my free time, I like to hang out with friends, play disc golf, watch documentaries, and spend time outside. In addition to tutoring, I am also on the ultimate frisbee team and am doing genetics research with yeast.
Study tips: Always start studying at least 2 days before you think you should. This will help give you enough time to study and will provide you with a cushion if you need to spend more time on a topic or if you get busy with other stuff.
Anton Hansen
Anton Hansen
Major: Clinical Laboratory Science
About Me: I grew up in Madison and am now a junior in the Clinical Lab Science program. I love to play basketball and hockey, as well as the piano and guitar, though I feel I do not have any time for any of them during the school year. On campus, I am a proud Vanguard (tour guide). During the weekends, I work in a nursing home as a CNA. I also love traveling. Let me know of cool countries that you think I should visit!
Study Tips: Review material every week. I know it sounds cliché, but we need time to process and conceptualize information. On strategy that works for me is that I type my notes at the end of each week (after handwriting them during class). This allows me to actively think about what I learned that week and provides me with a study tool for when the exam rolls around.
Carben Weghorn
Carben Weghorn
Major: Chemistry
Minor: Mathematics
About Me: I am from Menomonie, Wisconsin, and am a Sophomore at UWL. In my free time I like to hang out with friends as much as possible. Whether that means playing tennis, Magic the Gathering, Video games, being out on the water in the summer, or skiing in the winter, I enjoy all of it. As for future plans, I don't have anything concrete, but I enjoy learning chemistry and I am considering heading to grad school to try for a PhD. As for careers or even grad schools, I haven't thought that far ahead. I'm available for tutoring the GenChems Tuesday 4-6pm and Wednesday 7-8pm.
Study Tips: Start studying as early as you can convince yourself to, and study frequently but in small bursts. No matter how you choose to study, whether it be flashcards, re-reading or re-writing your notes or whatever, it's incredibly important not to burn yourself out or try to take in too much information at once. Even just looking back over your notes for 15 minutes per day can be incredibly helpful for knowledge retention.
Colby Hietpas
Colby Hietpas
Major: Chemistry with Environmental Science Concentration
About Me: I am from Kaukauna, Wisconsin. I am a huge sports fanatic; I know way too much for the normal person. In my free time (with the little amount I have), I like to play video games, binge Netflix, or watch whatever sports game I can find! I chose to come to UWL for the sense of connection I can make with others and faculty. I am part of UWL's Chem/BioChem club and enjoy all the fun meetings and events that happen throughout the year. In addition to tutoring, I am also doing microplastics research!
Study Tips: While paying attention is super important in class for your learning, the work you put in outside of class is just as important. Some of the many study strategies I use include rewriting notes in my notebook/binder, creating flashcards of things I need to memorize, working on problems in the textbook
Ellie Schneider
Ellie Schneider
Major: Biomedical Concentrate (Pre-Dental Track)
Minor: Independent Concentrate
About Me: I am from De Pere, WI and am a junior here at UWL. What I enjoy doing the most is being on the water in summer, fishing, fixing things, going for walks, watching good movies, and hanging out with my family and friends. I have a big passion for dentistry as most of my family members are dentists. I plan to, hopefully, attend Marquette Dental School after graduation and hopefully become specialized in implants! I am available for tutoring for general chemistry and organic chemistry Tuesdays and Thursdays from 5-7pm and Wednesdays from 6-7pm.
Study Tips: Keep up with your notes and go over them after each lecture. I know it may seem like a hassle then, but it truly pays off nearing exam time. If you can stay on top of everything, your stress levels will go down and your confidence will increase!
Faith Keller
Faith Keller
Major: Chemistry (Pre-Dental Track) Minor: Mathematics
About Me: I'm a sophomore here at UWL, and I am from Detroit Lakes, MN. Some things I enjoy in my free time are biking, skiing, decorating, book thrifting, and hanging out with friends. I also work as a CNA at a nursing home where I have developed my passion for health care; I plan to pursue this passion of mine and eventually apply to dental schools. I'm available for tutoring general and analytical chemistry on Mondays from 6-8pm!
Study Tips: Plan what you need to study and when you plan on doing it each week. Developing a sense of what needs to be done each day will prevent you from falling behind. Also, utilize professor's office hours; sometimes professors can answer your questions right away, and this can prevent frustration and time spent when you're unable to figure something out!
Kaitlyn Michalek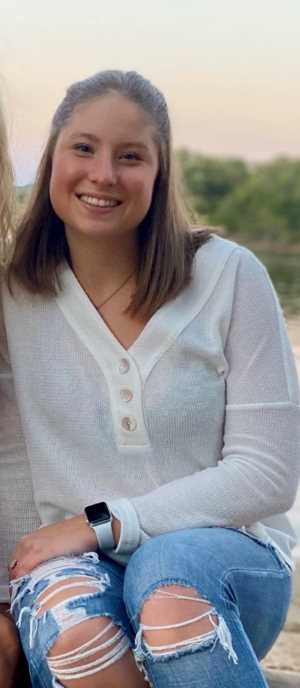 Kaitlyn Michalek
Major: Biology (Pre-Dentistry), Minor: Chemistry and Spanish
About Me: I am from Waukesha, WI and I am a third-year student at UWL. My hobbies include swimming, hiking, running, playing badminton, painting, playing piano, and spending time with friends. I plan to attend dental school after graduating to become a general dentist. I worked as a dental assistant/sterilization tech over the summer for my hometown dentist, and I am currently vice president of Pre-Dental Club. If you need help with organic chemistry, I tutor Wednesdays 4-6pm. I'd be happy to help!
Study Tips: Doing practice problems, using Quizlet, and recalling information are some of the best ways I like to study. While reviewing material, grab a whiteboard and write down what you remember from what you just read/reviewed. Talk out loud and explain in your own words the material. Doing these things with a study buddy will help even more because you can teach and quiz each other.
Reed Anderson
Reed Anderson
Major: Biochemistry and Biology with Molecular Genetics and Cell Biology Concentration (Pre-Med)
Minor: Nutrition
About Me: I am from Cottage Grove WI and am a Senior at UWL. I enjoy running and am on the cross country and track and field teams. I really enjoy sports (Wisconsin teams) and will always watch the games when I have the chance. I also like to hang out with my friends and girlfriend. I think medicine is pretty cool and am planning to either attend medical school, graduate school for a PhD in biochemistry or molecular biology, or a combo MD/PhD program. I'm available for tutoring on Wednesday from 6-8 pm.
Study Tips: Understanding the reason why formulas and processes work and happen is key to success. I would focus my time on understanding why something is the way it is then when I'm asked to apply it I feel more confident knowing what to look for when solving. I like using repetition in small sessions and working out practice problems. I will often take a problem the professors gave me and change numbers to allow myself to work on the same problem multiple times through but still make myself complete each step as if it was a new problem.
Riley Allison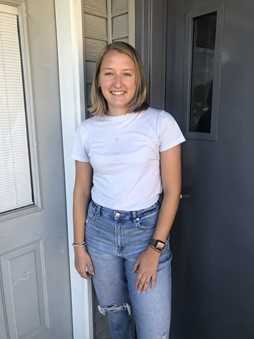 Riley Allison
Major: Biochemistry
About Me: I grew up in Maple Grove, MN which is about 30 minutes outside of Minneapolis. I am currently a junior and would like to go to graduate school to become a physical therapist after completing my undergrad. Some hobbies of mine are running, hanging out with friends, hiking, and reading. At UWL, I am involved in the Pre-PT Club, Red Cross Club, and Running Club.
Study Tips: Study as early as you can. It always helps to know beforehand what some confusions you have are and get them worked out before the exam. That way you can work with a professor on it or come into the tutoring center and ask questions.