Confused about chemistry? Not sure where to begin? Come to the learning center and talk to one of our chemistry tutors! Tutors are available for General Chemistry (103/104), Analytical Chemistry (301), Organic Chemistry (250/300/303/304/305), and Biochemistry (250/325). Tutors in the learning center can help you learn to start (and finish!) chemistry problems by refining your understanding of chemistry concepts and guiding you through example problems.
The purpose of the Murphy Learning Center is to provide tutoring in the listed disciplines at no cost. All students can come to the Learning Center any of the hours listed. Please note that not all tutors can assist with all courses.
Chemistry tutors are supervised by the Chemistry Tutor Coordinator, Dr Yevgeniya Turov. Specific questions about chemistry tutors can be directed to yturov@uwlax.edu.
Chemistry tutor coordinator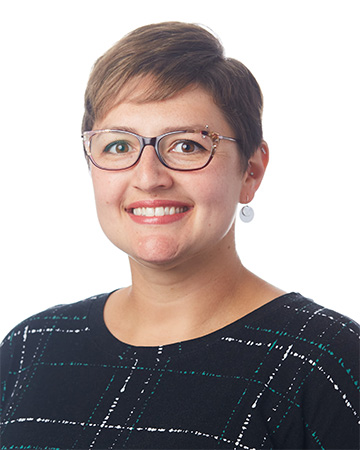 Here at the Murphy Learning Center, our tutors are all friendly, qualified individuals. All of our tutors have gotten good grades in the classes they tutor and have been recommended by faculty from their department. In addition to their knowledge our tutors are now taking a class designed to make them effective tutors. Meet our tutors!
Gina Wade
About Me: After graduation, I hope to continue lab work and may pursue a career in industry. I am currently involved in research on HpmA with Dr. Grilley and Dr. Weaver and help organize volunteering through the Chemistry/Biochemistry Club here on campus. In my spare time, I love to play guitar and cello, drink coffee, and talk about cats! My favorite sport is tennis, and I'm always looking for people to hit around with!
Study Tips: Practice, of course. I also recommend studying in a quiet space away from potential distractions. Quiet environments can really make a difference! Explaining concepts and problems to other people, maybe friends or classmates, can also help solidify information. Being able to recite your notes does not help reinforce content! If you can teach someone else a concept and put it into our own words, however, you'll probably understand it better.
Jada Hicks
About Me: In my free time, I love you to play volleyball and cook. If I'm not studying in the library I'm probably in my room watching Criminal Minds on Netflix or spinning a flag in the Screaming Eagles Marching Band here on campus. In the future, I hope to travel all over the world, specifically Europe, and become a forensic laboratory technician.
Study Tips: If you are having trouble remembering things or concepts, flashcards will be your best friend! Also, the "recommended practice problems" in the textbook are a great study tool, if you aren't feeling confident with the material.
McKenna Morrow
About me: Eating food is my favorite past time when I'm not studying, which is always. Harry Potter movies are my favorite and traveling is a fun thing to do (Budapest is the most recent place I've visited).My end goal after schooling is to become an OB/GYN; however, a lot of other aspect of the health field interest me, so only time will tell.
Study tips: Do tons of practice problems and go over previous test problems! Doing the worksheets your professor hands out is also really helpful because it shows how your professor words questions and what types of questions might show up on exams.
Rebecca Becker
About me: In my free-time I enjoy playing volleyball, hiking, hammocking, and staying active. I also like to reading and watching scary movies. I hope to go into onto graduate school for occupational therapy after getting my undergraduate degree.
Study Tips: My biggest study tip is flashcards because they allow you to study anywhere at anytime. Repetition is key to learning material, so I also recommend watching videos on important topics that you might not understand, and doing all practice/book problems.
Amira Alaoui
About Me: I hope to go to grad school for physical therapy after I finish my undergrad here at UWL. In my free-time, I enjoy cuddling with my dogs, being outside in the sunshine and cooking delicious Moroccan food.
Study tips: I would recommend doing all the practice problems, even when they seem repetitive and boring. All the extra practice will pay off on your final grade! Another helpful study skill is working through a small portion of the material each day and building on the content and so it doesn't feel overwhelming the night before a quiz or exam.
Jack Geiger
About Me: Here at UW-L, I am involved in many different clubs, intramurals, and continue to do research on Peptide Antibodies with Dr. Loh. Outside of the classroom, I am very active with my friends and family. I enjoy almost any activity that involves the outdoors, whether it be a sport, hunting, or helping on our friends' farm.
Study tips: Don't be afraid to ask questions!! More than likely if you have a question, someone else has the same question. If you are nervous to ask in front of the lecture, talk to the professor after class or in their office hours. The sooner your questions are answered, the sooner you can get back to studying the new material.
Harry Soeder
Brief Biography: I hope to get into pharmacy school one day. I try to have a lot of different hobbies such as playing Super Smash Bros Melee and running. I ran on the cross country team here in La Crosse my freshman year and I continue to run with the cross country and track teams. I also love to sing and do chemistry practice problems.
Study tips: For chemistry I find it very important to do the extra book problems that you get assigned by your teacher instead of just blowing them off. They are great for repetition and figuring out what you need to learn. For every class I find it important to make flashcards and quiz yourself in order to learn.
Meara Malloy
Brief Biography: My ultimate goal is to become a Physician Assistant, and in my free time, I love to run, read, watch movies (except horror movies), and spend time with my family and my two big dogs. I also love to draw and hope to fit some art classes in my schedule!
Study Tips: Use the textbook. If you don't understand a concept that your professor discussed in class, try reading the textbook because it might explain the material a little differently and in a way that you can better understand. Also, worked-through example problems in the book are a great reference if you get stuck on a certain type of problem. And of course, the practice problems are soooo helpful!
Bailey Dickman
About Me: I hope to one day become a Physician Assistant and would really like to go to graduate school somewhere out of the Mid-West. I enjoy playing volleyball, both inside and sand. I also love rollerblading and trapshooting when I get the chance too!
Study tips: I would recommend going over a little bit of the material each day. It helps to keep the information current and not get 'lost' so easily. I also recommend taking handwritten notes and examples. It seems to stick better when I physically write it down. Lastly, don't panic and cram the night before; chances are if you do not know it and are not comfortable with it before then, it is just going to lead to more stress for you the day of the test.
Joshua Jensen
About Me: Honestly, my true passion is in learning! I spend most of my time just studying, working, and playing with my dog; yeah I have a dog and he's awesome! Right now I am involved with undergraduate research under Dr. Czerwinski and love every second of it! I also work as a Phlebotomist at Gundersen. After I finish my Bachelor's I plan on going to medical school to become a general surgeon.
Study Tip: Know how to balance fun and studying. My first semester I spent almost every moment in the library but I became burnt out near the end of the semester. Studying is wildly important but being able to incorporate some fun is also important because it gives one's brain a chance to relax. Also, if your professor posts their notes on D2L, print them. I found that focusing on writing what they are saying, other than what is on the slides, is very beneficial.
Reid Johnson
About Me: I enjoy anything sports and outdoors, as well as science. I have a black belt in Tae Kwon Do and am on the UW-La Crosse varsity wrestling team. In the future I hope to earn my M.D. and work as an orthopedic surgeon specializing in sports medicine. I traveled to Estonia this past summer to spend a month immersed in their medical system as a medical fellow.
Study Tips: Find one or two people that are in the same class as you and quiz each other on the material. They might have written something down that you missed and vice-versa. Also, if you are able to teach/explain concepts to someone you are studying with, it will help make it stick in your memory.
Katharine Shebesta
Brief Biography: I love science almost as much as I love my three dogs. I work as a Physical Therapy aide, combining my other loves: humans, teaching, and learning. I am a devoted Friends fan, which is made evident by my many references that may seem excessive at points. In my free time, I love to bury my face in a book or hide it behind the lens of my camera.
Study tips: Don't be afraid to go in and talk to the professors, it helps immensely. When I went in and talked to my professors they not only helped me understand difficult concepts but they pointed out important aspects of the course that helped me to get the grade I wanted.
Sean O'Neil
Brief Biography: I love traveling, wrestling, God, my family and my dog! I have traveled to 30 countries in my young life. I studied Spanish in Guatemala for two summers for two weeks each time, I went on a international scholar medical program in Australia this last spring and am volunteering in a medical relief trip for the impoverished children and communities of Las Salinas, Nicaragua this spring break! I am on the UW- La Crosse variety wrestling team with high aspirations for the upcoming season. I am a proud Vikings fan, so if you are a cheesehead, please be aware that you are talking to someone with strong distaste for the Packers.
Study Tips: Study effectively. This does not mean studying more. Figure out the types of questions likely to be asked on exams and study in a way that will prepare you for those questions. Do not skip class and take diligent notes in class. Do not be afraid to ask questions to your fellow students or professor! They can be an integral part of your success!
Tam Nguyen
About Me: I am a fitness addict and a food lover. You can always find me at the weight room every day because it is my second home and I work there. I love studying and hanging out with friends. I am a very simple and chilled person. My favorite quotes are "Wake up with determination, Go to bed with satisfaction" and "Work until your idols become your rivals".
Study Tips: Always go to lectures and labs as well as pay attention in class. Always read the textbooks before class and always do all the assigned homework. If you have any questions, don't be afraid to ask your classmates and professors!
Carly Southwick
Brief Biography: I'm a proud cat mom (not the same as a crazy cat lady) and I nanny during the week. I enjoy running, bluff hikes, painting, cooking and spending time with my roommates. Current Netflix series: Narcos, Prison Break, Bob's Burgers. Born and raised in Wisconsin- GO PACK GO. I studied abroad in Costa Rica and hope to return after graduation to teach English and do some more scuba diving!
Study Tip: Take notes by hand and in different colors- it will help you remember the information better! Go over exams, homework and practice problems- the more you practice the more prepared you will be. Work with classmates and talk through concepts. Finally, GO TO OFFICE HOURS.
Rachel Snyder
Brief Biography: In my free-time, I love playing intramurals, especially soccer and trenchball. My family and I just got a new puppy named Rory (as from Gilmore Girls). I'm part of Pre-PT Club and ESS Club. Finally, I'm a HUGE Taylor Swift fan, and I have been to three of her concerts.
Study Tip: Type up or re-write your class notes. It is a great tool to go over the material and as a result, you study a little bit every day. In addition, try and do as many practice problems as you can before the exam.
Justin Blatnik
Brief Biography: I love to be active, whether it is playing sports or being outdoors. Member of the Chemistry club, pre-med club, weightlifting club and play on flag football, coed soccer and softball on intramural teams on campus.
Study Tip: It is often useful to re-read and condense notes into the most important concepts, using your own words. Practice, practice, practice!
Caleb Griesbach
Brief Biography: During the winter, you can find me at Mt. La Crosse skiing. I am a huge Packers fan, I will often where green and gold during my tutor hours. Another thing I am currently doing is a machine learning independent study.
Study Tip: Color coating and before exams make yourself a study guide. I like to combine both of them. It will help you relearn the material and you can also use the study guide when studying for the final.
Kaitlyn Rago
Brief Biography: I love a good adventure. Whether it be climbing a mountain or going in glacial ice caves (which is what's going on in this picture), I am always open to new challenges.
Study Tip: When you get an exam back, make sure you understand what you did wrong and don't just throw those old tests aside. A lot of chemistry is cumulative, and you can't decide that what you learned previously is unimportant. Review or even retake old exams so that you understand the material, because when you're learning new material that is building off of previously learned material, it is much easier to learn new things if you are able to do what you have already learned.
Anna Holman
Brief Biography: I love animals (that's my kitten, Luna, in my pic) and I'm a Netflix addict but I also love getting involved around campus and meeting new people. I am part of volunteering within, pre-dentistry club, and ETA.
Study Tip: In chemistry, practice really does make perfect so keep working on those practice problems that your prof gives you, or go in your book or online to find more problems to do. You can never do too many because it helps you feel more comfortable with the material and therefore more confident on exams.
Mitch Malecha
Brief Biography: I was a member of 4-H for ten years. Here at UWL, I'm involved with the Nutrition and Pre-Med clubs, as well as the Eagle Apprenticeship Program.
Study Tip: Study every day so you are able to retain more information (this will work much better than just studying the night before the exam). Similarly, study the basic information first. Therefore, the more complicated concepts will be easier to learn if you have a good foundation.
Gus Greife
Brief Biography: Hopefully will become a physical therapist (hence the pre-PT). Involved in the biology and physical therapy clubs on campus and also play (and often lose) in intramural football, basketball, and floor hockey. I thoroughly enjoy all types of music and debating about historical discrepancies with my roommates (I often win those).
Study Tip: Often times, exams for all classes are grouped together in a one or two week period. Look over your syllabus for all classes in the beginning of a semester and determine when your exams for each are. This allows you to know when you can study a little each day (or at all) and when you need to really spend some time on it. I usually start really studying hard at least five days before an exam. Studying the day before an exam is the absolute worst time to study.
Kathleen Becker
Brief Biography: I love to travel. I have been to 44 states, 6 countries, and 3 continents.
Study Tip: Practice, practice, practice! Do all of the homework and rework examples from class. Try and do as much as you can without your notes and only refer to them if you get stuck.