STEMSS
A page within Murphy Library
Science, Technology, Engineering, Math & Social Studies (STEMSS)
Welcome to the STEMSS page of the Murphy Library, Alice Hagar Curriculum Resources Center. This page is designed to provide resources to PK-12 teachers, pre-service teachers, librarians, and others interested in STEMSS education including our library guide specific to STEMSS.
STEM Teacher Resource Day 2018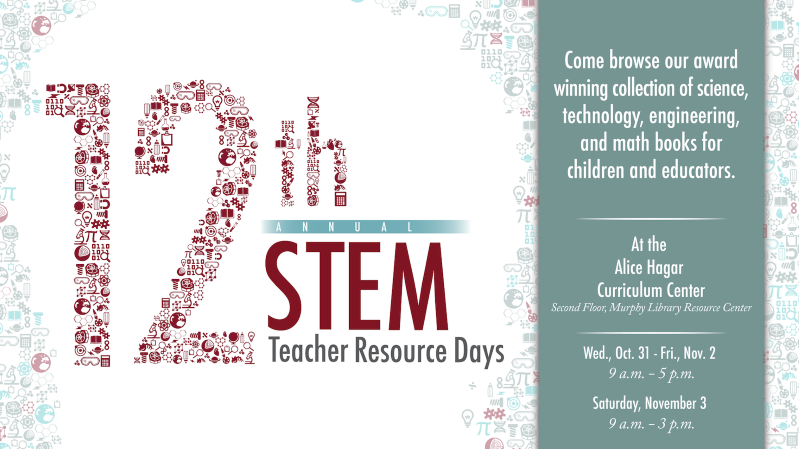 In Fall 2018, local educators will have an opportunity to discover award-winning resources in the fields of science, technology, engineering, and math (STEM) for use in K-12 classrooms. The K-12 STEM Teacher Resource Day will be held in the newly renovated Alice Hagar Curriculum Center, on the second floor of Murphy Library at the University of Wisconsin-La Crosse. The program is free of charge, and participants may drop in at any time during the sessions.
This is the twelfth in the annual series of programs highlighting STEM resources. These programs are a hands-on experience for many local educators and students. Participants are able to browse, read and review award-winning, non-fiction books and similar resources specifically selected to be relevant to K-12 teachers, librarians, school media center administrators and other educators.
According to Dr. Tim Gerber, the program organizer and a biology professor at the University of Wisconsin-La Crosse, "The comment I get most often from teachers who have attended the resource day is that they feel so much better prepared to select specific materials that will benefit their classes and their curricula without having to guess. It saves them time and money in the long run."
The books and other materials are purchased by Murphy Library annually from Science Books & Films, "Best Lists," the National Science Teachers Association's "Outstanding Science Trade Books for Children," and other annual lists. Following this event, the books will be available in the Murphy Library, Alice Haggar Curriculum Resource Center's curriculum collection year-round for review by students in the School of Education as well as other students, faculty, and community members.
The program is sponsored by Murphy Library.
For more information or to request disability accommodations, please contact:
Teri Holford, Murphy Library, University of Wisconsin-La Crosse at tholford@uwlax.edu or 608.785.8944
Dr. D. Timothy Gerber, Biology, University of Wisconsin-La Crosse at dgerber@uwlax.edu or 608.785.6977