About special collections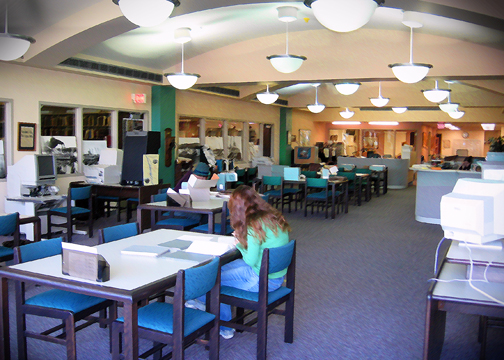 Special Collections, reading room
Special Collections collects, preserves, and provides access to materials that due to their physical or intellectual properties require special handling and care. Types of records housed in this section of the library include rare books, regional and Wisconsin history books, fine-press publications, maps, oral history recordings and transcripts, university archives, and a large historic photograph collection.
This department also houses the La Crosse Area Research Center (ARC), which is one of fourteen regional depositories for the Wisconsin Historical Society. The ARC holds archival records of local governmental bodies and personal papers of people and businesses from five Wisconsin counties: Jackson, La Crosse, Monroe, Trempealeau, and Vernon.
LOCATION:
The Special Collections Department and Area Research Center has its own dedicated space within the Murphy Library building. It is located on the main floor of the building. Its entrance is in the library's atrium.
HOURS:
https://www.uwlax.edu/murphylibrary/hours/special-collections-hours/
Researchers are advised to call ahead, 608.785.8511, or email, specoll@uwlax.edu, to confirm hours of operation, especially during intersession periods. Shortened hours typically in effect during holidays, J-term, spring break, and summer.
GENERAL CONTACT INFORMATION:
Special Collections, Murphy Library, University of Wisconsin-La Crosse 1631 Pine St. La Crosse, WI 54601
Phone: 608.785.8511
Fax: 608.785.8639
Email: specoll@uwlax.edu
STAFF:
Paul Beck, Special Collections Librarian and Area Research Center Director
Email: pbeck@uwlax.edu

Laura Godden, Special Collections Historian
Email: lgodden@uwlax.edu