Posted 10:51 a.m. Thursday, July 29, 2021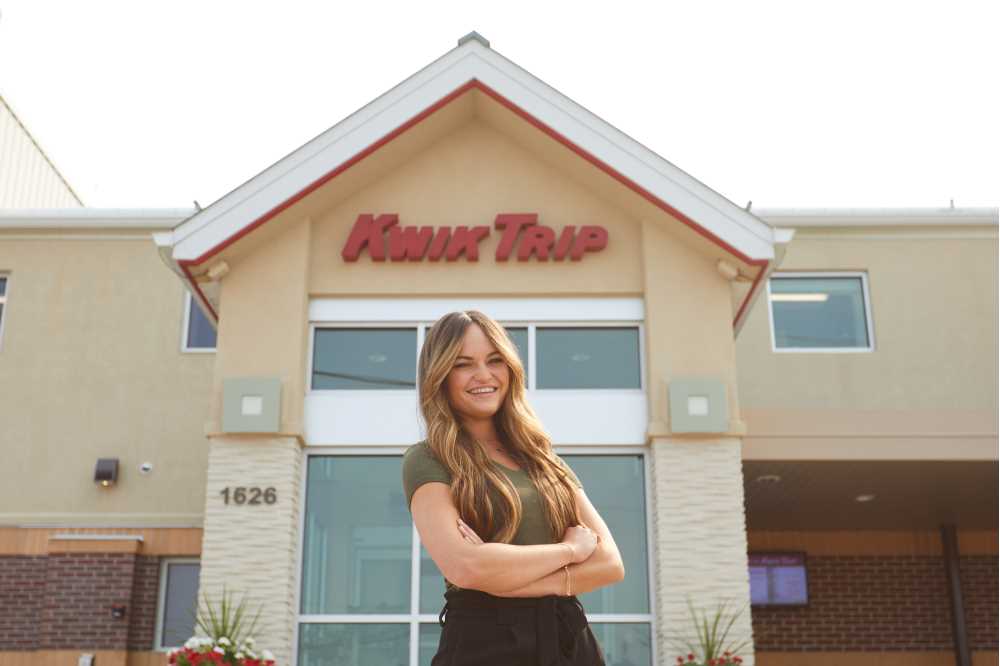 Alum is the witty voice behind Wisconsin's favorite convenience store
Every time a rainbow appears over a Wisconsin town, the messages start rolling in.
"People love sending us photos of Kwik Trip at the end of a rainbow. We'll get about 50 of them," says Paige Forde, '19, a social media specialist for the La Crosse-based convenience store chain. "It's awesome to see people reaching out that way. The love we get from our followers is just crazy."
Kwik Trip has long been a convenience store of choice in Wisconsin, and it continues to make inroads in Minnesota, Iowa and Illinois. But over the past few years, the Kwik Trip brand has become something more — a symbol for the Midwestern way of life, an institution of which Wisconsinites are unusually proud and fiercely protective.
And that's in part thanks to Forde.
She is the voice behind Kwik Trip's social media, which have garnered large and loyal followings on Facebook (600,000 likes), Instagram (88,000 followers), TikTok (76,000 followers) and Twitter (67,000 followers).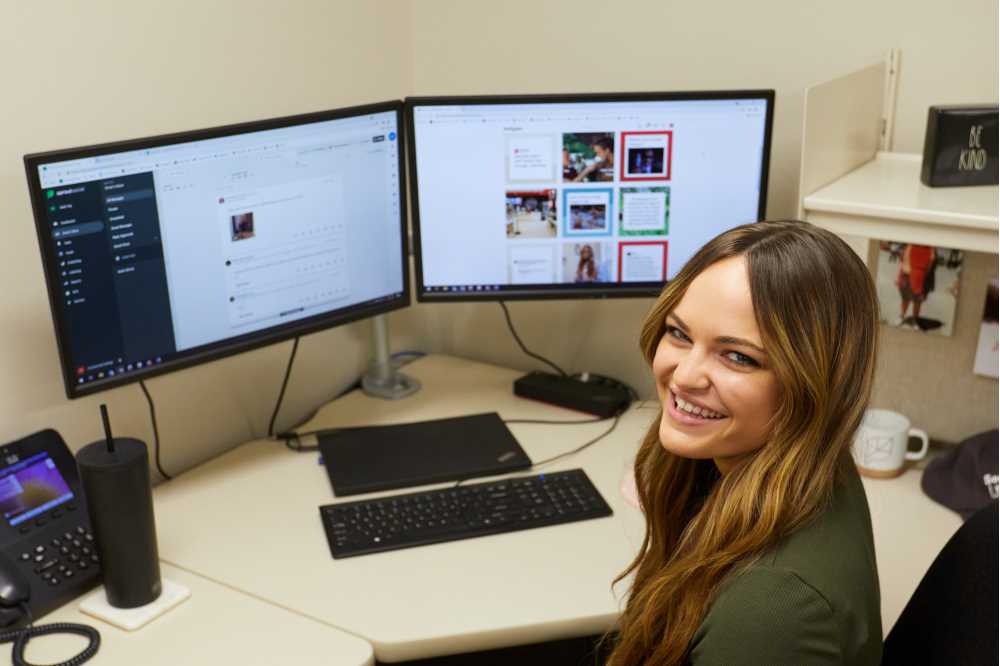 Three years ago, most of the company's posts were run-of-the-mill promotions — deals for eggs and butter, discounts on fuel.
When Forde joined the team as an intern in January 2019, she met with her boss and fellow UWL alum, Kendra Nedegaard, '17, to rethink their strategy.
"We actually have the same sense of humor, and from there we just solidified the voice," Forde explains. "We started with Twitter — Wendy's kind of created the trend of brands being clever on Twitter — and then we took the Twitter voice and moved it to Instagram."
Forde and Nedegaard worried that memes and sarcasm would be less effective on Facebook, given the older audience.
They started with a safe one. With a blizzard in the forecast, they posted a meme of Luke Skywalker riding a Tauntaun through the snow with the caption: "I'm going to Kwik Trip. Need anything?"
"It just took off," Forde remembers. "We had this huge follower bump."
In the months that followed, she posted more memes and pop culture references ranging from "The Office" to "The Avengers" to "Forrest Gump."
Some poked fun at rival gas stations.
Some alluded to Midwestern peculiarities such as long goodbyes and an obsession with camo.
Many paid homage to Kwik Trip's signature items: glazers, cheesy breadsticks and Nature's Touch milk and ice cream.
"We're still doing the same promotions," Forde says. "We're just doing it in a fun, clever way."
The foundation of Forde's social media approach was laid at UWL.
After considering degrees in biology and teaching, she changed her major to marketing and was immediately hooked.
"I loved UWL and all my professors — Ken Graham, Gwen Achenreiner, Stephen Brokaw," says Forde, noting that lessons on social media advertising and celebrity endorsements were particularly impactful. "Brokaw's lectures were just mind-blowing. I'd get out of class, and my brain would just be gone."
Forde is somewhat of a contradiction: She says she's not particularly interesting on her personal social media, yet she feels right at home speaking for Kwik Trip — even if it means stepping in front of the camera.
Examples can be found on TikTok, where Forde gives followers not just a steady stream of memes and jokes, but also a peek inside her work with the company.
In one video, she ventures from her cubicle to the "Kwik Trip inside Kwik Trip" — a fully stocked store inside company headquarters.
In another, she takes an intern, Hunter, on a surprise tour of the company's legendary banana-ripening facility.
"My favorite part of my job is the variety," she says. "When I show up in the morning, I never know what we'll have to hop on, what trends we'll have to do. Every day is different."
Wisconsin's reverence for Kwik Trip seems to know no bounds.
Brides and grooms do Kwik Trip photoshoots on their wedding day. Once, an entire wedding party took pictures in a Kwik Trip beer cave.
People buy Kwik Trip-themed merchandise: shirts, hats, sandals and baby clothes. Even underwear.
On social media, customers engage in good-natured battles with other convenience store chains, defending Kwik Trip at every turn.
One man, Brent Erdmann of New London, is so fond of Kwik Trip he visited 615 unique locations in 2020 — an unofficial but almost certain record.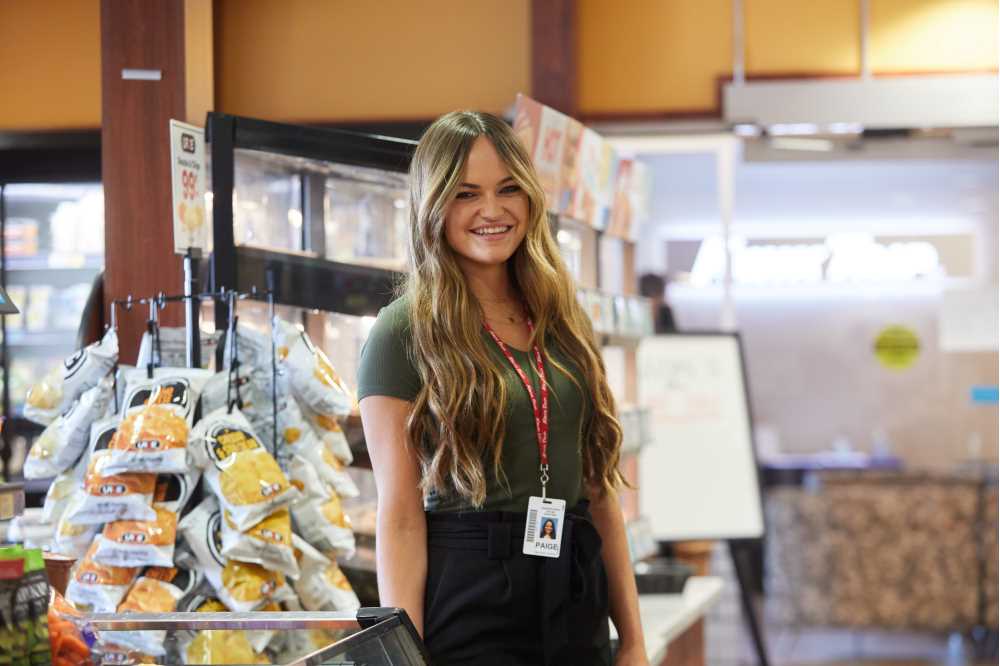 Forde admits there is an unknown quality about Wisconsin's infatuation with Kwik Trip.
It seems odd, in theory, that a convenience store would inspire this level of passion. It's utilitarian by nature — a place to fill your gas tank on the way to work and pick up a few groceries on the way back home.
Maybe that's the point.
A relationship with a convenience store is the simplest kind of love. It is never complicated or messy, and it is always there when you need it.
"It becomes a part of people's lives and routines," Forde says. "I mean, if you want to get a quick snack on your wedding day, where else are you going to go?"