Fall Dates: October 8 to Dec 7, 2018
The Physical Activity Mentoring Program for Persons with Disabilities offers university students a meaningful service opportunity. Mentors are students from any area of study who are interested in obtaining experiences with children or adults with disabilities. Knowledge in or previous experiences working with persons with disabilities is not required. Mentors do not need to be skilled in sports or physical activities to be successful in the program.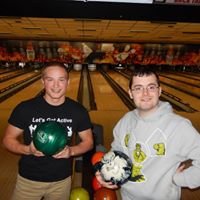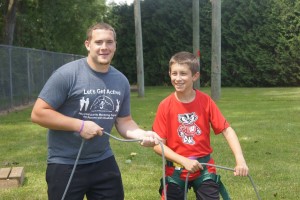 Application Requirements:
Every Mentor must complete and submit a mentor application. Each applicant must pass a criminal background check and have current First Aid and CPR certification. Please contact Alyssa Trad and Paul Kroska (608.785.8695) for information about first aid and CPR training. Each applicant must also attend a training session with the program coordinators.
Mentoring Requirements
A minimum of two hours a week for 8 consecutive weeks, although many mentors continue longer. Carry a cell phone while in the program. Have fun, be reliable, and provide a valuable friendship to your mentee.
What types of physical activity can be done in the program?
Physical activities areplanned to meet the interests and needs of the mentee. They depend on age, interest, goals and ability of each mentee. Both indoor and outdoor activities can be included and could involve basic skills such as throwing and catching or more specific skills for a sport the mentee is interested in. Parents and physical education teachers' suggestions are often used.
What equipment is available for physical activities?
The program provides most necessary physical activity equipment. Mentors can contact program coordinators to reserve, pick up and return equipment. Parents may provide equipment for some activities.
Resources:
You do not need previous experience working with persons with disabilities to be a succesful mentor. Each mentor is required to attend a training session with the program coordinators prior to beginning the program. The program has books, DVDs, teaching videos, equipment, and other materials to assist mentors.
When planning activities for mentees, Mentors may meet with parents/guardians to assist with goals and activities. Mentors can contact the mentees teachers, counselors, and others for assistance. Mentees can be observed at their school sites.
Transportation:
Parents/Guardians are responsible for transportation to physical activity sites. Mentors may NOT transport mentees in any program activity. Insurance regulations do not permit this. Mentors may travel a maximum of 10 miles to meet mentees for activities. Mentors can meet mentees in their homes or physical activity sites. Mentors and mentees can walk or bike to activity sites.
Where can physical activities take place?
On campus: Eagle REC Center and Mitchell Hall (

persons must be 7 years or older to use EAGLE REC Center

).
Mentors must plan with program staff for on-campus facility use.
Off-campus sites include the YMCA, Boys and Girls Clubs, roller skating, and bowling facilities, outdoor parks, biking/walking/running/hiking trails, courts, and outdoor pools in La Crosse.
All physical activity sites must be approved by program staff.
Mentee homes and neighborhoods are often used for activities.
What are group wellness/physical activity outings?
Physical Activity outings provide an opportunity for mentors and mentees to meet for a group activity. Past outings include hiking, sledding, rock wall/ropes course, fishing, swimming, and bowling. Outings are planned by the program staff and are usually scheduled on weekends. Parents are encouraged to attend.
Whom do I contact with questions about the mentoring program?
Program Office - 108 Mitchell Hall on the UW-La Crosse campus
Center on Disability Health and Adapted Physical Activity
Alyssa Trad & Paul Kroska, Physical Activity Mentoring Program Coordinators (785-8695; mentorprogram@uwlax.edu)
Dr. Garth Tymeson, Program Director (785-5415; gtymeson@uwlax.edu)