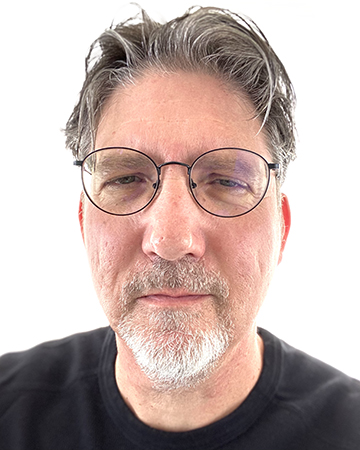 Specialty area(s)
Western Literature from Enlightenment to Postmodern; Critical Theory; The Novel; The Art of Memoir
Education
B.A. in Philosophy and Literature, Johnston Center at the University of Redlands (Senior thesis: "Beyond the Absurd: The Philosophical Fiction of Albert Camus")

M.A. in European Studies, Claremont Graduate School (Master's Thesis: "Heidegger and Derrida: Reading Nietzsche's Will"

M.A. and Ph.D. in Comparative Literature, University of Oregon (PhD Dissertation: ""Adorno, Baudrillard, and Postmodern Negative Realism"

Teaching history
Western Literature II: Enlightenment to Present
Trouble in Utopia
The Novel
Critical Theory
European Literature in Translation
The Sixties
20th Century American Literature
The Graphic Novel
The Art of Memoir
Truth and Beauty in the Contemporary Novel
Paris, Capital of the 19th Century
David Foster Wallace
Philosophers and Comedians
College Writing

Research and publishing
Idiot Boys: a memoir. Available on Amazon at http://www.amazon.com/dp/1514343444

"Selling the Humanities," College English, Vol. 318, Issue 5. Beijing, China (2015).

"Discussing Disgrace in a Critical Theory Classroom." Encountering 'Disgrace': Reading and Teaching Coetzee's Novel. Camden House Press (2009).

"Nietzsche, Adorno, and Metaphysics." New Essays on the Frankfurt School. Co-authored with Dr. Carsten Strathausen. Newcastle, UK: Cambridge Scholars Publishing (2008).

"Reply to Leonard Wilcox," Postmodern Culture, Vol. 14, Issue 1 (November, 2003)

"The Baudrillardian Symbolic, 9/11 and the War of Good and Evil," Postmodern Culture, Vol. 13, Issue 1 (November 2002)

"Ethical Value and Negative Aesthetics: Reconsidering the Baudrillard-Ballard Connection," PMLA (January 1999) 64-77

"Enlightenment's Other in Patrick Süskind's Perfume: Adorno and the Ineffable Utopia of Modern Art," Comparative Literature Studies 32 (1995): 401-418.

Important links
http://www.amazon.com/dp/1514343444

http://www.bradleybutterfield.com