Profile for Britney Heineman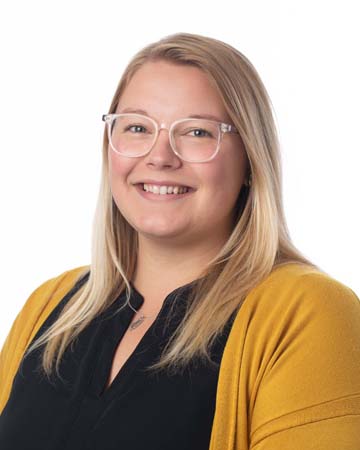 Brief biography
Hi! Originally hailing from the 920 zip code, I am happy to now call the 608 my home. I graduated from St.Norbert College in De Pere, WI with a bachelor's in Business Administration, a concentration in Marketing, and a minor in Communications. Academics aside, I was heavily involved in the Business Entrepreneur organization, Enactus, and continue to sing the praises of my life-changing study abroad semester in Cork, Ireland.
I'm usually your first 'go-to' with questions on how University Marketing & Communications can assist you with your project. Working on this team is great as my day usually involves a creative mixture of things; story publishing, website editing, office management or photography assistance. I like to think my personal and reliable attitude will guarantee you leave our interaction smiling. I also am the Chair for our University Staff Council.
Off the clock, you can find me baking, hiking our beautiful valley property with my dog and fiancé or traveling for tasty beer and food.
Education
UWL Extended Learning Certificate| Professional, Technical, Business and Scientific Writing, '20
Wisconsin Small Business Development Center| Entrepreneurial Training Program, '19
Dave Ramsey's Financial Peace University, '16
St. Norbert College| BBA, '15
Professional history
UW-La Crosse| Office Operations Associate
UW-La Crosse| Student Union Custodial Lead
Kwik Trip, Inc.| Corporate Communications Center CSR
College Internships:
Definitely De Pere| Event Planning
Walk To Mary| Marketing & Public Relations Assistant
Wisconsin Converting Inc.| Market Researcher


Kudos
served
Brenda Leahy, Michele Nauman and Kalia Vang, all Academic Advising Center & Career Services; Ana Mendoza and Corey Sjoquist, both Admissions; Kaylie Connaughty, Heather Dutcher, Britney Heineman, Jake Speer and Maren Walz, all Advancement; Michael Abler and Renee Redman, both Biology; Zac Knutson, Budget Office; Dawn Hays, Campus Child Center; Mark Sandheinrich, College of Science & Health; Ashley Jochimsen, Counseling & Testing; Ryan Friesen, English; Samuel Schmidt, Exercise & Sport Science; Meredith Thomsen, Extended Learning; Ka Lia Smith, Financial Aid; John Kelly, Geography & Earth Science; James Longhurst, History; Natalie Solverson, Institutional Research, Assessment & Planning; Christine Manno, Management; Suzanne Anglehart, Microbiology; Anthony Chergosky, Regina Goodnow and Sean Hurtubise, all Political Science & Public Administration; Sandra Grunwald and Betsy Morgan, both Provost's Office; Nathan Barnhart and Jeff Keenan, both Rec Sports; Vitaliano Figueroa, Student Affairs; Kara Ostlund, Student Life; and Kyle Burke, University Centers; served Verification Tent Staffing during Move In Week. THANK YOU to the many staff and faculty who greeted students and their families at the Verification Tent during Residence Life Move In Week. These welcoming faces helped ensure those who are vaccinated are recorded as such and those who are not vaccinated had completed a negative COVID test prior to move in. We could not have completed this large task without their assistance. They have helped keep our community healthy and contributed to the campus-wide endeavor of welcoming students back to campus.
Submitted on: Sept. 13
Important links