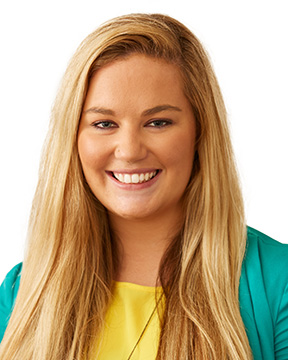 Specialty area(s)
Study Abroad Advising, Faculty-Led Programming, TerraDotta
Brief biography
Sami is a Wisconsin native - born and raised in Appleton, WI. Sami is a lover of romance languages, cats, wine tastings, meeting new people, and exploring new places. Sami studied, lived, and taught abroad in Spain and has traveled to Belgium, Belize, Canada, China, Costa Rica, Germany, France, Italy, Morocco, the Netherlands, and Portugal.
Her current bucket list includes traveling to Mexico, Peru, Chile, Argentina, Iceland, Thailand, Indonesia, and South Korea - in no specific order!
"A ship in port is safe, but that is not what ships are for. Sail out to sea and do new things." — Rear Admiral Grace Hopper.
Education
2016. M.S.Ed. in Student Affairs Administration. University of Wisconsin - La Crosse
2013. TEFL Cetification. TELF Institute of Chicago
2012. B.A. in Spanish with an Emphasis in Professional Business. University of Wisconsin - Whitewater
2012. Spanish and International Business. Spanish American Institute of International Education (SAIIE)
Professional history
2016 - Present Study Abroad Advisor @ The University of Wisconsin - La Crosse
2015 - 2016 Education Outreach Specialist @ The University of Wisconsin - Platteville
2014 - 2015 Study Abroad Advisor @ The University of Dubuque
2013 - 2015 Science & English Instructor @ La Comunidad de Madrid
2012 - 2015 Freelance Marketing Consultant
2012 - 2013 Bilingual Supervisor @ Alta Resources
2011 - 2012 Google Specialist & Market Leader @ MarketStar