Group Fitness Classes are a great way to help maintain a healthy lifestyle.

For only $3.06 per week you get to choose from over 45 classes (cardio, cycling, strength training, dance) with the Unlimited Group Fitness Membership.
Membership are only $40 (13 weeks) and you can attend any class, any day, any time! Registration for Spring 2019 is open now.

Are you a Fall 18 Group Fitness Member? Receive $10 in REC Bucks if you renew by December 21. REC Bucks can be used to pay for a number of Rec Sports programs and services like Intramural registration fees, Outdoor Connection equipment rental or trips fees, personal training, and even event registrations.

If you have any questions, please contact Nick Berg at nberg@uwlax.edu.

printable schedule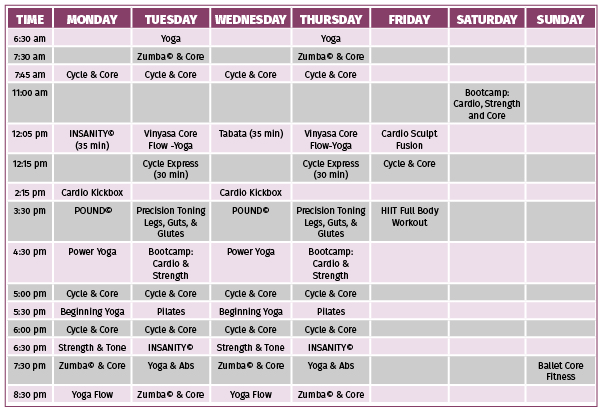 FEES
Group Fitness Membership: $40
Unlimited access to all classes. Purchase your membership today!
OR
Drop In: $3/class
Based on availability; pass purchased at the REC Information Counter prior to class.
DESCRIPTIONS
Ballet Core Fitness
Want to learn some basic ballet while getting more fit and toned? Not your typical ballet class, this class is laid back, fun and something new, working toward a dancer's body that is strong, balanced, and fit with a strong core in particular.

BARRE Above®
Barre training is the hottest workout of 2018! This full body workout, inspired by ballet, yoga, Pilates, and resistance exercises, will sculpt and tone your body while burning major calories.

Beginning Yoga
Discover yoga at a beginner's pace. This introductory class will teach you the basic foundations of yoga, building strength stamina and flexibility. Chill out and decompress from your busy day.
Cardio Kickbox
Jab, punch & kick your way into a tight strong body to pulsing beats! Instructors will coach you on as you train hard and get results!

Cardio Sculpt Fusion
Turn up the heat on your workouts! Pulsing beats and moves that will help tighten and tone your body and spark your metabolism.
Cycling
Not into dance based workouts? Then this workout is for you! Motivating instructors will coach you through a ride that includes climbs, hills, & sprints. This class is for all levels.
Cycle & Core
An intense ride that includes flats, hills and sprints followed by a sculpting ab workout.
Flex and Stretch Flow
This unique class will Infuse elements of yoga, Pilates, and high intensity interval training to help get you maximum results.
Insanity®
This life changing, incredible body fitness workout is the number one workout in the planet! A mixture of high intensity athletic drills and total body conditioning exercises that get you fast results.

Pilates
Pilates focuses on core strength while you tighten and tone your whole body. Traditional Pilates with a mix of total body strengthening exercises improves your posture, creates muscle balance, and improves your range of motion.
POUND®
Pound is the first workout where participants help make the music. A group fitness workout that infuses cardio, strength, yoga and Pilates while drumming with Ripstix. Participants can burn up to 900 calories per workout. Studies have shown that drumming is great for brain health and relieving stress. Fun and fitness, what a great combination!
Power Yoga
An energetic vinyasa flow class that heats you up from the inside out! Dynamic sun salutations interwoven with poses to improve your strength, stamina and flexibility. Peel back the layers of stress and make that mind, body, spirit connection.
Strength & Tone
Develop long lean muscles and strong core by attending this class that incorporates handheld weights, resistance bands and core strengthening exercises.
STRONG® by Zumba®
This class combines body weight, muscle conditioning, cardio and plyometric training moves synched to original music that has been specifically designed to match every single move. A STRONG® by Zumba® class is a high energy workout, and as a part of the sweat session, you will hit the floor for some intense core exercises. Bring it!!!

Tabata®
A high intensity interval workout that incorporates 20 seconds of high intensity microburst exercises followed by 10 seconds of rest. This high intensity interval training is a total body conditioning workout that scorches calories and can burn 5X more calories post workout giving you results.
Yoga
Stressed out? Want to improve overall body strength? Need help with flexibility? Are you anxious or feeling not yourself? This mind, body, & soul class will help reduce stress, improve strength, flexibility, posture, reduce anxiety and so much more! Sun salutations, breathing work and poses, yoga is for everyone. Whether you're an athlete, recovering from an injury or just want to get healthier, yoga can help.
Yoga Flow
End your busy day with this flowful yoga class that will improve your flexibility, strength, and posture while helping you decompress from your stressful day.
Zumba®
Zumba® is a fusion of Latin and International music - dance themes that create a dynamic, exciting, effective fitness system! The routines feature aerobic/fitness interval training with a combination of fast and slow rhythms that tone and sculpt the body. Zumba® utilizes the principles of fitness interval training and resistance training to maximize caloric output, fat burning and total body toning. It is a mixture of body sculpting movements with easy to follow dance steps.
Zumba® & Core
Groove & sweat to pulsing Latin beats followed by sizzling abs!
CERTIFICATIONS
Check back for certification information this fall.