Fitness Center
A page within Rec Sports
REC
Recreational Eagle Center (REC) Hours
Monday - Friday: 6am-11pm
Saturday: 10am-10pm
Sunday: 11am-10pm
Contact Us
608.785.5225
recoffice@uwlax.edu
OC
Outdoor Connection (OC) Hours
Monday - Friday: Noon - 6pm
Saturday: 10am - 6pm
Sunday: 11am - 6pm
Contact Us
608.785.8860
outdoorcnt@uwlax.edu
FC
Fitness Center Hours
Monday - Friday: 6am-10pm
Saturday: 10am-9pm
Sunday: 11am-9pm
Contact Us
608.785.5210
recoffice@uwlax.edu
Wall
Climbing Wall Hours
Monday - Friday: 5pm - 9pm
Saturday: 3pm-6pm
Sunday: 5pm-8pm
Contact Us
608.785.5225
recoffice@uwlax.edu
EZONE
EZONE Esports & Gaming Hours
Monday - Friday: 3pm-11pm
Saturday & Sunday: Noon - 10pm
Contact Us
608.785.8921
recsportsesports@uwlax.edu
Pool
Mitchell Hall Pool Hours
Monday: 12pm-12:50pm, 8pm-10:30pm
Tuesday: 8pm-10:30pm
Wednesday: 12pm-12:50pm, 8pm-10:30pm
Thursday: 8pm-10:30pm
Friday: 12pm-12:50pm, 7pm-9pm
Saturday: 12pm-3pm
Sunday: 1pm-4pm
Due to varsity swim meets, there will be no lap swim on the following days:
Saturday, November 4
Saturday, January 27
Contact Us
608.785.8698
recoffice@uwlax.edu
Fieldhouse
New Fieldhouse
Access to the New Fieldhouse during open rec hours is restricted to those who have a current REC membership (student, faculty/staff, alumni).
Open Rec Hours
Sunday: 6pm-10pm
Second Floor Track Hours
Managed by the Athletic Department
Monday-Friday: 11am-1pm
Contact Us
608.785.5225
recoffice@uwlax.edu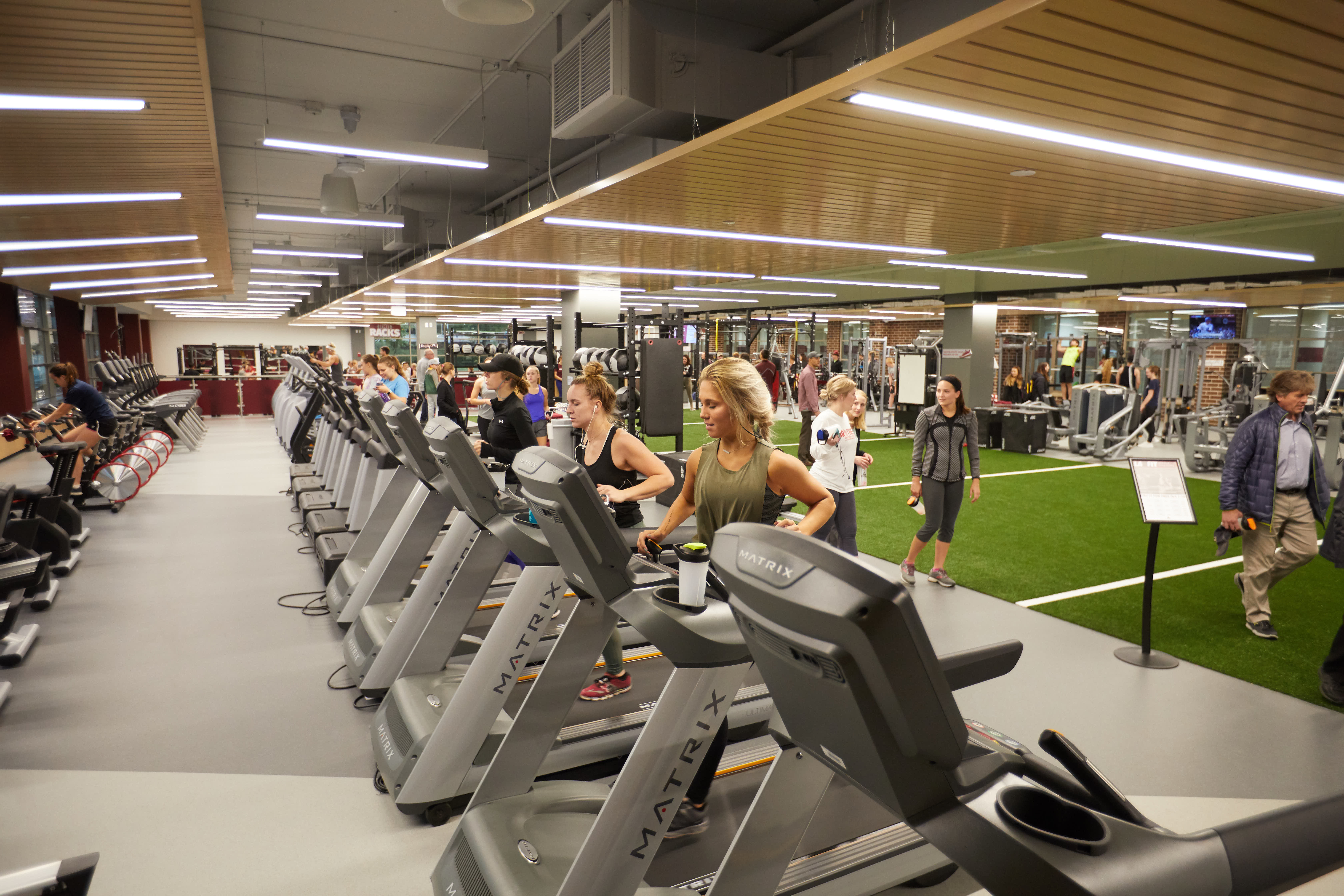 About the Fitness Center
The REC Fitness Center opened in the Fall of 2018. It's a state of the art 15,000 square foot space that encompasses six different training zones which are filled with over 130 pieces of cardio and strength training equipment
THE 6 ZONES
Machines
35 different selectorized cable machines
Cardio
55

pieces

of cardio equipment including elliptical, treadmills, rowers, bikes, and stair climbers
Free Weight Zone
Dumbbells ranging from 2.5-

50lb

1 Squat Rack

10 Fixed Curl bars ranging from 20-60lb
The Turf
A 25 x 8-yard piece of artificial turf

for circuit training, stretching and core.

10 yards of rig system containing monkey bars, ninja grip training, TRX and resistance bands

40 Kettlebells ranging from 5-70lb
20 medicine balls ranging from 5-20lb
2 soft adjustable plyo- boxes ranging from 20-30 inches
Check out items to include: foam rollers, mini therabands, ab rollers, La Crosse balls, lifting straps, weightlifting and powerlifting belts.
The Racks
7 dual-sided squat racks (14 individual stations)

7 designated inlaid platforms for barbell work

1 Eleiko designated Olympic training platform

1 Texas Strength Systems competition powerlifting combo rack
Dumbbells ranging from 10lb to 125lb
Leg press, glute ham raise machine, preacher curl benches and plate loaded glute trainer
Personal training room
Private room for clients only

Contains squat rack, cable machine, and dumbbells.

Train up to 2 clients at a time