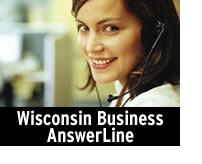 Need immediate answers to your business questions?

Call the Wisconsin Business AnswerLine to talk with experienced business counselors about managing or starting a business. At no cost to you, they'll provide practical answers, informative documents and schedules for local business education classes. These knowledgeable counselors can also help prepare you for one-on-one counseling. Call once or on an ongoing basis -SBDC Business AnswerLine counselors will give you personalized attention for as long as you need it.

Call 1.800.940.SBDC (7232) for a live question-and-answer session with an SBDC expert from Monday through Friday, 8:30 to 4:30 p.m. or request assistance by visiting: http://www.wisconsinsbdc.org/business-answerline.



Funded in part through a Cooperative Agreement with the U.S. Small Business Administration.