Recognition of Excellence
2017 EPC Pre-Service Educator Awardees
This award is presented to an outstanding educator who has demonstrated a sustained pattern of mentoring pre-service educators for at least five years. The award recipient is selected based on attributes such as: the ability to model professional responsibility; evidentiary assessment; effective classroom management; the ability to mentor pre-service teacher candidates in developing their capacity to be a leader; the ability to nurture candidates as they face a wide range of issues.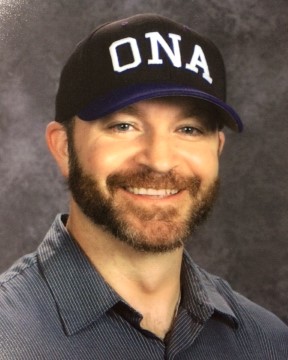 Kevin Bonnar
For over nine years, Mr. Bonnar has nurtured and inspired dozens of PDS teacher candidates and student teachers. As a graduate of UWL, he has given back to the profession by being an excellent mentor, providing guidance, advice, encouragement, and support. Mr. Bonnar inspires and empowers teacher candidates to be their very best.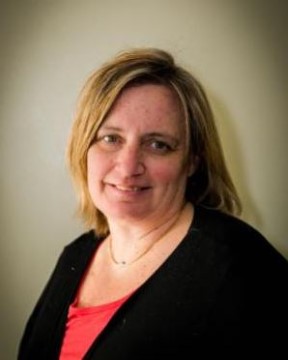 Marcia Gardner
Ms. Gardner's principal Ms. Lisa Schriener describes Marcia as "continually seeking ways to improve her instruction. She asks, why are we doing it this way? Why not try x, y or z?" In addition to providing her teacher candidates with truly excellent teaching skills, Marcia looks out for their well-being. Describing herself as a "mother hen" she makes sure her TC's have solutions for everything from differentiating tricky lessons to flat tires!
Jessica Hutschenreuther
Ms. Hutschenrueter has been a wonderful mentor for UWL mathematics education pre-service teachers. She is committed to building strong relationships and nurturing students as they transition in to their role as teachers. We are thankful for her dedication to mathematics education and continued work with our program.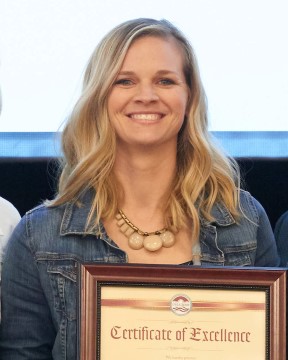 Kelly Jo Kline
Ms. Kline is an exemplary school health educator who is a wonderful role model and mentor to our pre-service teacher candidates. She willingly shares her time and efforts to support and encourage new teacher candidates to grow into wonderful leaders and educators. Her dedication to the profession is evident in her contributions to our student teachers over the years.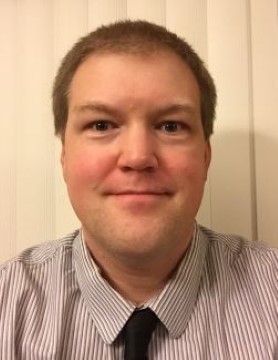 Brian Wopat
Mr. Wopat has been an excellent mentor for UWL-La Crosse EC-A student teachers, serving as a model of ongoing professional development, demonstrating outstanding expertise in teaching French, coaching student teahers, and including them as equal collaborators that integrate language and culture.
2017 EPC Early Career Educator Awardees
This award is presented to an outstanding educator within the first three to five years of his/her professional career. The awarded recipient is selected based on any combination of the following: positive impact the individual has on schools or communities; innovation in designing learning experiences and advocacy for students.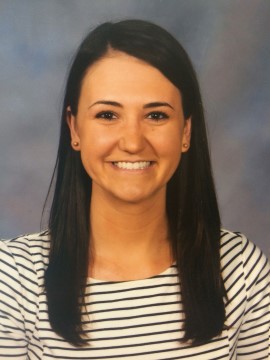 Mae Bretl
Ms. Bretl's principal, Connie Haessly, states "its a privilege to have Mae here. She connects will with kindergarteners, especially those who struggle with learning challenges." She also applauded Mae's collaboration with families. Mae explains, "I try to be pro-active. I want to understand parent's priorities, and I want families to understand what we are doing everyday. I am committed to providing choice-based learning opportunities for all my students. I want them to have a chance to be kids while learning all they can."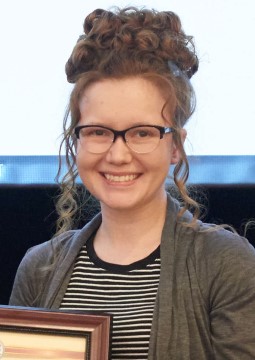 Megan Danahy
Since Ms Danahy was hired at Wonewoc Center, she had made major changes to the classroom, adding a storage room and a kiln room. Ms. Danahy has also exhibited art in public spaces in Wonewoc, as well as started an art club. She is also doing an after-school program. Lastly, she has a magnetic personality and students respond to her because she truly shows she cares and understands them.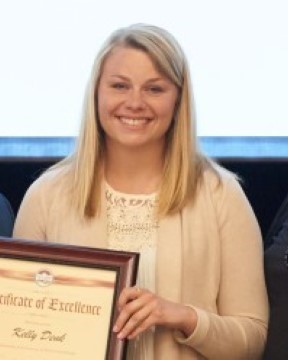 Kelly Denk
Ms. Denk's principal writes Kelly is "driven to help all students realize their full potential, meticulus in her planning and preparation, innovative in her methods, and wise well beyond her years. I will simply say that Kelly Denk stands out as on of the very best of the best early service teachers I have encountered in my nearly 20 years in this profession. She is truly a gifted educator who was called to this work. Hiring her is unquestionably one of my greatest accomplishments as the principal of Homestead High School. She is in a class of her own, and I remain honored and humbled that she chose this school as her professional home..."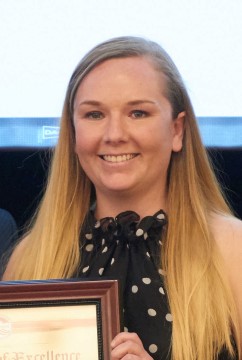 Jena O'Flanagan
Ms. O'Flanagan has been working to update the K-4 curriculum to a standards-based curriculum and has included many health aspects such as nutrition, the five components of fitness, muscles of the body, alcohol, tobacco, and other drug contents. Ms. O'Flanagan has also created a website and utilizes social media by posting mini videos of her class activiites to inform parents, teachers, and administrators about what her children are learning.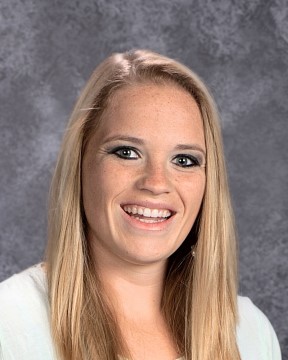 Cassie Sturzl
Ms. Sturzl is a 2nd year teacher at Logan Middle School and her principal describes her as a creative educator who brings tremendous energy and fun into her classroom. Ms. Sturzl has provided more than 200 hours either modeling or actively supporting/mentoring teacher candidates. Because of her service, our candidates are better equipped for the middle level classroom and feel more confident in their abilty to affect widespread change.