2009
Steam Meters
Bike Powered Electricity
2010
Bicycle Powered Concert
Electric Truck
Recycle Bins
LED Lighting
Composting
REC Lighting
Low Flow Shower Heads
2011
LED Lighting in Whitney Center
ESS Lighting
Hydration Stations
Steam Traps
Recycle Bins in the Sports Complex
2012
Drinking Fountains
LED Lighting
Low Flow Shower Heads
2013
Dumpster Diversion Project
Light Bulb Exchange
Water Bottle Giveaway
Green Cleaning Supplies
REC Automatic Motion Sensor Faucets

REC Drinking Fountains
REC Air Handling Equipment Sensors
Freshman Water Bottle Giveaway
REC Automatic Hand Dryers
Student Center (The U) LED LIghting
2014
Solar for Students
Uhaul Car Share Program
Earth Week Programs
UW-L Campus Community Garden Interns
Resident Life LED Lighting and Water Fountains
Bike Repair Station
Shower Timers/Low Flow Shower Heads at the REC
This project saves energy by reducing the flow of water in showers. The low flow shower heads installed in the REC matched the style installed by Residence Life in all campus residence halls. Residence Life sought input from students to assure the chosen shower heads provided a good shower. These shower heads impact our campus' footprint by reducing the amount of salt used for softening hot water, the amount of steam used to heat the water, the consumption of fossil fuels and water consumption from 2.5 gallons per minute to 1.5 gallons per minute. We have seen a reduction of water usage from showers by 40%.
2015
Earth Week Speaker
Earth Week Film Festival
Solar for Students
Reusable Detergent Bottles
Green Bike Program
Implemented by UWL Outdoor Connection, the Green Bike program recycles and refurbishes old bicycles and rents them out to students for a very low cost. This program promotes better health, reduces CO2 emissions, and keeps bikes out of our landfills! This program was started in 2004 by the Environmental Council (now known as Students for Sustainability). Today, the program has fixed and rented out over 200 bikes and recycled more than 40,000 pounds of metal. To rent a bike or find more information, check out the Green Bike Program website.
2016
Enterprise Carshare Program
Variable Frequency Drives at The REC
Variable frequency drives (VFD's) reduce electrical energy consumption by adjusting a motor's speed to match the required
 load. Many electric motors do not need to run at 100-percent capacity all of the time. VFD's control motors that power fans and pumps used in heating, ventilation, air conditioning and other systems were motor speeds can vary. Prior to VFD's, motor speed had only two options: on or off. Variable frequency drives allow us to adjust motor speed to save considerable amounts of energy.
The amount of energy saved with VFD's depends upon the application of the motor. Consider a 25 horsepower fan motor operating for 24 hours a day. It is unlikely that the fan needs to run at full capacity for the full 24 hours. For example, if the unit runs at full capacity for two hours, 75-percent capacity for eight hours, 67 percent for eight hours and 50 percent for six hours, a VFD would reduce energy use by 32 percent.
During the academic year, the REC is open 18 hours Monday-Friday, 14 hours Saturday and 11 hours on Sunday. During semester breaks, spring break, and summer sessions our hours of operation are much less. In fact, we are closed on every Sunday during the summer and university breaks. The installation of the VFD's allows us to match the speed of the motors to the needs of the building, which has now saved us significant electrical costs.
Tower Gardens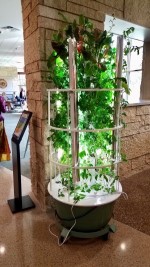 The tower gardens are a vertical, aeroponic growing system that enables us to grow fruits, vegetables, and herbs that are not only used in the kitchens of the Student Union but throughout the dining locations on campus. These systems use only 2% of the water of a traditional garden while yielding 30% more produce. Because of the vertical, compact design, they are perfect for small, sunny spaces such as the ones found in The U.
2017
Bike Lights at Bike Event
Green Fund Water Bottles
Lock it Up: U-Lock Giveaway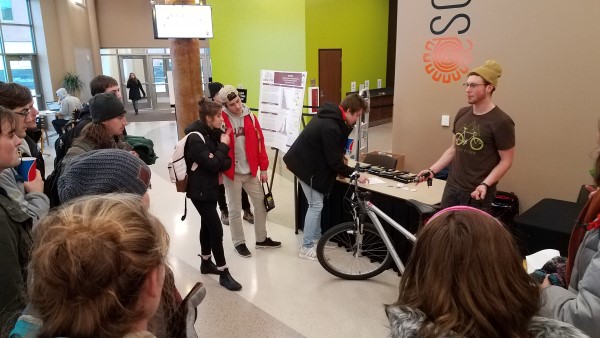 In order to increase bike theft awareness on campus, a Geography student (pictured above) held an event where he first, demonstrated how to properly lock a bike, and secondly, handed out free U-locks to students who pledged to ride their bikes more instead of driving. By working with a local bike shop, Bikes Limited, 70 students were able to receive a bike lock.
Farmers Market Bags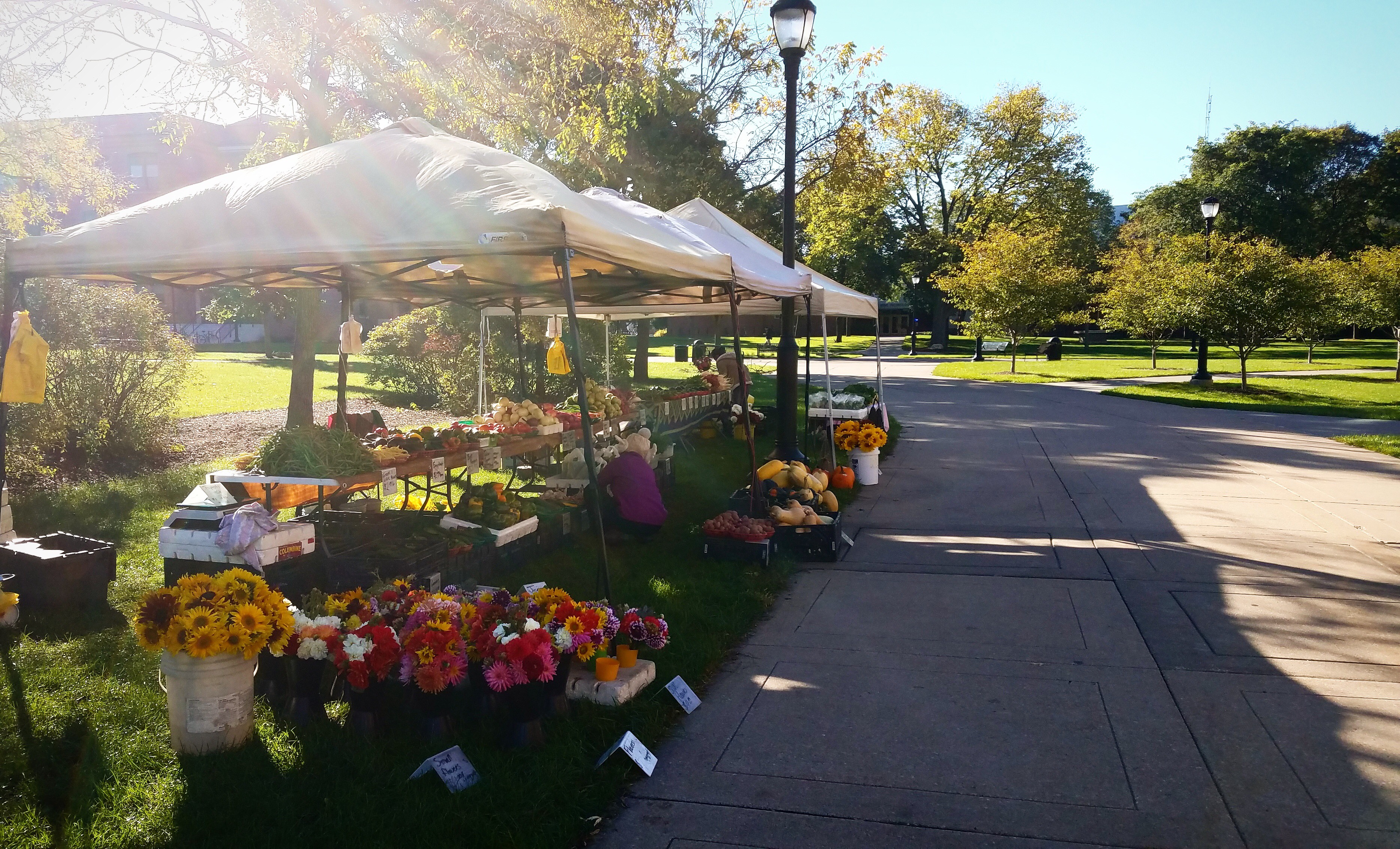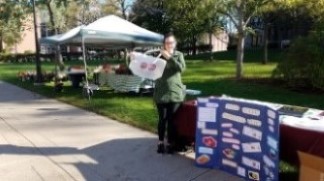 Every Fall, the Farmer's Market takes place right here on campus for students to obtain fresh produce without having to travel anywhere. This Fall, Students for Sustainability paired up with Wellness and Health Advocacy to decrease the amount of plastic bags being used by giving away a free Farmer's Market tote bag to anyone who spent $10.00 or over. This event increased Farmer's Market awareness and reduced plastic waste.
Oktoberfest Clean Up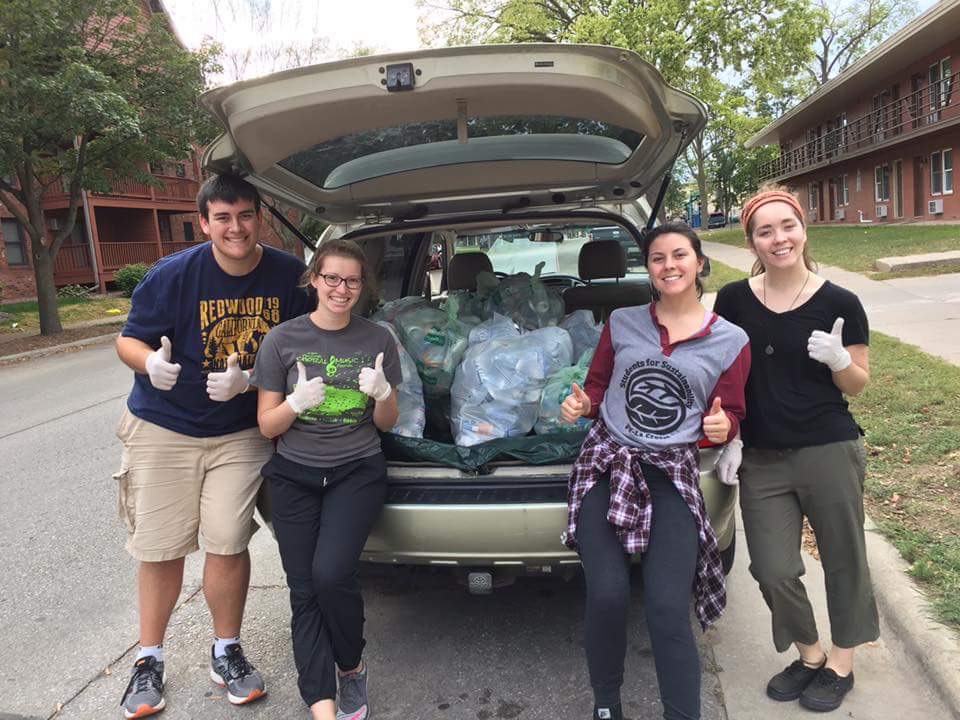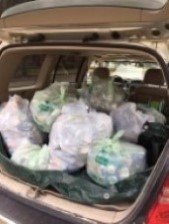 Every year, Oktoberfest festivities leave the streets of La Crosse filled with many clean up opportunities. This Fall, members of Students for Sustainability were able to use biodegradable garbage bags to help make the campus and surrounding area clean again. Over 50 pounds of aluminum cans were recycled, and over 100 pounds of trash were collected!
Fashion Week Speaker Dr. Anupama Pasricha
Fashion Week was held during the week of October 23-27 and was very successful in raising awareness of sustainability in the fashion industry through many of the events that took place. Through this discussion lead by Dr. Anupama (Chair of the Department of Apparel Merchandising and Design at St. Catherine), students were provided with information regarding how to be responsible shoppers with sustainability in mind.
"Be it fashion industry or another, fast fashion or sow fashion, sustainability is imperative in today's business model. We need to engage in purposeful business decisions based on shared values." - Dr. Anupama Pasricha
2018