STARS Updates
April 7, 2015
Provisional STARS Point as of April 7, 2015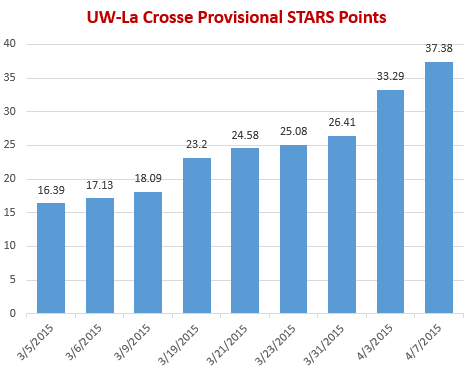 March 23, 2015
Provisional STARS Points as of March 19, 2015.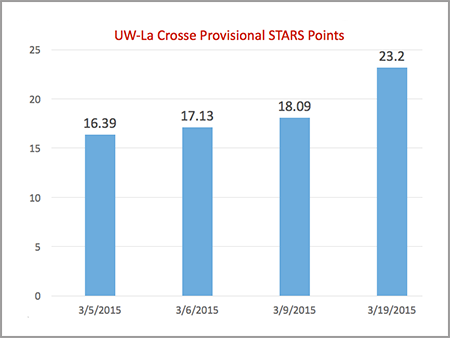 February 16, 2015
We are receiving information from UWL staff and faculty across campus, and we have formally submitted information for 13 of the 70 STARS subcategories. Our provisional score stands at 12.92 points! Minimum point requirements for STARS ratings are 25 points (Bronze), 45 (Silver) and 65 (Gold).
Many other UWL students, faculty, and staff are busy accumulating additional information that will be submitted for other STARS subcategories in the upcoming weeks. Also, please feel free to use UWL's involvement in STARS in any other campus-related initiatives that you might be involved with. Thanks everyone for your help and support!!
UWL STARS Team
---
In June 2014, UW-La Crosse adopted a system by which our campus sustainability practices can be systematically evaluated and compared to other colleges and universities. This system is "STARS" (Sustainability Tracking, Assessment and Rating System), which over 650 other colleges and universities -- including 11 UW System campuses -- have also adopted. Kelly Nowicki (Department of Management), assisted by Rob Tyser (Department of Biology), will be coordinating our STARS efforts during the 2014-15 academic year.
STARS was first created in 2010 by the Association for the Advancement of Sustainability in Higher Education (AASHE). This program uses a comprehensive approach to award credits in four general categories:
Academics
Campus/Public Engagement
Operations
Planning/Administration
Information about UWL's activities in these four sectors will be uploaded to a reporting tool on the STARS website. Campuses can earn Bronze, Silver, Gold, or Platinum ratings. Significantly, each campus rating expires after 3-years, thus encouraging colleges and universities to continue assessing and improving their sustainability practices. Four UW campuses have already received a Silver rating (Green Bay, Milwaukee, River Falls, and Stout), and two campuses (Oshkosh and Stevens Point) were even ranked at the Gold level.
How does it work?
Credits are earned in each of four broad sustainability categories (academics, campus/public engagement, operations, and planning/administration). Each of these four broad categories is divided into 11-28 subcategories, and credits are earned within each of these subcategories.
For example, the Academics category includes 11 subcategories, one of which is the "Academic Courses" subcategory. Up to 8 credits may be earned in this subcategory, depending on the number courses that include a sustainability theme or that have sustainability as their central course topic.
Each of the four sustainability categories may contribute up to 25% of the overall sustainability score. That is, each of these categories carries the same weighting. In addition, several additional credits can be earned for activities that are judged especially innovative.
Credits are awarded by technical advisors selected by STARS administrators. These individuals are selected from higher education institutions, non-profit organizations, and businesses. Preference is given to individuals who are from AASHE institutions.
How accurate are STARS data reported by colleges and universities?
Ultimately, the burden of accuracy falls upon each reporting institution. The Chancellor or President of each university is required to submit a letter confirming the accuracy of data submitted. Also, all data submitted by colleges and universities that complete the rating process are open for public scrutiny and examination.
What's happening at UW-La Crosse?
A STARS assessment team has been formed that includes faculty and staff from all three colleges and several administrative offices. Other key members of the campus community are being (and will be) contacted for information required for this program. Thanks in advance to everyone for your cooperation and tolerance!
This is a great chance for our campus to be acknowledged for its sustainability-related accomplishments as well as to see which areas that we should improve. Stay tuned for upcoming announcements and updates on our STARS progress. For additional information, contact Kelly at knowicki@uwlax.edu.
How could you help?
Actually, you can help in many ways. For example, the STARS team will be sending out several surveys to students and staff regarding transportation used to commute to campus, courses taught that have sustainability themes, the number of faculty engaged in sustainability-related research, etc.
In addition, selected UWL staff and administrators will be asked to provide brief technical summaries regarding operation of campus physical facilities, waste management, workplace health/safety, policies relating to underrepresented groups and faculty diversity, purchasing and dining practices, etc.
Participation in our information-gathering efforts will help acknowledge practices and policies that promote sustainability. It is important to note that this will also help us pinpoint areas that we can consider for improvement. Everyone's cooperation and tolerance will be greatly appreciated!
Want more information?
You may visit the national STARS web site ( https://stars.aashe.org) for additional information, which includes STARS reports submitted by participating colleges and universities. For example, you may be interested in reviewing data submitted other UW System campuses.
In addition, the STARS technical manual (https://stars.aashe.org/pages/about/technical-manual.html) has a detailed description and (examples) of how this program works.
STARS Team members (2014-2015)
Kelly Nowicki (STARS Assessment Coordinator & Management Dept.)
Nadia Carmosini (Chair Joint Committee for Environmental Sustainability & Chemistry Dept.)
Maggie McDermott (Marketing)
Kate Noelke (Student Life)
Alyssa Remsburg (Environmental Studies)
Larry Sleznikow (Information Technology Services)
Natalie Solverson (Director, Institutional Research)
Dan Sweetman (Env. Health, Occupational Safety & Sustainability Program Manager)
Sara Torgerson (student)
Rob Tyser (Biology Dept.)