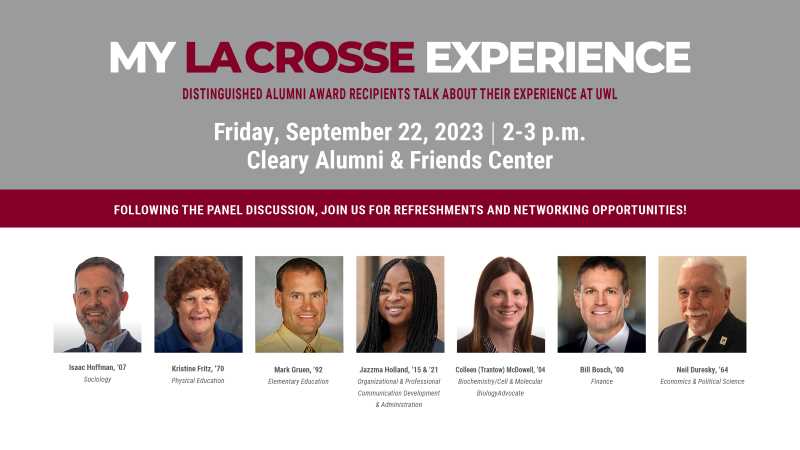 "My La Crosse Experience" Panel
When: 2 to 3 p.m. Friday, Sept. 22
Where: Cleary Alumni & Friends Center
The 2023 Distinguished Alumni Award Recipients will answer questions about their experience at UWL.
The 2023 honorees include:
The Maurice O. Graff Distinguished Alumni Award
Recognizes outstanding achievement of alumni who have brought honor and distinction to the university. Long-time administrator Maurice O. Graff instituted the honor in 1977.
Bill Bosch, '00
Mentor; motivator; civic leader.
Employed at Trust Point Inc. since 2000, Chief Executive Officer, President and Board Member since 2022.
Civic involvement in Boys and Girls Club of Greater La Crosse, La Crosse Symphony Orchestra, youth sports coaching, among others.
Bachelor's degree in finance, 2000; Certified Trust & Fiduciary Advisor, 2011.
Neil Duresky, '64
Decorated veteran; committed public servant; community volunteer; musician.
Retired IRS Revenue Officer, American Red Cross Chapter Level Executive Director, Wisconsin Air National Guard Squadron Commander.
La Crosse Logan High School Wall of Fame; Oktoberfest Maple Leaf Parade Marshal; Phi Delta Kappa Distinguished Service to Education by a Lay Person Award.
Bachelor's degrees in economics and political science, 1964.

Rada Distinguished Alumni Award
Recognizes alumni who have graduated within the last 20 years, achieved professional distinction and taken part in humanitarian activities. Professor emeritus Ron Rada and his wife, Jane, created the award in 2002.
Colleen (Trantow) McDowell, '04
Distinguished and respected researcher, scientific writer, mentor in the field of glaucoma.
Assistant professor, Department of Ophthalmology & Visual Science, UW-Madison since 2019; previously with University of North Texas Health Science Center, 2010-19.
Awarded William and Phyllis Huffman Research Professorship; Dr. Douglas H. Johnson Award for Glaucoma Research; among others.
Bachelor's degree in biochemistry/cell and molecular biology, 2004; Ph.D., University of Iowa, 2009.

Parker Distinguished Multicultural Alumni Award
Recognizes outstanding alumni who have contributed significantly to the improvement of multicultural understanding on the campus and in their careers. History Professor Emeritus James Parker initiated the award in 1997.
Jazzma Holland, '15 & '21
Respected higher education, diversity, inclusion and equity educator, mentor.
Diversity, equity and inclusion programmer; previously held numerous administrative positions at UWL in Student Centers, Upward Bound and Office of Multicultural Student Services.
UWL Outstanding Women of Color in Education Award, 2022; co-founder of Black Leaders Acquiring Collective Knowledge (B.L.A.C.K.); founder of Black Women in Wisconsin Empowerment Conference.
Bachelor's degree in organizational and professional communication, 2015; master's degree in student affairs administration, 2021.


Burt and Norma Altman Teacher Education Award
Honors and recognizes outstanding educators and the significant contributions they make to children and communities. Professor Emeritus Burt Altman and his wife, Norma, long-time supporters of teacher education, created the award in 2015.
Kristine Fritz, '70
Highly respected state public education physical education teacher and mentor, state sports leader for girls.
Long-time Sheboygan Area Schools physical education and health teacher, coach, 1970-2004.
Wisconsin Health and Physical Education (WHPE) Secondary Physical Educator Teacher of the Year, 1993; Midwest District Secondary Physical Education Teacher of the Year, 1995; WHPE President, 2000; Midwest President, 2018; among others.
Bachelor's degree in physical education, 1970; master's degree from University of North Carolina-Greensboro, 1978.
Mark Gruen, '92
Distinguished and respected public school administrator; impactful instructor; educator; mentor, life-long learner.
Thirty-one years in Wisconsin education as administrator, teacher, principal, curriculum director and business manager; District Administrator at Johnson Creek since 2022.
Wisconsin Superintendent of the Year, 2021; Wisconsin Rural Administrator of the Year, 2021-22; various regional and state organization leadership roles.
Bachelor's degree in elementary education, 1992; master's degree in education, Viterbo University, 1995; specialist degree in education leadership, Winona State University, 2005.
Improving the Lives of Others Alumni Award
The Improving the Lives of Others Award recognizes a UWL undergraduate alum who has chosen a career in the La Crosse region dedicated to improving the lives of others.
Isaac Hoffman '07
Graduated from UWL in 2007, Sociology
Received a Social Work Certification from Upper Iowa University in 2008
Career at La Crosse County Human Services: Community Programs & Prevention Supervisor, Child Protective Services Social Worker & Director of La Crosse Area Family Collaborative
Counselor at Family & Childrens Center
Based on the letters of reference he is an exceptional partner and collaborates with Gundersen Health System, La Crosse School District, etc.
For questions about this event or to request disability accommodations (accessible seating, interpreting, closed captioning, FM systems, etc.), contact Monica Organ at morgan@uwlax.edu or 608.785.8494.
View on calendar