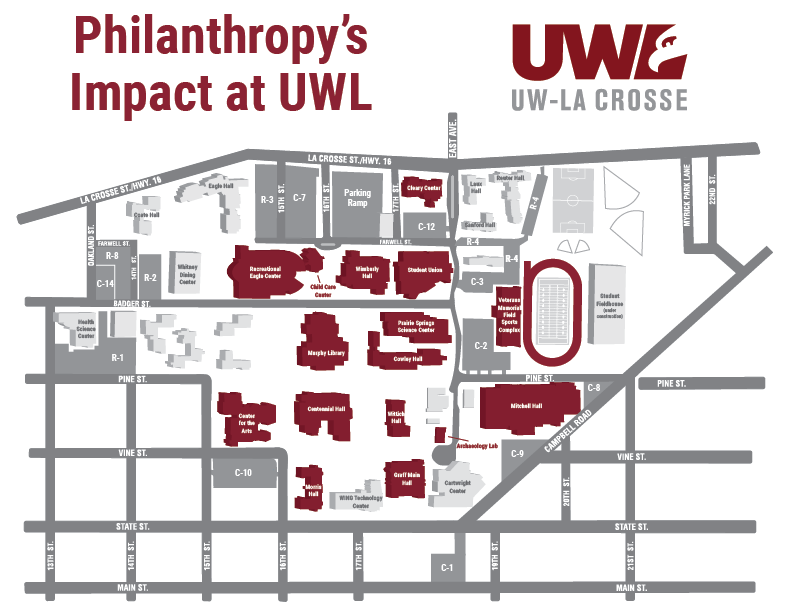 Archaeology Lab: Home to the Mississippi Valley Archaeology Center which is supported in part with gifts from donors.
Centennial Hall: Over 20 spaces are named in honor of generous donors who helped complete the building in 2011.
Center for the Arts: Home to UWL's Art, Music and Theater Art's programs, which are funded in part through philanthropy each year.
Child Care Center: Donors impact the Center's programming through their gifts each year.
Cleary Alumni & Friends Center: Home to the UWL Foundation and Alumni Association, this building was created and built with support from the Cleary family and others as a space for alumni to gather.
Cowley Hall: College of Science and Health students and faculty are impacted with donors' gifts supporting learning and undergraduate research along with over 140 scholarships.
Graff Main Hall: 1981 graduates, Lori and Brian Hesprich established scholarships for students with financial need. Their gift was honored with the naming of the second-floor auditorium.
Janet Hoeschler, '40 and her family donated funds to build the Hoeschler Tower which is the focal point for a UWL tradition: "Hanging of the Lantern."
Mitchell Hall: Donors support hundreds of student athletes and their programs each year through their gifts.
Morris Hall: Hundreds of School of Education students benefit each year from over 120 scholarships established by donors.
Murphy Library: Donors make gifts each year through two funds that help meet the programming, service and activity needs.
Prairie Springs Science Center: The science labs building is named in honor of the gift that supports research and scholarships in five areas.
Veterans Memorial Field Sports Complex: Donors helped fund this large landmark on campus where sports and veterans are honored.
Student Union: Four spaces are named in honor of donors' gifts which created annual scholarships for students.
Wittich Hall: Home to College of Business Administration, students are impact by over 100 scholarships and awards made possible through philanthropy.
Wimberly Hall: Over 200 College of Arts, Social Sciences & Humanities students are impacted by scholarships created by generous donors each year.
What is philanthropy?
noun
the desire to promote the welfare of others, expressed especially by the generous donation of money to good causes.
Over
$1.2
million is awarded each spring in student scholarships
Philanthropy info
...UWL - the campus, faculty, and students - benefit because of the generosity of donors. UWL needs philanthropy to be successful.
...Alumni and friends who want to support UWL do so through gifts to the UWL Foundation.
...The UWL Foundation is a tax-exempt public charity under Section 501 (c)(3) of the IRS code. Gifts to the UWL Foundation are tax deductible.
...Gifts to the UWL Foundation ensure that donations deliver maximum benefits to UWL because the stay in La Crosse and are administered by the UWL Foundation.
...UWL Advancement is located in the Cleary Center and made up of the Alumni Association and Foundation. Together, they work to develop mutually beneficial, lifelong relationships that enhance enrollment and private support for UWL.
Philanthropy at UWL can be seen in many ways:
Over 1,400 students are awarded scholarships each spring. These awards are made entirely possible through gifts to UWL from donors and friends. Awards are available based on need, merit and criteria that the donor selects. UWL awards over $1.2 million each spring in student scholarships.
Building, program, and equipment support throughout campus.
Buildings on campus:

Hoeschler Clock Tower was constructed thanks to Janet Hoeschler, UWL class of 1940.
Centennial Hall was made possible in part through gifts from alumni and friends in 2011.
Roger Harring Stadium and Veterans Memorial Sports Complex was funded in large part with faculty and staff, students and alumni support.
Veteran's Memorial Hall of Honor was dedicated in 2009 and erected thanks to donors.
Cleary Alumni & Friends Center: The Cleary family's gifts made the 1995 construction possible.
1
in
9
students benefit from scholarships provided by donors through the UWL Foundation
In the past year over
4,00
alumni and friends made gifts to UWL