Mission
The UWL Student Philanthropy Council gives undergraduate students an opportunity to serve as philanthropy ambassadors for UWL, sharing the importance of philanthropy to the UWL community and beyond, and to be an advocate for philanthropy and the work of UWL Advancement among students. Students will represent the UWL Advancement office with the highest level of integrity, professionalism, and University spirit.
Launched in Spring 2018, the Student Philanthropy Council (SPC) is made up of high-performing, civic-minded students interested in philanthropy and representing UWL. Members are an integral part of the planning and implementation of campus events throughout the year.
Goals
Through the Student Philanthropy Council intends to:
Train student leaders on the fundamental principles of philanthropy and its impact on UWL
Empower students to be advocates of philanthropy at UWL
Create excitement, raise awareness and celebrate the impact philanthropy has on UWL through engaging activities for students
As a member, your goal is to engage, educate, and empower students to both advocate and celebrate philanthropy. To do these things, you will be asked to participate in events throughout the year. Council members will also be encouraged to create events to raise awareness and excitement among the student body.

In return, Council members will: build leadership skills, regularly connect and network with UWL alumni and donors, and help pave the way for the future of UWL, inspiring future donors.
SPC qualifications:
Must be a full-time undergraduate student at UWL with at least one full academic year remaining
Must be in good standing as that term is defined in the University of Wisconsin-La Crosse Code of Student Life.
A cumulative 2.5 GPA or higher is preferred.
Commit to assisting with at least 1 event per month.
Attend monthly Council meetings.
Pay: $11/hour
Selected students must:
Make membership a high priority with respect to their time and effort.
Represent the University with integrity and professionalism.
Commit to serving for a minimum of one academic year.
Attend all mandatory training sessions, meetings, and annual membership review.
Exhibit strong public speaking and interpersonal skills with groups and individuals and initiate conversations with alumni, donors, and friends of the University at events.
Exhibit an understanding of, or a willingness to learn about, all aspects of UWL Advancement and UWL.
Be willing to act as a social media ambassador for UWL Advancement efforts
2-3 events each semester dedicated to raising awareness of philanthropy and the impact donors have at UWL.
Fall:
New Student Orientation (Sept)
One Day for UWL (October)
Countdown to Commencement (Nov)
Spring:
We <3 UWL Donors (February)
Philanthropy Week (April)
Commencement (May)
We work to engage students living in the Residence Halls through marketing and events.
Faces of Philanthropy: Alumni from all walks of life give back to UWL. These flyers feature a different 'face of philanthropy' to honor their giving and spread awareness. Watch for printed flyers and digital signs that switch out every 2 weeks!
Philanthropy Week 2022: April 18-21
Flags on the Union lawn: 1500 green flags to represent the 1500 students impacted by scholarships last year
Chalking -- watch your step and learn about donors impact at UWL!
Philanthropy Impact Maps: Residence Halls
Penny War 3.0! University Communications is the defending champion.
Union & Clock Tower 11a-1p: Help us thank 120 donors this week!

Monday, April 18: Every dollar counts! Test your luck at a guessing game about how many donors give to UWL!
Tuesday, April 19: Philanthropy Colors UWL Color your heart out with custom Phil Week coloring sheets.
Wednesday, April 20: Where is Philanthropy at UWL? Answer a clue to identify areas of campus impacted by philanthropy.
Thursday, April 21: SENIOR CLASS GIVING DAY! First 50 Senior Class Gifts will be matched by UWL faculty and staff!
Flags at the Union
Each year, generous UWL alumni and friends donate enough money to give away nearly 1,500 scholarships to UWL students. The flag display outside the Union represents each student who received a scholarship last year.
2021 Flags at the Union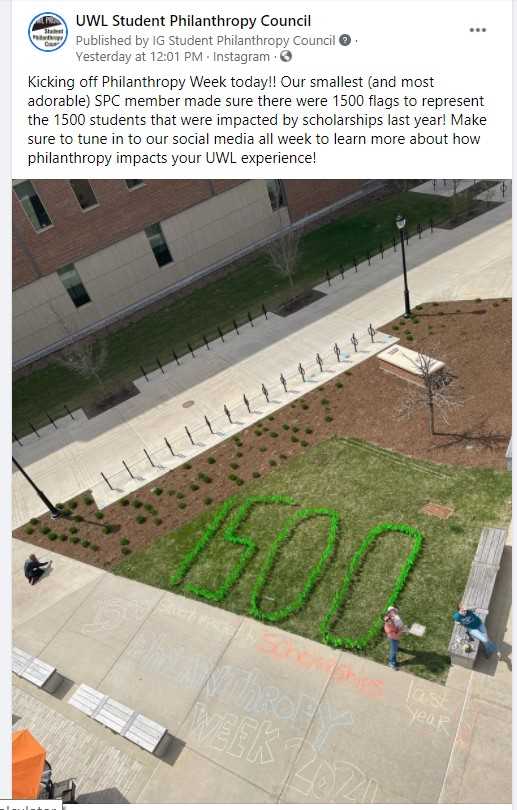 2021 Flags at Union post.jpg
UWL PENNY WAR 2.0:

Department Challenge
2019 Penny War winners: University Communications
2018 Penny War Check presentation: Sanford Hall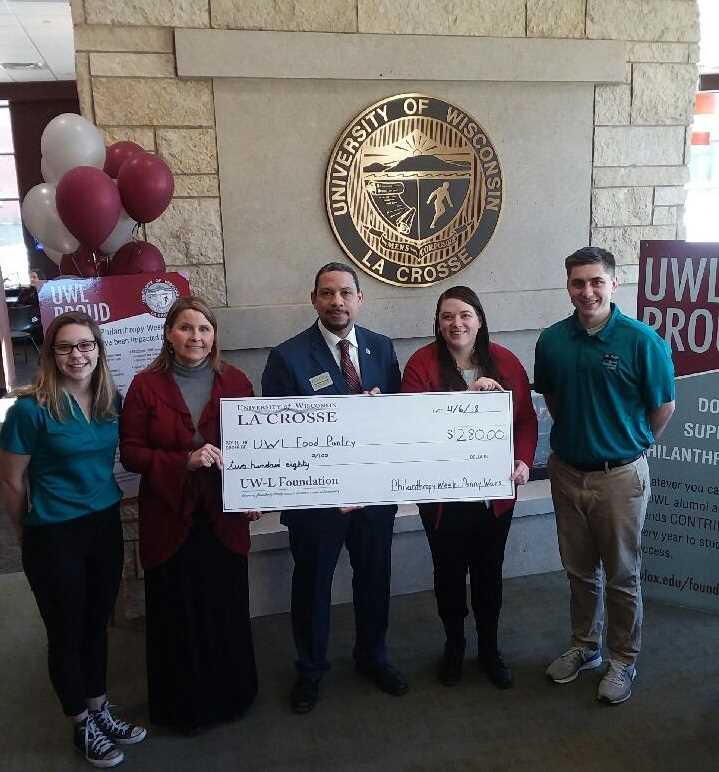 Penny War check presentation 2018.jpg
Chalking
Watch your step during Philanthropy Week as the sidewalks around campus will be filled with nuggets of donor and giving knowledge! Can you find all the phrases?

This space has been impacted by UWL donors
We <3 UWL donors
UWL Philanthropy Week April 18-21
#UWLProud
4,000+ alumni and friends give back to UWL every year
UWL donors come from all 50 states
80% of gifts are LESS THAN $100!
UWL needs philanthropy to be successful
1,400+ students are awarded scholarships each spring
UWL awards over $1.2 million each spring in student scholarships – thanks to generous donors!
Alumni donations help fund undergrad research – from source materials to lab equipment, they've got you covered
Broken test tube? No sweat! – Lab materials are paid in part by Alumni
Your 'A' begins with Alumni. This library is stocked in part by Alumni donations
The best students need the best study places – Donors help fund these spaces
2019 Phil Week Chalking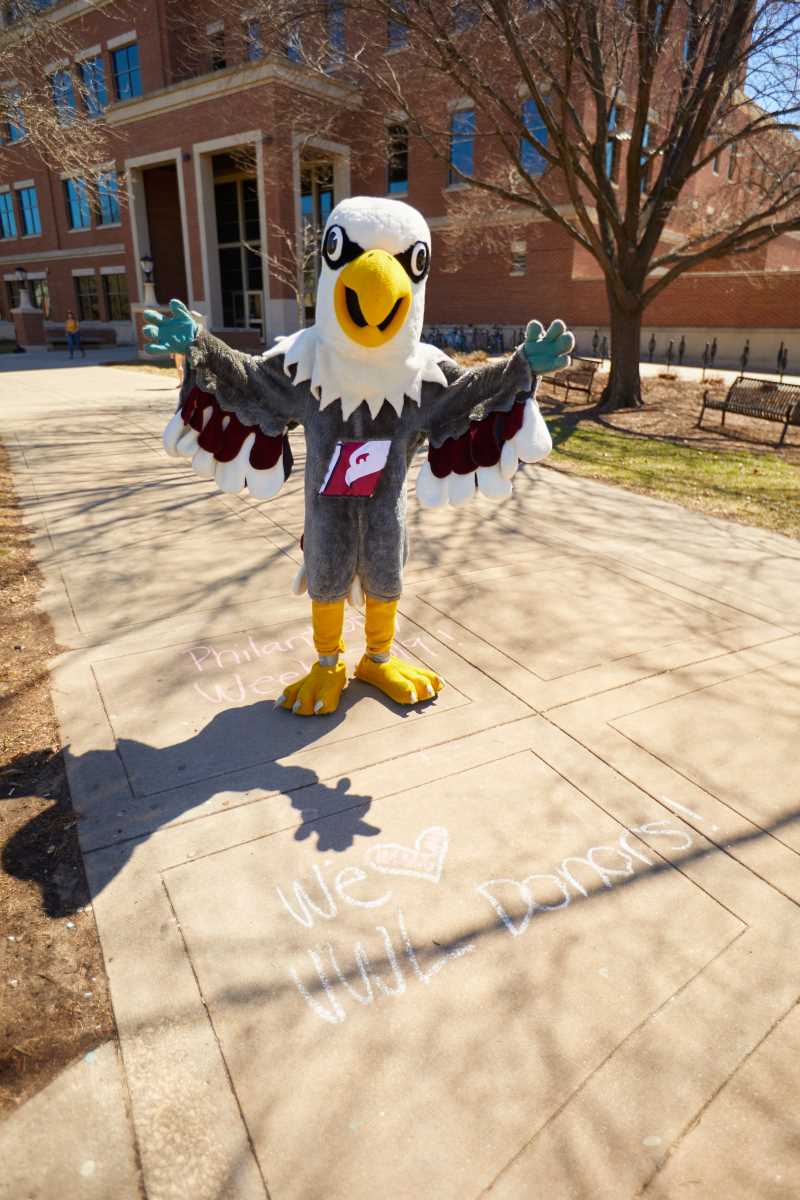 2019 UWL Spring Philanthropy Week 0075.jpg
2018 Phil Week Chalking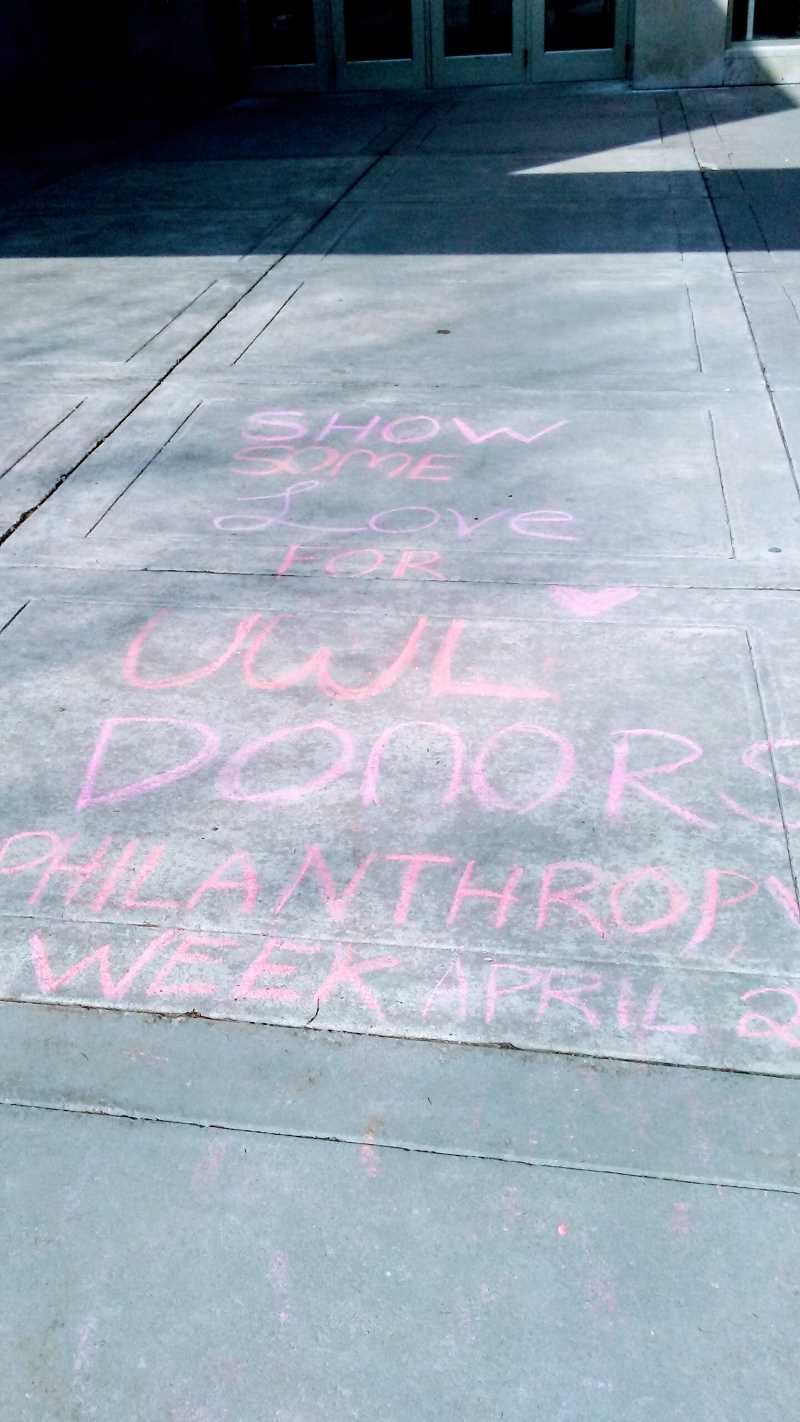 Phil week chalk promo 1.jpg
Thank A Donor Day
Each November, the SPC hosts a table at the Union and Clock Tower, inviting students to sign a thank you postcard to donors.
Fall 2019 Recap:
The 3rd annual Thank A Donor Day on November 21st was a success!
The day included table displays at Whitney and Murphy Library, tabling with thank you card writing stations at the Union and Clock tower and some fun social media.
SPC members delivered the thank you notes which students wrote that day to faculty and staff donors. SPC members also wrote and delivered their handwritten notes to our payroll deduction employee donors.
§ UWL Student Newspaper "The Racquet" article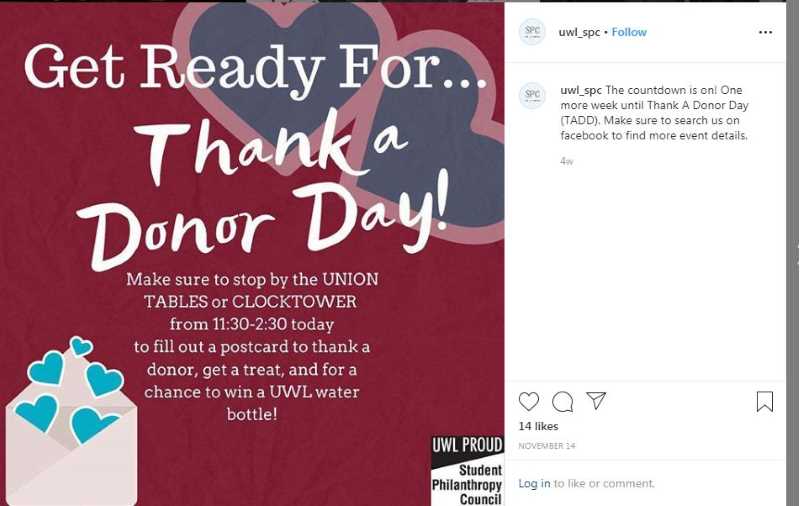 TADD countdown- Instagram post.JPG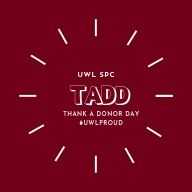 tadd sticker 2019.jpg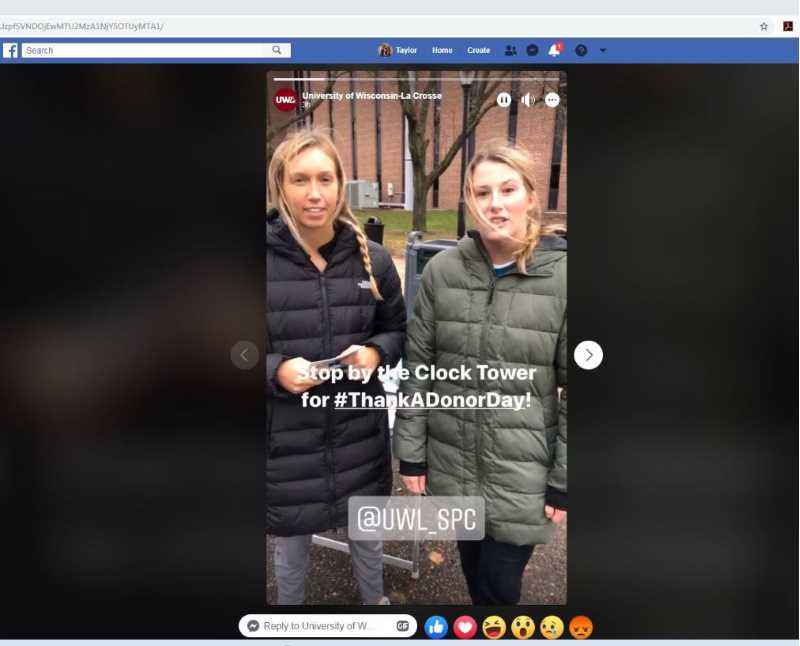 TADD clocktower2.JPG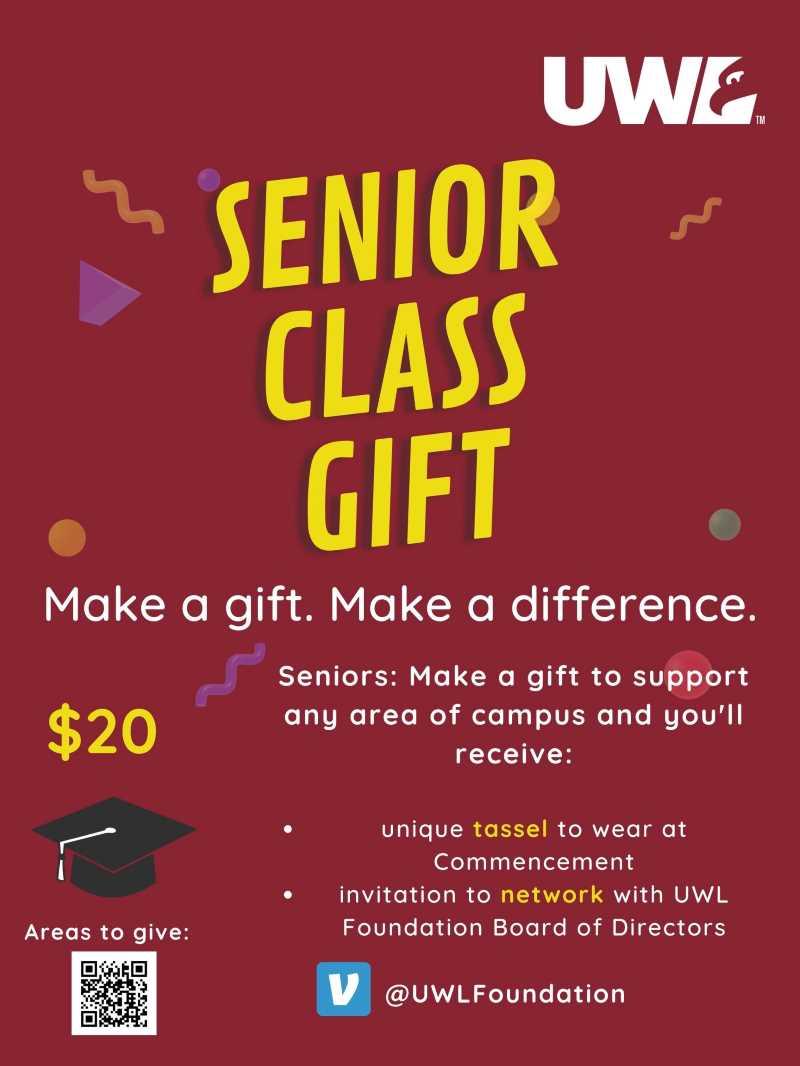 Senior Class Gift Poster 2023
Senior Class Gift FAQ:
How do I make my senior class gift?
Simply Venmo @UWLFoundation, include senior Class Gift + the designation of your choice in the "what's it for" section. For example, "Senior Class Gift-Baseball"
How do I get the white tassel?
You may pick up your white tassel anytime at the Cleary Alumni & Friends Center. $20 gifts are eligible for a white tassel. If you live out of town, please email foundation@uwlax.edu with the address you'd like your tassel mailed to.
What areas of campus can I support with my Senior Class Gift?

See below for common areas or a complete list here!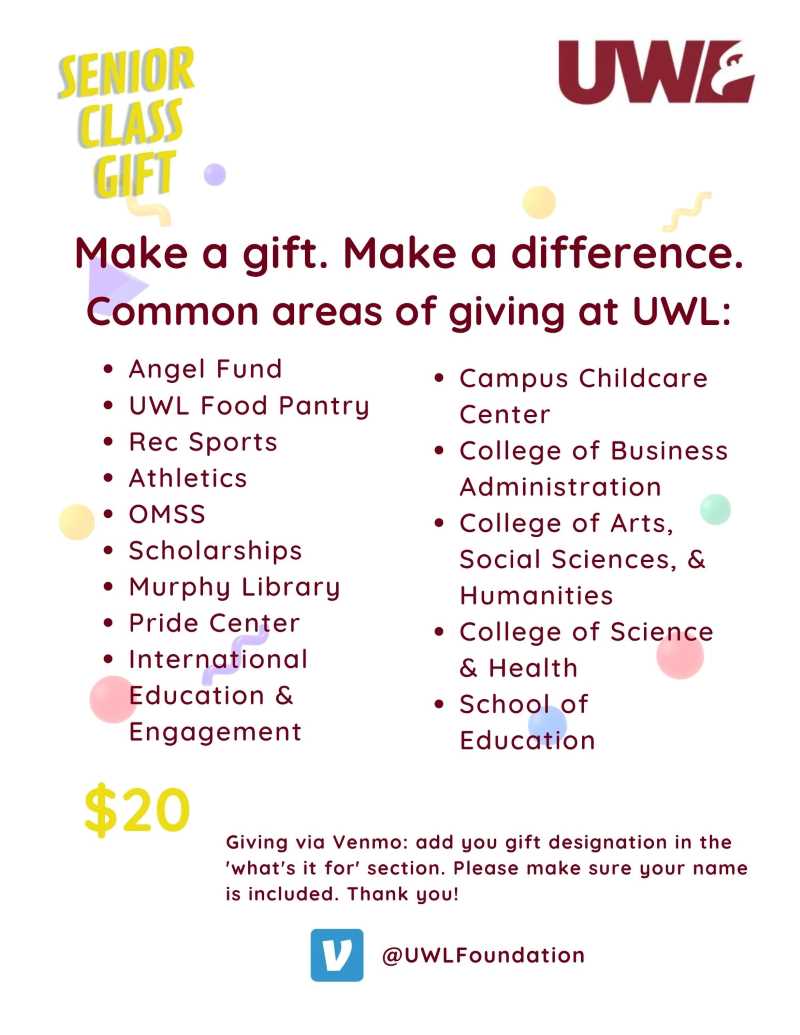 Senior Class Gift - areas to give - fall 2022